Carrot Ginger Salad Dressing
As I have mentioned before, though I have never been a vegetarian, I ate very little meat for many years, cooking mostly vegetarian meals at home. My cookbooks were vegetarian, I used tofu before it was readily available (and tempeh when it was very hard to find!) though then also I mostly eat beans, or dairy products for my protein.
So I have known for years about tofu mayonnaise, and tofu salad dressing, back when they were foods you had to make at home. That was before you could find silk tofu in most places, so people made them with regular firm tofu, and it was often a little grainy… I tried tofu salad dressing once or twice, following recipes in my books and decided I had no reason to repeat the experiment.
But now, I can easily get silk tofu, and I happily use it in creamy soup and even pudding, so I also looked again at salad dressing. Sometimes it's just nice to have a vegan salad dressing other than plain oil and vinegar, or you need something that travels well…  You can make it with just a little oil and vinegar, and some herbs, but I decided that I wanted to take it a further step.
I find that the most important thing to remember about tofu is that it absorbs flavor, and sort of dulls the edges… In the pudding, for example, it brings down the bitterness of the chocolate so that I don't need sweetener to balance it. When I use it in sauce or dressing, I need to remember to use about twice as much seasoning as I normally would, or it will taste bland. But that means it helps to meld flavor, so that a sharper flavor such as ginger or garlic does not overwhelm the other food. And I like this carrot ginger dressing, in which the ginger stays in the background as an accent to the carrot. It is a thick, creamy dressing, thick enough to use as a dip, even, with other vegetables, and mixes well with greens in a salad. Marvelous with arugula!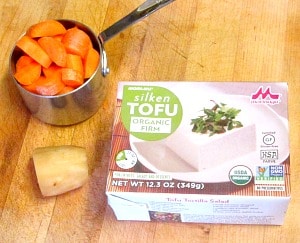 You need a food processor – it's too thick for a blender. I have a mini chop with is just the right size – it's terrific at really chopping small amounts of firm vegetables, but a regular one will work. If you don't have fresh ginger root, jarred ginger paste will work – dried ginger is really an entirely different spice. A little vinegar adds some sparkle, and a little oil helps the dressing cling to the leaves of your salad. And of course, the silk tofu – I can get fresh, over at Asian stores in my neighborhood, but I keep the aseptic packs on hand, because they are useful. (Just do pay attention to the expiry date – it will eventually go rancid.. You have a pretty long window for use, though.) Most people can get the aseptic packs, and they're the same size – fresh varies quite a bit – so that's what I use in recipes.
Take carrots – two small ones, as I did, or a large one, or… Scrub them and chop them roughly to give you about half a cup of carrot pieces. Peel a chunk of ginger, and chop to get two tablespoons – an eighth of a cup, if you have such a measure – of pieces of ginger.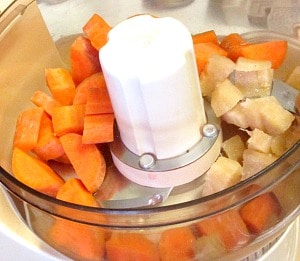 Put the carrots and ginger in a food processor with one tablespoon of wine vinegar, another of olive oil, and a pinch of salt, and process, pulsing,  until the vegetables are finely minced. Pause a few times during the process and stir down (I use a silicone spatula.)
Then add about half the tofu, and blend until smooth. Stir down again, add the rest of the tofu, and process until completely mixed.
Refrigerate a few hours before use – it helps the flavors blend, and the dressing thickens. Use within three or four days.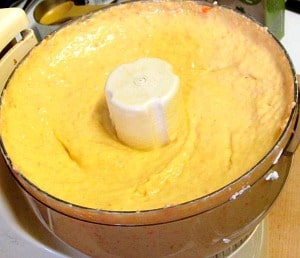 I've used this just with the vegetables, but I think it would also be lovely with a grain salad of some sort. Tofu is perishable, don't leave it sitting around in the hot sun, but it's more durable, shall we say, than mayonnaise, so useful for a packed lunch.
When I started this blog, from April to October I ate lunch several days a week sitting in parks around the city, near clients. I no longer do that particular gig, going around to small stores every month or two as sales support (too many of those small independent stores have closed, I'm sorry to say) but it still influences me. I'm a bit obsessed about lunches you can carry safely without refrigeration, and eat easily at a small table or even a park bench. I realize this is a recurring theme… but many of us are learning to carry a lunch, instead of just stopping at a fast food place, or ordering from a diner, so I'm trying to share what I learned.
Carrot Ginger Salad Dressing
Use silk tofu to make this creamy, vegan carrot ginger salad dressing. Lovely with a tossed salad, a grain based salad, or as a dip.
Ingredients
1/2

c

rough chopped carrots

2

T

chopped ginger root

1

T

wine vinegar

1

T

olive oil

pinch

salt

12

oz

silk tofu

1 aseptic pack
Instructions
Place first five ingredients into food processor. Process until finely minced.

Add about half the tofu. Process until smooth. Add the rest of the tofu, process until blended.

Refrigerate a few hours before serving, to allow thickening.
Save
---
---