Quick Pasta Sauce – Transition From Takeout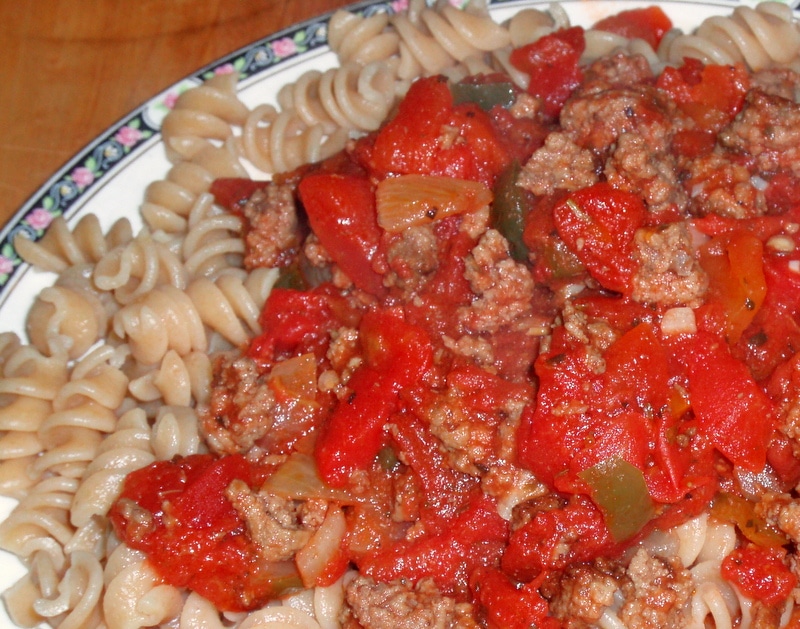 Sundays are a bit tricky for me, as far as meal planning goes.
We almost always spend Sunday afternoon at the home of a very dear friend. We'd each known him for years, and, well, we met each other at his house… and this is a long standing custom.
In recent years, though – since his own marriage, in fact – the schedule has been shifting. Instead of gathering in mid afternoon, staying through the evening (and carrying a dinner) we all break up earlier in the evening. Which means, for us, that we get home just about the time I want dinner on the table.
Sometimes I handle this by simply making something ahead, exactly as if we were carrying it, and just microwaving when we get home. But these days, we often carry our lunch, and figuring out two meals of leftovers, that will taste good, and that I have ready, is challenging…  (That will be easier in summer, when I move to the ubiquitous salad. And sometimes, now, we carry soup. But yesterday, it was the leftover chili… and, while that was good, I didn't want it for both lunch and dinner.) There have also been times when we expected to break up earlier, so I thought I'd have time to cook, and then we didn't…
This is when Planning For a meal comes to my rescue.  I have cooked meat (or another protein source,) prepared vegetables, cooked or quick cooking brown carbs…
This time, I knew I had some browned ground beef in the freezer. I wrote about that months ago –  it's a great time saver. Sometimes I go ahead and cook onions in it right to begin with, but this time, I had not. I did have half an onion in the crisper, though. And some chopped hot peppers in the freezer (I'll be running out of them soon…) There were plain cooked kidney beans I'd put aside when I made the chili earlier this week (No, I didn't write it up – another time…) but since we'd had the chili for lunch, I din't want to go in that direction. I have pasta, though, and canned diced tomatoes…  I could make a very quick pasta sauce.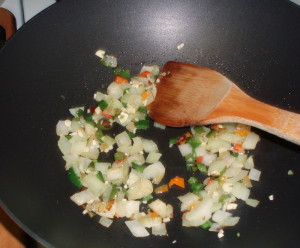 I walked into the kitchen, filled my soup pot with water, and put it on to boil. Took out a saute pan, the onion, garlic, zip bag of frozen chopped hot peppers, and zip bag of frozen meat. Put the pan over heat, and chopped the onion. Added oil to the pan, added the onion, started chopping the garlic. (I add garlic after the onion has cooked a bit – I don't want the garlic to burn. Overcooked garlic is responsible for many an unpleasant meal…)  When the onions were starting to soften, I added the garlic, and sprinkled in some of the hot pepper.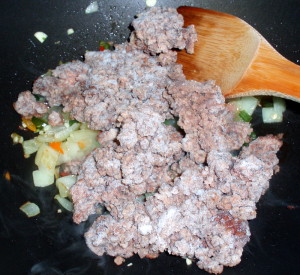 As it started to cook, I broke off chunks of the cooked meat. I freeze it flattened in a bag, and find that, without any sauce, it breaks easily, so I can use however much I want. I dropped the chunks of meat into the pan, and stirred it all around. While it was still frozen, I opened a can of diced tomatoes, and poured that in. Then I added a sprinkle of basil and oregano, stirred it around, and let it come to a boil. Then I lowered the heat to a brisk simmer.
Speaking of coming to a boil, the water for the pasta did sometime around now – so I removed the lid, put in the pasta, and set the timer. (I set it for about a  minute before I really expect it to be ready, then check to see if it is done to my taste. We both dislike overcooked pasta… )
While the  pasta boiled and the sauce simmered, I took out a bowl of carrot kohlrabi salad, and served side dishes of it. If I hadn't had it ready, I might have microwaved frozen vegetables (pre-cooked or commercial) or even tossed some peas or green beans into the sauce – untraditional, perhaps, but this isn't a  classic traditional Italian meal – this is Dinner.
When the pasta was cooked, I drained it, served it, served the sauce over it. And checked the clock – just over 20 minutes. (Grated Parmigiano or Romano cheese would have been very nice – if I'd had any in the house…)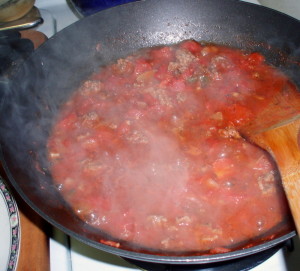 My primary limiting factor here was the time it took for the water to boil. If you are cooking for more than 2, that will take longer, as you will need a larger pot. I usually have a tube of commercial polenta in the house, as that can be sliced and microwaved, and served in almost no time at all… But giving the sauce a few more minutes to simmer and meld flavors will only help it.
If I'd cooked the meat ahead with the onions, as I suggest in the original post, I could have skipped the step of cooking onions. I would probably not then have added garlic and peppers – I might have just used dried pepper flakes, or a hot sauce, and skipped the garlic all together. Started with the meat in the pan. It would not have speeded up the meal – the pasta still needed to cook – but it would have given it a bit longer to simmer and let the flavors meld – and it would have given me 5 minutes out of the kitchen. In this case, I'd come home and changed clothes, and such before going into the kitchen – but there might be times (especially if feeding a small child) when even that 5 minutes difference might matter…
The Once A Month Cooking people season all their meat at once. That method is too rigid for me – and an all day cooking marathon is not my idea of a day well spent – but there are good ideas  to borrow. One of their tricks is to cook and season a lot of ground meat. This batch with "chili seasoning" – chili, tacos, all kinds of vaguely Tex-Mex dishes – another batch with Italian seasoning – pasta sauce, etc. If you have the freezer space (I don't) that could be a real time saver. Even just adding peppers and garlic as well as onions – then adding basil to one and cumin to another – might make a lot of sense.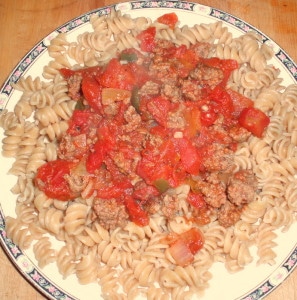 This is also a place where people cooking for different needs and tastes might have some flexibility. I don't have to do that, so to some degree I'm guessing if this will work… if any of you try it, please let me know. One pan with highly seasoned veggie crumbles, another with blander beef… or use one pan and work from the most to the least restricted. (Mild to hot, veggie to meat, non-allergenic to allergen…)  One clearly labeled zip bag with meat/whatever cooked for each person's needs… then quick simmer the sauce with the foods everyone can eat, and add as appropriate.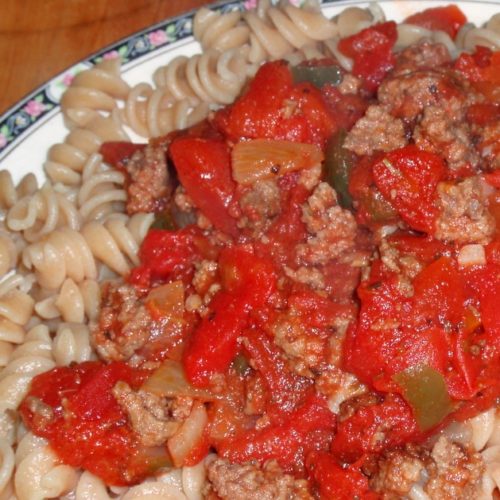 Quick Pasta Sauce – Transition From Takeout
Ingredients
olive oil for pan

1/2

onion

chopped

2

cloves

garlic

minced

1

t

chopped hot peppers

8

oz

frozen precooked ground beef

1 20

oz

can diced tomatoes

1/2

t

dried basil

1/2

t

dried oregano
Instructions
Heat oil in pan. Add onion, saute a minute or two until soft. Add garlic and peppers, Saute another minute.

Add chunks of browned meat. Add tomatoes, Add herbs.

Bring to a boil. Let simmer 5-10 minutes.

Serve over pasta
---
---