Creamy Buttermilk Dressing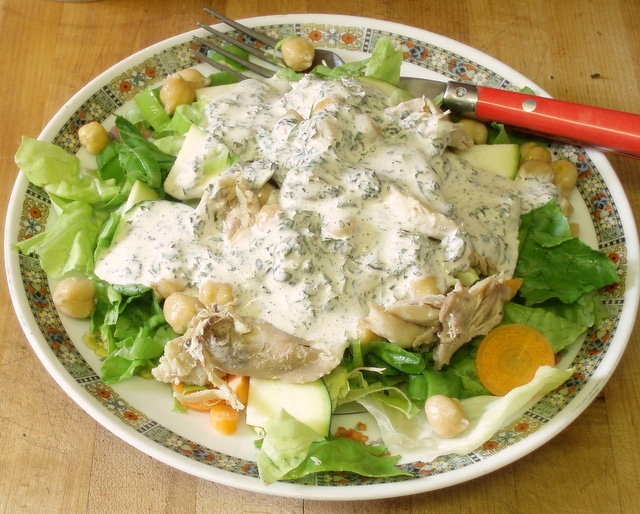 Eating as many salads as I do, I like some variety in my salad dressing, as well as in the vegetables. Most of the time, really, I am very happy with some variant of an oil and vinegar dressing, perhaps with herbs, or a little mustard for added flavor. Sometimes, though, I really am in the mood for a nice cool creamy dressing.
Last summer, I was looking for a creamy salad dressing to take when I was carrying a lunch, without refrigeration, and eating in a park. I therefore wanted to make one without mayonnaise, and did some experimenting until I found one I liked. Now, though, with a work schedule change, I eat most of my lunches at home, so that is no longer an issue. (I do still make it, just because I like it… but I don't always have cottage cheese in the house.)
The classic Ranch dressing is made with buttermilk and mayonnaise. I'm not interested in making a Ranch dressing, specifically, but rather an herbal buttermilk dressing (we have been getting a lovely assortment of fresh herbs) with the same creaminess. I like the tang of the buttermilk with the richness of the mayo. Well – simplicity itself…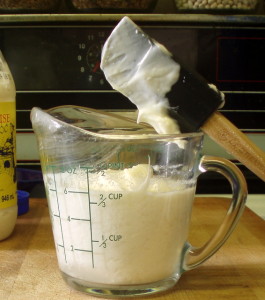 I wanted to make roughly a cup of dressing. I poured half a cup of buttermilk into a measuring cup. Then – the easiest way to measure the mayo is to just spoon it into the same cup, until the level of the combination rises to a cup. That way I don't have to fuss with filling and smoothing a dry measuring cup with something that really isn't dry, but really doesn't pour, either… (And we don't have to wash another cup – always a plus.)
I set that aside for the moment and roughly chopped my herbs. I had a mix of basil and oregano, which go beautifully together. I had about 1/4 cup of rough chopped herbs. I put them in my mini processor, and whirled them a little. Then I added the liquid ingredients, and blended until smooth.  It was pretty runny at this point, so I poured it into a container, and refrigerated – homemade buttermilk dressing thickens a little on standing. It can still be poured, but I prefer to spoon it out of a container – I lose some if I put it in a bottle. 
If I had a blender, not a mini processor, that would work fine – though I would chop the herbs a little more with a knife to begin with, and add the liquid to the blender with them. The dry herbs alone won't mince as well.
I would love a little green garlic in this, if I had some on hand – it's milder than the full grown. Or I might crush in a very small clove of regular garlic – I don't want a lot of raw garlic, and especially don't want chunks of it. If you're more a garlic fan, go ahead. I don't add vinegar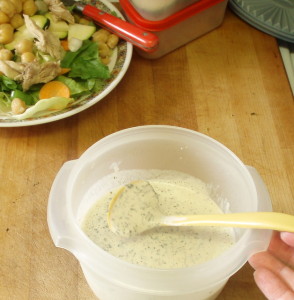 because there is some already in the mayo, and the buttermilk itself has a tang. If you want a sharper dressing, up to a tablespoon would work. Other herbs would be delicious, too – dill is always lovely in a buttermilk dressing. Sage and thyme work well together… and, in fact, a mix of several will still come together with the tartness of the buttermilk. If I didn't have a full 1/4 cup of herbs, that's fine – even a tablespoon or so adds flavor. I would not add more, they would start to dominate too much.
I do use commercial mayonnaise. We don't use a lot of mayo in general – a few spoonfuls in a salmon salad every week or two is usually all – so it doesn't make sense to me to make it. If you do make your own that would be lovely. And I don't always have buttermilk around, but I do always have yogurt – it can be substituted.
I like this so much better than the bottled dressings. The taste is much fresher, I have more control of the ingredients, and I can vary it easily.  The recipe can easily be doubled for a larger family. And it only takes a few minutes of my time to make.
Creamy Buttermilk Dressing
An easy homemade buttermilk dressing - fresh, creamy and bright with fresh herbs.
Ingredients
1/4

roughly chopped herbs - any assortment

basil, oregano, dill, others...

1/2

c

buttermilk

1/2

c

mayonnaise
Instructions
Place herbs in a food processor and blend to mince.

Add the buttermilk and the mayonnaise. Process to blend.

Pour into a container, and chill - it will thicken on standing.
Save
---
---