Orange Cardamom Waffles
So it was Valentine's Day, and instead of giving Rich the chocolate shake he'd been drinking all week while I worked out the recipe, I cooked sourdough buckwheat waffles, and eggs. (Because sometimes his Special Meal should not be something I worked out to share with you…)
Then the next morning I opened the fridge to have some of the leftovers for my breakfast – and they were gone! I guess he liked them…
They were an improvisation, based on the pancakes I have made, and requiring an overnight ferment. I'll work them out, doing stuff like Measuring, one of these days… but I realized I had not written about buckwheat lately, and neither had I shared a new waffle recipe.
OK, backing up – discussion of gluten free flour coming up… I know that some people just want a recipe, and if you do, feel free to jump right on down – but I need to understand what is happening under my hands. (And that need to understand is the reason I can develop new recipes.)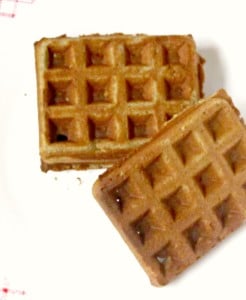 The thing about gluten free flour is that it doesn't have gluten. Well, yes, Anne, you say… but bear with me. We all know that we need gluten to build the structure that allows bread to rise. The thing is that, in wheat, even when you are careful not to "wake" it, it's still there, and it's the gluten that provides the stickiness that holds the flour together, in everything from old fashioned library paste to your favorite cake recipe. And this is the reason that so many gluten free products are sandy or crumbly… So people add gum, but then the texture is funny, and some people react badly, and… And they think the problem is the starch content, so they add lots and lots of refined starch, and complain when the results are mushy and stale easily.
Or you can look around the world and see what other flours and grains people use for bread and other baked goods. Because some of them have a sticky quality themselves, and don't need either gluten or gum to hold together nicely.
Oats are high on the list – oatcakes are classic. Nice if you can eat them – I can't. But that's the reason they're in so many gluten free crackers and such (boy, do I have to read labels to avoid oats!)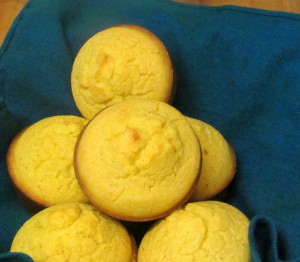 If you've looked at my baked goods much at all, you know I'm obsessed with masa harina. That is cornmeal made from corn that has been treated in a traditional manner that makes it easier to grind, and then helps the meal hold together for tortillas, tamales, and arepas. I find adding a little masa harina vastly improves the texture of muffins and bread and waffles and… well… sigh I have a good friend who cannot eat corn. And I know that this is not an unusual additional reaction for those of us who cannot eat wheat. I will still use it frequently – I can eat it, after all, and it is much more readily available and significantly less expensive than any of my other options. But I do need an alternative.
Teff?! Teff is used, alone, to make a spongy, risen, fermented bread. It did wonderful things in those gingerbread muffins and waffles I made in December. Fantastic texture. Distinctive flavor, a nuisance for me to get, and expensive… all factors that mean it's great for an occasional special food, but not everyday.
But then, there is buckwheat… It has enough stickiness to use in crepes – galetttes – in Normandy, and in noodles all over Asia. My century old pancake recipe used buckwheat flour alone, and I noticed a viscous quality to the batter that intrigued me… It is, these days, more expensive than wheat or corn, but certainly less than teff… but it also has that upfront flavor. Wait, though – that's from toasting it – almost all the buckwheat flour we get in the US is toasted. Raw, the flavor is mild. I recently bought a bag of buckwheat flour and found, to my surprise, that the color was light and it was raw… so I will experiment with it, and you will hear about it.
This, though, is the classic toasted buckwheat flour, because that's what I"m used to using, to be honest… and I know it works – but I used it for less than half the flour, and still got the good texture, with just a little tang, not an assertive flavor. So here is a gluten free, corn free, subtly flavored waffle for you.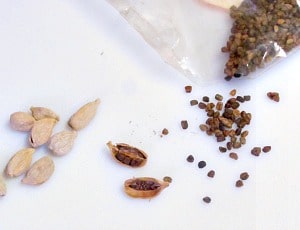 I made orange cardamom waffles, because those flavors go well with the slight tang of toasted buckwheat – back in my gluten eating days I used them with rye flour in Scandinavian bread. I have whole cardamom pods that I use in Indian cooking, and I have been known to break them to remove the seeds – but now I have a package of just the seeds, which I can grind fresh. (And normal sane people buy it pre-ground – but if you do, be sure to replace it every year, it will lose its flavor. The whole seeds last a little longer…)
First I went for my handy dandy I use it all the time gluten free millet flour. I find that its protein/fiber/starch ratio, and therefore its behavior in baked goods, is the closest to wheat flour of all the non gluten grains, though in fact it is a whole grain (and behaves as such for me when I eat it.) Mix 250 grams of millet flour with a mere 100 grams of buckwheat, then stir in a tablespoon of baking powder, two teaspoons of ground cardamom, and a pinch of salt. Then set that aside.
Beat two eggs. I realized I usually just say that, as do most cookbooks these days, but they used to say "Until light" and this is what they mean. You do beat in enough air that it will help in the rise. Then add a teaspoon of vanilla, a tablespoon of oil, and a cup each of milk and orange juice, and beat it all together. Then let it rest half an hour or so, if you can – that lets the flour absorb the liquid and begin to gelatinize. (And you can set it up the night before, though if you do, you might want to add just a pinch more baking powder, right before baking the waffles.)
At this point, if you are used to making waffles, you will think the batter is too thin. I certainly did… Don't worry, it works anyway. Heat the waffle iron, and make your waffles… usual note about how drastically the irons vary…you need to get to know your own equipment… This recipe made me a dozen waffles.
I just ate mine with butter – Rich tried a little orange marmalade. Maple syrup seemed the wrong direction, though you certainly could try it… Next time I do it I may make an orange syrup. No single flavor dominates, but there is a slightly sweet, warmly complex taste.
It was a lovely treat on a miserably snowy winter day!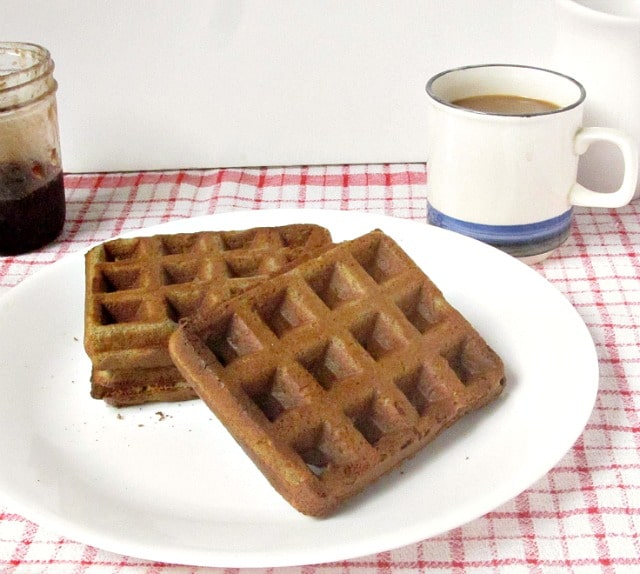 Orange Cardamom Waffles
Orange cardamom waffles - gluten free, corn free, with a mild tang from buckwheat complementing the sweetness of orange juice.
Ingredients
250

g

millet flour

100

g

buckwheat flour

1

T

Baking Powder

2

t

ground cardamom

pinch

salt

2

eggs

1

t

vanilla

2

T

oil

1

c

milk

1

c

orange juice
Instructions
Combine the dry ingredients in a bowl and mix well.

Beat the eggs until light. Add the rest of the liquid ingredients, and beat well, until frothy.

Beat dry ingredients into liquid, and mix well. Set to rest about half an hour, if possible.

Make waffles according to the instructions on your waffle iron.
---
---