Gluten Free Pumpkin Spice Waffles
October brings Pumpkin Spice Waffles, with the flavors of pumpkin, cornbread and of course pumpkin spice joining together for a perfect taste of Fall.
So you were expecting muffins?
OK, I sort of was, too – and then realized I hadn't made waffles for a while. And as long as I was remedying that, I thought it would be fun to change them up a bit. Although I resisted the pumpkin spice a few weeks ago, now that it's October I am ready! And I wanted to see how pumpkin would affect the texture, as well as the flavor of the waffles.
First, I'm not giving you a recipe for pumpkin pie spice. I started blending the Gingerbread and Apple Pie spice blends because they weren't commercially available and I liked the convenience. But you can either buy a jar of this in the store, or find recipes all over the internet (which is what I did, this time.) No point in my duplicating that. So, one way or another, obtain your pumpkin pie spice blend.
Then, I did use the canned pumpkin, but you don't have to. This recipe works just as well with any home cooked pumpkin or winter squash (well, maybe not spaghetti squash – but butternut, for instance…) Do be aware, though, that they may be denser or thinner – you might possibly have to adjust liquid to get the batter right. And I'll have a suggestion later to deal with texture.
Neither the pumpkin nor the spice really shout out in this, though you certainly are aware of them. You may increase the spice – as far even as doubling it – if you want The Pumpkin Spice Experience. I chose to go mild, so it wouldn't be too much if you also served pumpkin spice creamer or the like – or, conversely, if you had a contradictory flavor like sage sausage going at the same time.
When I started to draw up the prototype recipe, I started with the same flour blend I've been using recently – millet, sorghum, and white buckwheat. But it didn't seem to elicit quite the right mood – for Autumn I want heartier flavors. Cornbread! Corn and winter squash classically combine, as two of the Three Sisters of Native American agriculture (beans being the third) that we learned about in grade school. All right, I was onto something, here.
And indeed I was.
Directions
OK, first – waffles work best if you have time to let the batter rest and hydrate for half an hour or so before you bake them. This is not a recipe for a rushed morning. On the other hand, waffles reheat beautifully in a toaster, so take an afternoon, make a dozen (or double the recipe) and then surprise the family (or delight yourself) with waffles on a hectic day! I just refrigerate them, as we'll use them in a few days, but they also freeze beautifully.
Mix the dry ingredients in a smaller bowl. For anyone coming in new, I weigh flour because it is both easier and more accurate. It's particularly the best course when you substitute one flour for another, as so many of us do in gluten free baking, as the dry measure to weight ratio changes quite a bit. On the other hand, I use measuring spoons for spices and baking powder, because many American cooking scales don't measure less than five grams. So, mix cornmeal, masa harina, pumpkin pie spice, salt, and baking powder in a bowl and set aside. (I like to use a whisk, I find it faster and easier for blending flour than a spoon.)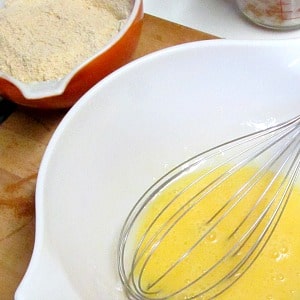 Now the liquid ingredients (which here includes the pumpkin.)  First, beat two eggs in a large mixing bowl – recipes always describe it as until they are "light and lemon colored." See the picture? Then the easiest way to measure something gloppy like pumpkin puree, when you are using other liquid, is to pour the other liquid into your glass measuring cup, then spoon in the puree until it reaches the correct line. I had a pint measure on hand, so put in a cup of milk, then added  pumpkin until it reached two cups. (With a quart measuring cup, I would have started with the full cup and a half of milk that the recipe calls for, then brought the volume up to two and a half cups.) Add the milk, pumpkin, vanilla, and oil to the eggs, and beat until smooth.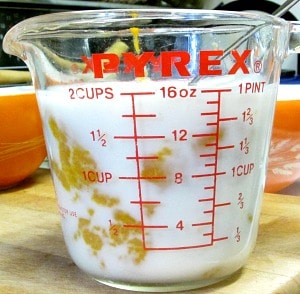 If you cooked your own squash, it probably is not pureed. In that case, I'd put all the liquid ingredients in a blender, and blend until smooth. Then transfer into your large mixing bowl. (This batter is too thick to do it all in the blender.)
However you got there, you now add the dry ingredients gradually to the liquid ones, beating after each addition, until it is all well blended. And let it rest for half an hour. Or more… another way to make it work on a morning when you have some time but still want to eat soon is to mix up the batter the night before, and refrigerate it in a covered bowl or pitcher. Then it's ready to cook when you are, in the morning!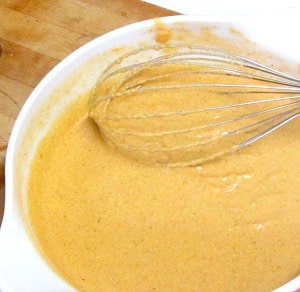 Now I cop out and tell you to make your waffles according to the directions for your own waffle iron – but really, the appliances vary so much I can't tell you more. I will add for this recipe, though, that they will take longer than usual – the pumpkin is very dense and holds moisture. Expect that.
The waffles are tasty enough that I usually just eat them with a dab of butter, though Rich enjoys his maple syrup. Apple sauce is a nice topping, if you're so inclined. This time I didn't feel like the relative decadence of whipped cream that I've served with waffles before (though if you do, add a dash of the spice blend!)
But chilly weather has arrived, and hearty pumpkin spice waffles just tasted so right.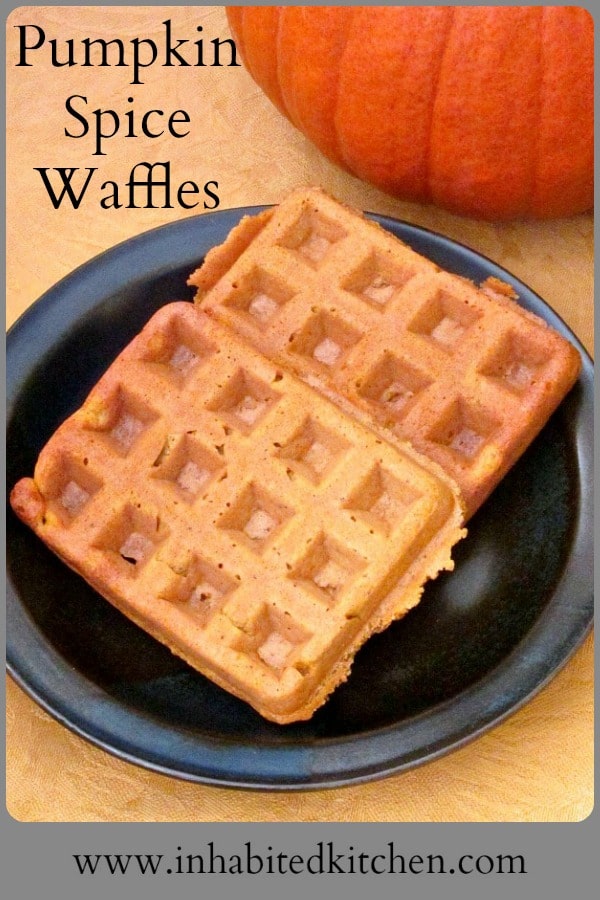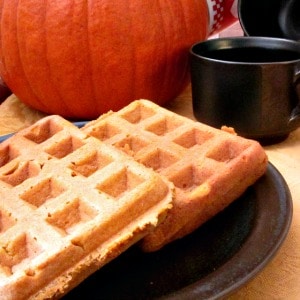 Gluten Free Pumpkin Spice Waffles
October brings Pumpkin Spice Waffles, with the flavors of pumpkin, cornbread and of course pumpkin spice joining together for a perfect taste of Fall.
Ingredients
180

g

cornmeal

60

g

masa harina

1

T

Pumpkin Pie Spice

or to taste

1

t

salt

1

T

baking powder

2

eggs

1 1/2

c

milk

1

c

pumpkin puree

2

T

oil

1

t

vanilla extract
Instructions
Mix the first five (dry) ingredients together in a bowl. Set aside.

Beat the eggs until light and lemon colored. Add milk, pumpkin puree, oil and vanilla to the eggs, beat until smooth and well blended.

Add the dry ingredients to the wet ones, about a third at a time, beating after each addition. Beat until smooth.

Let rest half an hour (up to overnight - refrigerate if longer than half an hour.)

Bake waffles in your waffle iron according to directions.
Notes
Make them ahead if desired - they reheat beautifully in a toaster. Freeze if you plan to keep them more than 2-3 days.
---
---