Carrot Kohlrabi Salad
Salads can be a problem in winter. The summer lettuce and cucumber sort of things may just feel too light and watery- and many stores don't have really good summer vegetables. Or you may just not want to eat slightly rusty romaine, if your store doesn't do better than that, or iceberg lettuce from Mexico… (Iceberg is popular because it travels better. Not that it has much flavor to begin with…) Now, some of you, of course, are in warmer areas, and can get perfectly good, quite fresh, reasonably local lettuce. Great, enjoy it! But, as I keep saying in these vegetable posts, we in the Northeast…
There are stores in New York City where I can get excellent produce all year – but they do not include the two in my neighborhood. (Actually, the nearest one never has very good produce – I'd buy some things at Greenmarket anyway, but the lack of good choices adds urgency.) So, I look for alternatives. 
Winter salads. Well – there's coleslaw. And there are pickled beets. And carrot salad (traditionally with mayonnaise and raisins… though I've never cared much for that.) But the last few years, I've seen more and more recipes for salads made of other root vegetables, sliced thin (with that mandoline, again, in the foodie magazines…) and dressed with a lighter dressing.
And one of the farmers at Greenmarket has started carrying storage kohlrabi all winter. Big purple vegetables the size of grapefruit, with a thick, fibrous skin but surprisingly tender middle. In the summer, the smaller kohlrabi start getting tough as they grow, but I believe this is a different cultivar, made for storage…  and I decided to try a salad made of it, with carrots.
First, I grated a large carrot. I can get good carrots pretty easily at the farmer's market, these days, even in midwinter – but that's also a vegetable that any grocery store I've ever been in has. Even at this time of year, I've found carrots to always be inexpensive and reliably good quality. If you don't have kohlrabi – which is  much less common – you could just make a carrot salad, though it is less interesting. I suspect it would also work well with carrots and turnips – I'll try that another time.
 I peeled the kohlrabi. It did need to be peeled thickly – the peel is very tough. I also needed to trim away coarse fibery bits around the stem – but they are clearly visible. If it looks stringy, you don't want it in the salad…  Then I grated it.
I just used a hand grater for this – I have a microplane one that shreds the food. I might also use a box grater. I found the salad kept fairly well, so next time I may pull out the food processor and use it to grate a large bowl full, and have it ready for many meals. In this case, I really just grated half a kohlrabi and one carrot – made about 4 large servings, we ate them at two meals – so the hand grater was fine. (That could easily have been 6 small servings – we liked this…)
I tossed the two vegetables together, and dressed them very simply with oil and vinegar. If I'd had dressing made up I might have gone for a shortcut and used it – as it was, I tossed in 2 T of olive oil and 1 T of wine vinegar, tossed it well, tasted, decided I needed more, and added the same again, and a pinch of salt. Then I put the bowl in the refrigerator. (I might try adding a bit of dill another time – I think that would be very nice.)
We ate it for lunch, and then again for dinner. It was tangy and refreshing, and went well with the heavier meal. I'm definitely making more of this, with variations – we really needed the contrast.
I'm headed over to Emily's Recipe of the Week,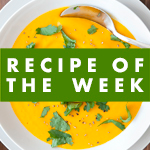 and to Mark's Made With Love Mondays.
Hope to see you there!
Carrot Kohlrabi Salad
Ingredients
1

large carrot

1

medium kohlrabi

or half a large one

4

T

olive oil

or to taste

2

T

wine vinegar

1/2

t

salt
Instructions
Scrub, trim, and grate carrot. Peel, trim, and grate kohlrabi.

Toss vegetables together in bowl. Toss with oil, vinegar, and salt.

Chill before serving.
---
---