Cabbage and Potatoes, with Bacon
Sometimes, you just go with the classics… and this is one of them.
I don't actually cook or eat a lot of bacon. This isn't the blog for Bacon in Everything!! recipes – but the smoked meat does add a nice little kick of flavor to many dishes. I get uncured Bacon Ends at Trader Joe's, freeze them in a zip bag, and just slice off chunks when I want them. (The frozen meat slices quite easily – from my refrigerator freezer, at least.) That pound then lasts us several months. (When I do want rashers with a meal, I go ahead and get the regular slices – but this is easier to store.)
If you want a similar addition of taste without using pork, specifically, you can now find "turkey bacon." Some smoked sausages work well, too, though remember to allow for the spices that are also in them. If you avoid meat all together, you can either just skip the whole thing – bacon is always optional in anything I cook – or use some of the smoked tempeh or tofu that is now available. Most of the substitutions have less fat, so you may have to add a bit of oil – I usually essentially use it as a flavorful cooking fat.
Anyway – I chopped some bacon – probably about the equivalent of a slice, if that's what you have – and put it in a cast iron pan over low heat. Stirred it around and let it cook – at this point the goal was to render out the fat without burning it at all. I gave it about 10 minutes, all together.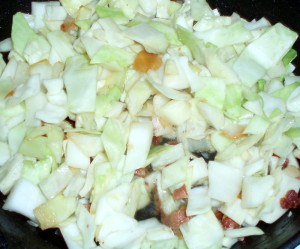 Meanwhile, I chopped my cabbage, and prepared my potato. Traditionally this would be made with a leftover baked potato, but I didn't have one, so, as I did when I made hash, I microwaved one, just for a few minutes. I didn't want to cook it completely, but I wanted it to finish cooking quickly once I added it to the cabbage.
Once the bacon was rendered, I added the chopped cabbage, and stirred it thoroughly, to cover the vegetable with the hot fat. (If there was too much fat, I could have drained some off at this point –
but I did want some for the flavor.) I stirred it a bit to soften it, then added a little liquid. (I had broth left from cooking pork shoulder – I could have used another broth, or just water.) Then, I cut the potato up in cubes, and added that. Stirred it all around again, and let it cook until done to my taste, in 5 minutes. (Cook until ready to your own taste.)
A simple, warming, winter vegetable side. It goes well with a plain meat such as a grilled chop or a sliced roast, and feels a little fancier than plain boiled cabbage and potatoes. If you have some leftover cooked meat, you can just add it for a one dish meal.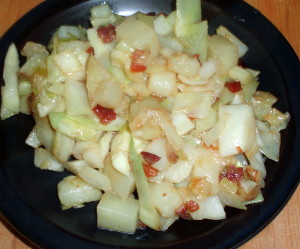 ---
---