Seared Turnips and Parsnips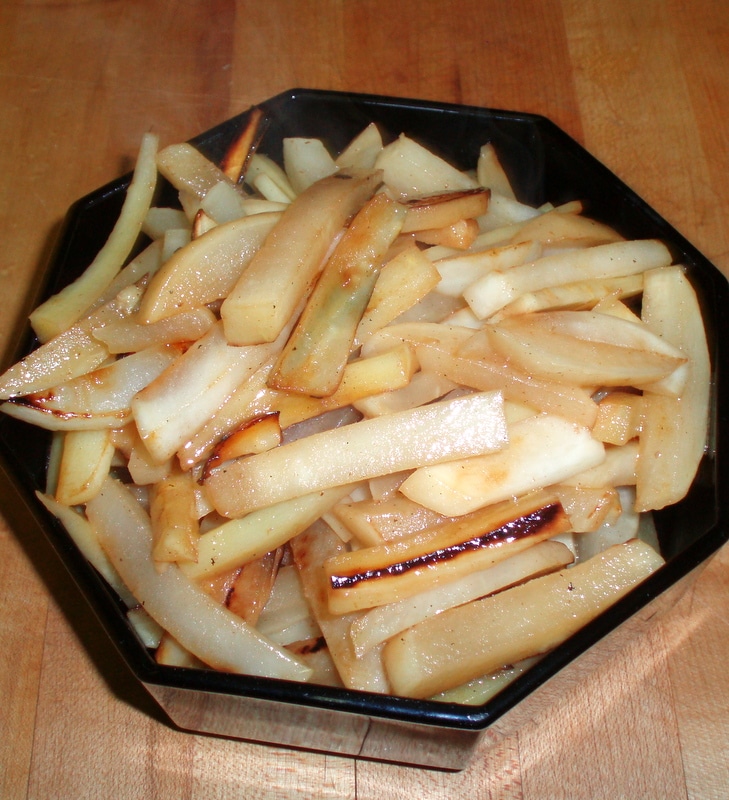 Here in the Northeast, winter has fully settled in. It's often in the 40s F during the day – sometimes higher – but it freezes at night, and it has been down to 2 F, even here in the city, and  much colder North of here. The growing season here is over. It will be two months at the very least before the first Spring greens come in – probably three, this year, since nothing will have overwintered.
We still have farmer's markets, here, though not as many. Until a few years ago, all they seemed to sell was apples… along with baked goods, pickles, meat and fish. These days, though, more and more farmers are coming all winter, with greens as long as they last, winter squash, and root vegetables.
Most of us eat root vegetables such as turnips and parsnips as an ingredient in another dish (if at all.) And they are wonderful as an ingredient in stews and soups – but they can also be served on their own as a vegetable dish.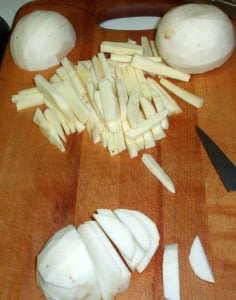 For this, I took a parsnip and two turnips. Partly, that's what I had… but also, the turnips are a bit peppery, and the parsnip is very sweet, and I thought it would be a good combination, with each playing off the other. I peeled them – the skin is tough – and then cut them. I was going to say I cut them in matchsticks, but these pieces are really bigger than that… Now – it you have a nifty mandoline with a julienne blade, go ahead and use it now. (Those pieces will be smaller.) Or, if you have a handy dandy french fry cutter, use that. If you don't, just cut the vegetables in thick slices, and then cut the slices again, as you see, into bite sized pieces.
I heated a little olive oil in a pan – and I got the pan much hotter than I usually would. I wanted to sear some of the vegetables, to get some of that caramelized goodness you get from roasting vegetables. I dropped the cut vegetables in, stirred them around to coat them lightly with the oil, then let them sit a minute or two to brown. I then stirred them around, and repeated, each time letting it sit for a couple of minutes against the hot pan, until most surfaces were at least slightly browned, and some were seared.
Then I added liquid. In this case, I was simmering chicken on the next burner, so I just used a few spoonfuls of the broth from that, one at a time. Any broth would work – though I do think the chicken fat helped glaze the vegetables…  As the hot broth  hit the hot pan, it bubbled up and boiled madly – and I stirred the vegetables to get them all into the broth. The liquid thickened, partly from boiling down, but I think also partly from hitting a little starch in the vegetables… as it reduced, I added more, a spoonful at a time. I let it all simmer for about 5 minutes, until everything looked done. (If you have finer julienne slices, this will be faster.) The broth coated the vegetables, making almost a glaze.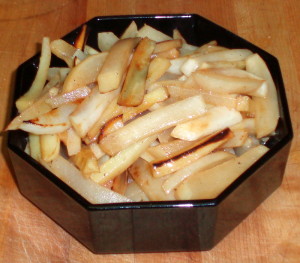 It was a delicious side dish – enough flavor to stand alone easily. The parsnip and turnip combination did work as well as I'd hoped – though the cooked turnip is milder. The whole dish was very slightly sweet, with just a bit of bite – interesting without being overwhelming.  I added a pinch of salt in serving – optional, of course, but I thought it brought out the flavor in a different way, added then, than it would have added earlier. (My broth hadn't been salted – that makes a difference, of course.)
It is a always a challenge, at this time of year, to find different and interesting things to do with local fresh vegetables. I'll be experimenting, here, as well as sharing recipes I've made for years – I hope you enjoy the results!
Seared Turnips and Parsnips
Ingredients
2

turnips

1

parsnip

olive oil for pan

1/2 - 3/4

cup

broth - chicken or other

pinch

salt

opt.
Instructions
Slice vegetables in thick strips.

Heat oil in pan over high heat. Add vegetables, and stir to coat with oil. Cook, stirring occasionally, until browned and slightly seared.

Add 1/4 c broth, stir. Lower heat under pan. Add more broth, as it reduces, as needed. Let simmer about 5 minutes, stirring occasionally, making sure there is always some liquid in the pan.

Sprinkle with a pinch of salt, and serve.
---
---