Baked Vegetable Medley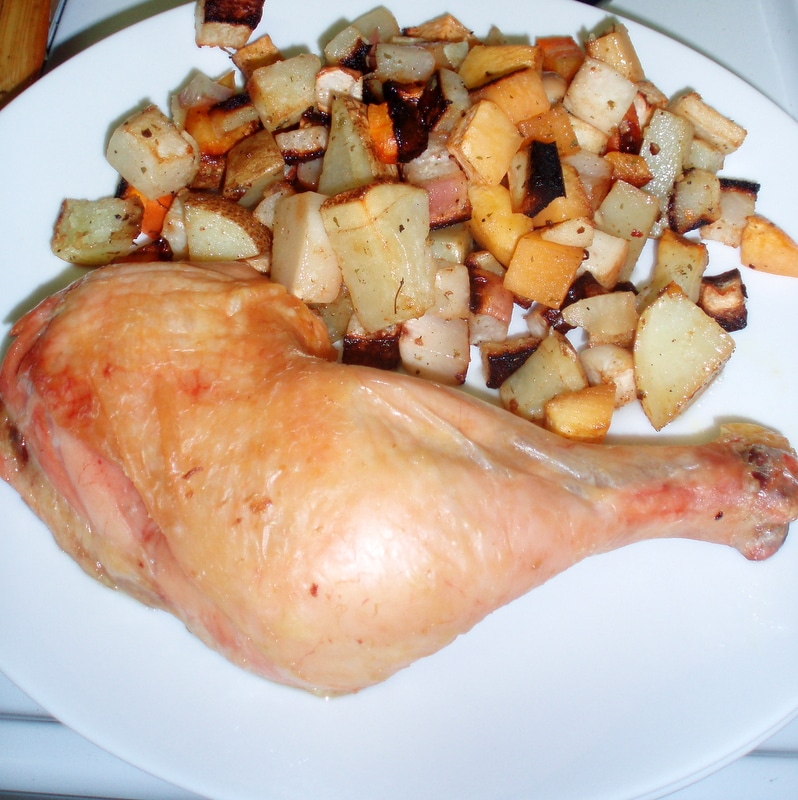 This is starting to feel like All Root Vegetables, All the Time… but that's winter for you. Soup, stew, and turnips… and meals from the oven.
I was baking some chicken legs, and, as long as I had the oven on, thought I might do a baked potato. Checking my crisper, I found I had a couple of small potatoes (including one that had… lingered longer than perhaps ideal…) and a rutabaga, and half a kohlrabi, and a white turnip. So I decided I wanted to go ahead and cook all of them. Oh – and a carrot. Any mix will do, though… Onions would have been a good addition,but I was out. (Gasp! How  can I cook without an onion?)  This does really well as leftovers, so it makes sense to go ahead and make a large batch – that way I have something I can quickly microwave, or drop into soup, or add to a sauce…
So, I washed all my vegetables, peeled the kohlrabi and rutabaga – and trimmed that sorry potato. This is actually a very good way to use vegetables that Really Should Be Eaten Soon…  that need a little trimming, or are just starting to soften a bit…  (and I don't know about you, but sometimes I need that kind of recipe) though of course it is even better if everything is fresh and good.
Roast Vegetables have been a bit trendy for a while, and many people add other vegetables, too – broccoli, cauliflower, others…  I, personally, don't like them cooked this way – if you do, feel free to add them.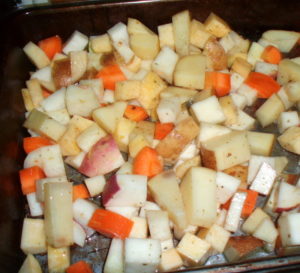 I chopped them all up, put them in a large pan, decided they were too crowded, put half in another pan… (Don't I sound like an expert? Laughing…) I drizzled olive oil over them all, added a splash of vinegar and some Spike (a seasoned salt available in natural food stores and some supermarkets – I've used it for years, and like it.) Tossed it all to coat all the vegetables with the oil and vinegar mix.
I had already preheated the oven to 400, so I put the pans in (along with the chicken.) Cooked it for 15 minutes, lowered the heat to 350, gave it another half hour.  I usually see recipes calling for high heat the whole time, but I don't care for the way the vegetables shrink and sometimes char – this is prepared to my taste.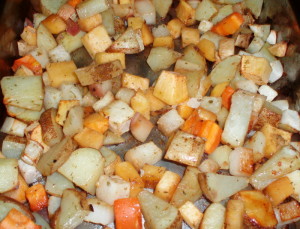 Speaking of charring – this was interesting. Remember how I started in one pan, and added another? The first was stainless steel, the second a fairly heavy aluminum baking pan. Aluminum conducts heat more. The same food at the same heat for the same time – the vegetables in the aluminum did char on the bottom very slightly – the ones in the steel did not. I didn't stir when they were half cooked – that might have prevented that. (Or might not…) They weren't badly burned – still perfectly edible – so I mixed the contents of the two pans together, so every serving had really browned (sort of blackened) crunchy bits in with the other softer pieces. Nice contrast…
The chicken legs, by the way, had essentially the same treatment. I just put them in a small roasting pan, on a rack, and baked them. The fat ran off, the skin turned a delicate golden brown and got very crisp, the meat was tender and still moist. In theory, one can sprinkle seasoning on it, but that only seasons the skin, so I never really saw the point. My mom used to add a touch of paprika for color – but I like the color fine as it is. I cooked four legs, as long as I was doing it, because you can always used cooked chicken… and, between the chicken and the vegetables, I have enough left for at least another meal – more if I change the way I serve them.
(I promise – I'll do something that doesn't involve turnips… soon… sometime soon…)
Joining Emily of A Mummy Too for the Recipe of the Week…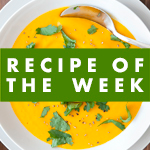 ---
---