WIAW #9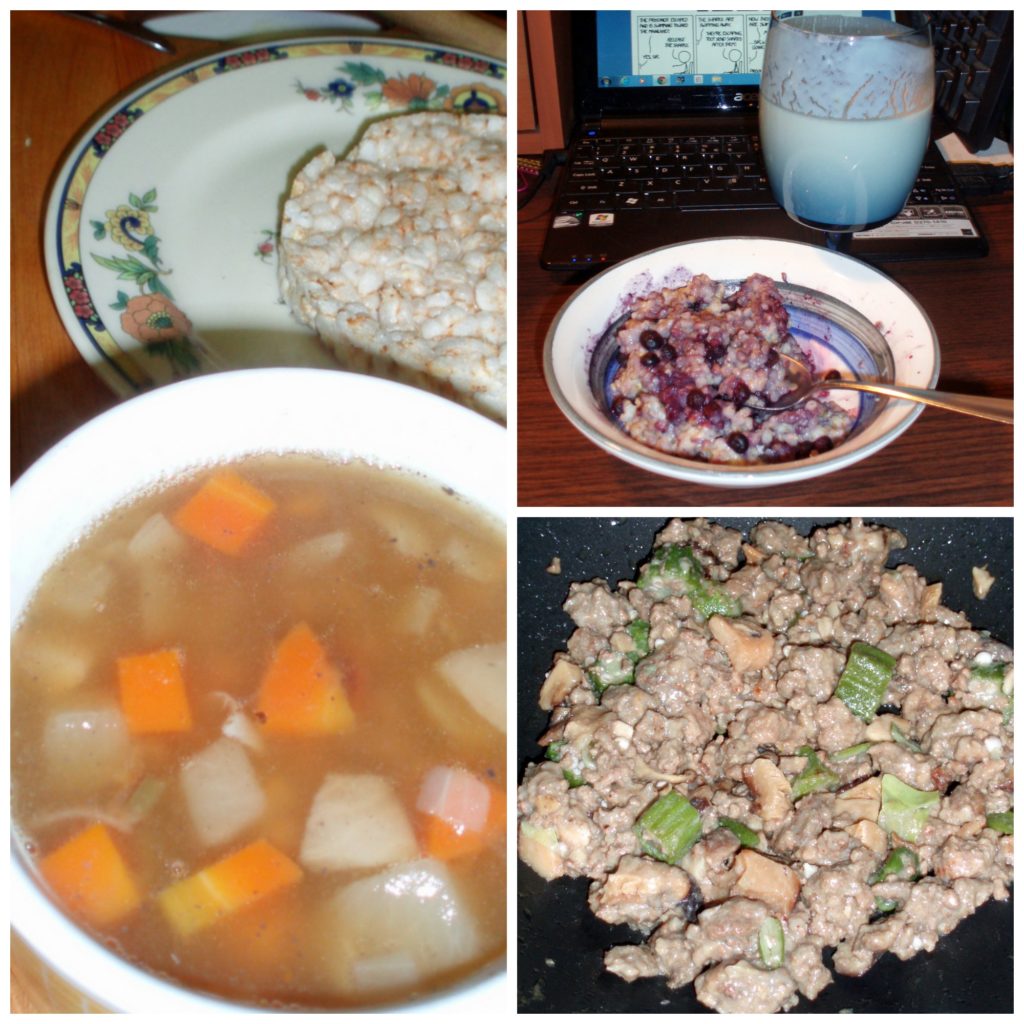 And another Wednesday of food! (Which was a Monday of food, actually…)
Breakfast is the same old, same old. Hey, I'm not awake when I make breakfast, it needs to be something I can fix on autopilot, which doesn't allow for very much variation… Protein shake with yogurt, OJ, and protein powder. Oatmeal with blueberries. Coffee… not in pic, but there.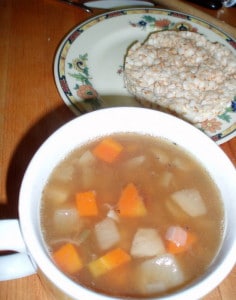 It was snowing. Again. It has snowed a lot, this winter. (In fact, it's doing it again right now… well, icing, really… It's a mess out there.)  I've been making my soup in a regular 5 qt soup pot, but I recently acquired a good, much larger stock pot, so I made lentil soup in that. Didn't fill it – I'm not used to the pot, yet – but I have 4 quarts still in the fridge – which will go quickly, the way this weather is going… (We're supposed to get another, even worse, snowstorm over the weekend. It is very typical for New York to get two or three nasty storms like this in a winter. It is not typical to get three in a week…) I'd gotten a ten pound bag of lentils last fall, and it's going fast… This time, I added some smoked turkey drumstick, for the flavor, and about half a cup of hulled barley, as well as a couple of root vegetables and onion. I ate it with a couple of brown rice cakes (have I mentioned that I love Lundberg rice cakes, and that they are a staple in my house?) and just a bit of cheddar cheddar cheese (not pictured.) Drank a glass of water.
Forgot (again! mea culpa…) to take a picture of dinner before I ate it – but I'd made extra for Rich to carry to gaming tomorrow night… so you have a picture of that. Ground beef in a quick mushroom sauce, with some frozen okra – we ate it over rice, with sauteed cabbage on the side. (He'll carry it tomorrow with leftovers of another root vegetable melange…)
So, simple warming food, for a cold bleary February.
Joining Jenn at Peas and Crayons… and laughing… She's dong Love Your Veg – and this is the first post in the last week that *hasn't* really featured vegetables!  I ate them – they're in the soup, I had them on the side, let me just add a link to Monday's salad…  the only reason we didn't eat that Tuesday was that we'd already eaten it all… just for the record… I do love my vegetables!
---
---