WIAW 82 – It's Really Fall!

Well, of course it is – today is the Equinox.
But after flirting with cool weather, and then getting blasted with record heat for the day, it is now really cool… and it may just stay that way.
I've been busy. I've been trying to write a whole coherent description of my method of Planning For Meals – finally posted the introduction earlier, and will go into more detail about implementation in my next post. And, in a week, we have those workmen I mentioned – Rich has been doing most of the preparation for that, so far, but…
And in the kitchen, I've been working on a different project…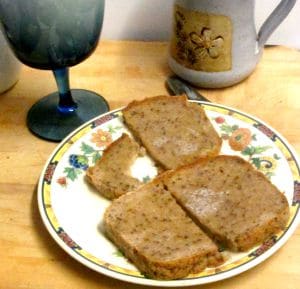 All right – Breakfast. I found a new source of a protein powder that seems to work well (the store discontinued the unsweetened one I had been using) so – now that it is cooling off, of course, I will have some protein shakes again. But I'm also more willing to light the oven, now, so I'm returning to muffins, and starting…  Do you see that, in the picture? I ate toast for breakfast. I baked gluten free bread… (I'm so excited!)
I've researched gluten free bread for months, now, because what is available commercially doesn't work for me. First of all, I don't want all that starch – they're emulating Wonder Bread, which I never did like. (Well – I did when I was five and Mommy didn't let me eat it except at my aunt's  😉 but not since.) And that much refined starch does not agree with me.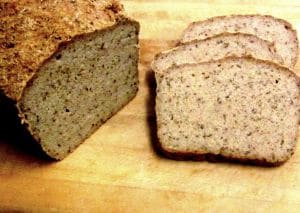 Then – so many of the factors people complain about in gluten free bread seem to me to be a result of the starch… It's mushy. It falls apart. It stales easily. I've baked bread for years, and… that's all the starch! So I've been studying, and reading books and websites, and even a USDA patent! and I have ideas… which I now begin to put in practice.
To start with, though, I wanted to make at least one loaf with an Actual Recipe someone had Actual Success with – to get a feel for the different material. Because if I started a loaf with five different experiments, and it didn't work, I would not have a clue where it went wrong… And then – miracle! – I found a recipe for a whole grain loaf without added refined starches, and without gums (From everything I read, I'd rather use psyllium) and even without egg whites. (I did leave out the tiny amount of sugar – yeast feeds just fine on flour.) Nóri of Ingenious Cooking makes a bread I am willing to eat. Isn't it beautiful?
She doesn't specify size of pan – and I used an 8″, which I've always used for whole grain bread. But then I had to pop it into the oven before it was fully risen, for fear it would overflow the pan – look how well that loaf arcs up! – the next batch will be in a larger pan, and lighter. And I did mix it in a stand mixer, which Nóri does not mention, because my research suggests that this helps hydrate the rice flour enough for it to brown nicely – and you can see it did brown. (Everyone says "You need a stand mixer." No one says why. This appears to be why – and, in  fact, you can absolutely bake without it, but the bread may not be as pretty. And I think I also know a way around that, but I need to play with it… I hate people thinking they can't bake bread if they do not have a stand mixer…) There are other things I want to try, too – I think I can make the texture more to my taste – but this is already so much better than the commercial gluten free bread I've tried, that if I never vary anything I know I will have bread I can use for sandwiches and toast and cheese strata! (I'm so excited… It's funny, because I've never really eaten much bread, and don't expect to now – but sometimes it's just so useful… and I have high standards for it. ) Rich is eating it… He doesn't have to. That's success.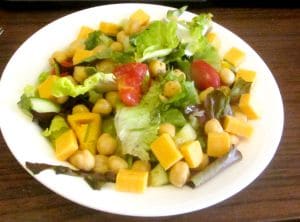 Oh, yeah – what else I ate… Lunch – salad, with chick peas and cheese (and I added more tomatoes) and – well, corn muffins from the day before, instead of my new bread. I said I'm baking again…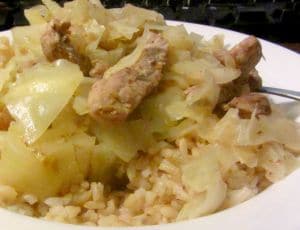 And the lovely cool front coming in has been clobbering me in late afternoon. I've been able to be more productive during the day, which is good, but I crash at dinner time… So, in my best Planning For Meals style – dinner was pork loin I had previously cut for stir fry, sauteed with cabbage. Cabbage is great, it takes almost no preparation, just slice and pop in the pan… and it keeps well, as long as you don't cut it – we got this about a month ago from the CSA. I didn't even bother with onion, this time, but did toss some garam masala into the heated oil right before adding the meat. I cooked rice in the rice cooker, and had a pretty easy dinner.
Now I go join Jenn's party, which Laura is hosting, and then while you party I try on coats from that closet we need to clear – how do I have that many coats? (And why do they need the closet to install a new intercom? Surely they're not putting the intercom in the coat closet? I mean, I know the foyer is small, but…) Good thing the annual New York Cares coat drive starts before too much longer…
---
---