WIAW 69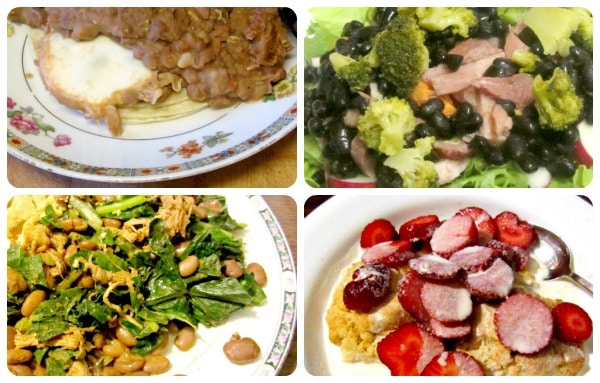 We're getting back to normal after the trip… Unpacking, and laundry, and grocery shopping all happened. The cats are starting to relax. We've started CSA pickups (the first was while we were out of town, but we're in now) so salads and cooked greens are on the menu. And, from Greenmarket, baby squash and – Strawberries! They had strawberries a couple of weeks ago – I didn't want to get them when we were about to go away. But these were worth waiting for.
Sorry, the pictures are a bit catch as catch can… but here we are. Breakfast – what has become the usual bean, egg, tortilla combo. I'm starting to play with it to make it easier and faster to both cook and eat – but Monday was just as it always had been. I really do find it a good, solid beginning to my day – and I need mindless in the morning…
It's Salad for Lunch season! We have plenty of lettuce, of several kinds, but didn't have many other vegetables to put in… we did get a cucumber from the supermarket, but then I got some lovely baby squash at Greenmarket. I love thinly sliced zucchini and yellow squash in salads – great flavor and texture. This is the in-between season – lettuce (and other greens) and radishes are local, but other vegetables are just starting to come in…  Before I got the squash, I took the last of the frozen broccoli I did have, and put it in a container with some oil and vinegar dressing as a marinade – and finished it on Monday. I also put a splash of vinegar in a container of black beans (It both tastes good and keeps them from souring, if they sit a few days) and added them and a little ham. And I ate the salad with some gluten free whole grain crackers I got at Costco (do I have the box? Of course not, have you any idea how big that box was? Do I remember who made the crackers? Of course not…)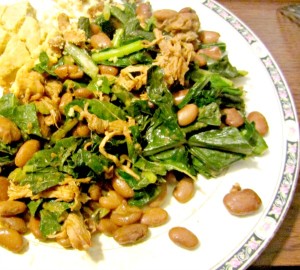 For dinner, more pintos, and some pulled pork from the freezer, and fresh kale. Yes, I ate beans three meals a day. No, I don't see anything unusual about that. They are a superb source of protein, they are cheap, there are many varieties with many flavors, which can be varied further by seasoning and cooking, they are a great slow highly complex carbohydrate, they are cheap… I find that I, personally, do best with a mix of beans and some sort of animal protein, but that will vary by the person – and this lets me significantly cut down on the amount of meat we eat. So, anyway… I had a freezer container of pulled pork (made with a not ready for publication attempt at barbecue sauce.) I cooked a bunch of kale, then tossed some of the pork into the pan with a pint of beans (and their cooking liquid) and let it all simmer… and it was good. We ate it with an entirely too crumbly biscuit – I tried something that seemed straightforward but didn't work – a reminder that gluten free flours just do not work exactly the way wheat does, even when gluten itself does not seem to be a factor. Oh,well…
But the reason I made those biscuits? Indeed, the reason I spent the spring in the whole Search for Biscuits mode? Strawberries… I grew up in the tradition that states, firmly, that shortcake is a biscuit. None of that spongecake stuff you get from bakeries – biscuits. They might be slightly sweetened (mine are not, of course,) they might be served with either whipped cream or plain cream just poured over (my grandmother did that) but, essentially, shortcake is a biscuit, perfectly ripe fruit, and cream… and wonderful. And so we feasted on strawberry shortcake.
And there we are. I will join the Peas and Crayons party whenever and wherever it comes to rest this week…  meanwhile – have some strawberries!
---
---