WIAW 68 – The Family Visit
As I said in my last post, we've been out of town, celebrating Rich's mother's 90th birthday! We just got back yesterday, and are starting to ease into regular life again.
So this post is – well – a bit of a cheat… as I don't have pictures of a day of food. It didn't quite seem right, with the assembled family, to stop and photograph dinner… and talking, and catching up, and making plans all took precedence over my blog. As well it should…  But traveling and visiting both take some attention, and planning, for my meals, so I'll tell you about that.
When I offered to cook, I was delighted that his parents said that they had hoped I would… and then my concentration was on leaving them cooked food for later, as I wrote.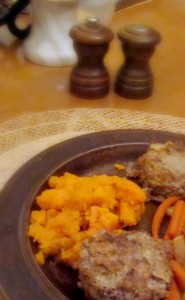 I did get one picture of dinner… This was the first cooking intensive day, when I made the mini meatloaves. For dinner, we had them, and mashed sweet potatoes. And I made seared carrots and turnips (using the Seared Turnips and Parsnips recipe – and the broth from cooking the pork to freeze.) I made enough for two meals, so they have the rest of that in the freezer, as well. I didn't really mention vegetables in my post – I didn't concentrate on vegetables, as they can readily get good frozen ones – but each day I cooked something that would freeze well, and packed them the leftovers, just for a little variety.
My own planning for the trip itself had concentrated on the actual travel, and on breakfast. They eat bowls of Cheerios and yogurt and fruit, which is fine but I can't eat Cheerios… and I need more protein at breakfast… We spent a lot of time with the parents the year they moved, helping them ready the house for sale, and pack – and we learned then that my best bet for breakfast at their house is just to bring protein powder and make a shake. So I packed a bunch of little bags of premeasured protein powder, then blended it with buttermilk and fruit. And I packaged my corn muffin mix, and made a couple of batches of cornbread.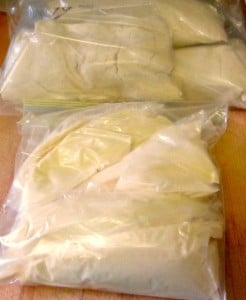 I had needed a breakfast while traveling, also, so did the same approach… I brought a bag of protein powder, and was able to buy a small bottle of juice at the cafe. Drank a little, poured in the powder, shook it, and had my shake right there – and carried a couple of muffins, and ate them. (Rich bought a regular breakfast – eggs, hash browns, biscuit… I swiped his unopened butter…)
Lunch with the family was no problem. I had my cornbread, and had brought rice cakes as a fallback but never actually used them…  did eat some corn chips. We ate hummus, and peanut butter, and egg salad – the day everyone else ate sandwiches, I made scrambled eggs and ate them with tortillas.
We did eat dinner out twice – once to welcome us, and once for the birthday itself. I was delighted how easy it was to get gluten free food in Raleigh! The information was on the websites, menus were clearly marked, the waitstaff was cooperative – and shrimp and grits (which is apparently a classic local dish) was readily available and wonderful. I did the whole trip with no signs of any cross contamination – I'm thrilled.
An interesting philosophical question arose…  I ordered a dish marked gf, and confirmed with the waitress that I needed that…  and she then confirmed that she wouldn't bring the hot bread for me. Rich ordered another dish, which was also marked gf., and, of course, happily ate his bread… But then, he asked me if he should have specified that his food should be gluten free, so he could share with me. (We used to routinely share dishes – and, in fact, the family normally orders and shares one appetizer, and then passes around tastes of the main course.)
I told him not to, though. First, of course, if he gets a gluten free meal, and then cuts it with the knife he used to butter his bread, I can't eat it anyway… so there is no point. But also – there is so much fuss about people ordering it who don't need it, or don't understand… I'm afraid that if he orders specifically gluten free, and then eats bread, or has a beer, that will make the waitress think that if he doesn't really need it, therefore I don't need it, rather than that he wants to share with me… But it was an interesting point.
I'm not sure where the Floating Link Party has floated to – check in at Peas and Crayons and I'm sure it will turn up somewhere… Apparently I'm not the only one who has been busy and/or traveling this last week!
ETA – I found it! The party is at Arman's – The Big Man's World.   (I thought I'd looked there… oh, well… still in travel fog I guess…)  Go have fun!
---
---