WIAW 65
And we're here again!
You may notice a certain sameness to my meals the other day… I'm knee deep in biscuits, right now. I have this unshakeable (so far) conviction that I can make a gluten free whole grain baking powder biscuit that is good. The fact that everyone tells me that I need to add a ton of starch to make a biscuit does not discourage me. This is at least partly based on the fact that my rejects now are better than any biscuits I ever made with wheat – even white pastry flour –  in my life… And I'm stubborn.
So, anyhow – I had this ham, and I'm baking biscuits, so I'm eating ham and biscuits…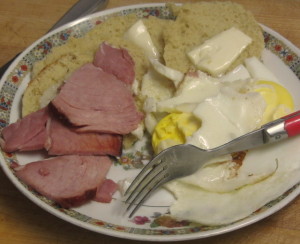 For breakfast I ate biscuits from the day before, split and toasted, with fried ham and eggs. (I do prefer my eggs cooked until solid, but even I don't eat them that cooked, usually – I was distracted.) Yes, the biscuits were a bit flat for splitting. I'm working on that…
Lunch was – more biscuits – and ham. And another one with cheese which I seem to have missed photographing. I'm realizing the recipes I see tell you to pat your dough an inch or even an inch and a half  thick – my mom's biscuit cutter is only three quarters of an inch high. Maybe they aren't really rising more than mine… if they're twice as high to begin with…
Dinner – after a couple of batches of biscuits, I didn't use the oven… This is basically the ham and cheese casserole but not baked… just assembled in the pan. Baking is nice for texture and flavor, but this is OK… and easy… (There is ham in there. I have no idea why you can't see it.)
I don't even eat biscuits much – Northern girl, here – but my shortcakes are biscuits (not spongecake – that's not a short cake!)  and they are useful components of other recipes. Back in the day, they were one of the few commercial convenience foods I really did use – those pop it cans? Maybe half a dozen times a year, but they were really handy – and they're no longer an option for me.
All right, then – Jenn's What I Ate Wednesday party has floated over to Arman's Big Man's World (which in turn has floated here to New York City!) Come see what everyone is eating!
---
---