WIAW 61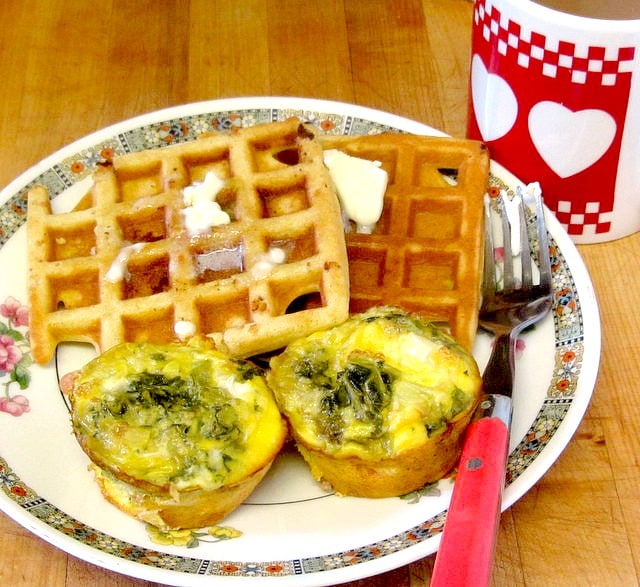 This week I seem to have been obsessed by breakfast. I've been writing about waffles. (And because I made a mildly snide remark about Belgian Waffles not being the Current Hot New Thing – a friend passed on a slightly used Belgian Waffle maker. Which works better, I think, than the dinky little waffle iron I've been using. So there may be Belgian waffles in the future…)
And I wrote about egg muffins. I really only had one breakfast where they intersected, but when I write about things, I eat them, and… that was yesterday, when I realized I hadn't been taking pictures, so here you are.
It was actually a pretty good combination, though I felt a bit funny heating the one in the microwave and the other in the toaster oven… but they work better, that way.
Otherwise my concentration has been on improving photography, and making sure I'm ready (I hope) for the Google algorithm switch, and – well, some work gigs, and… it's been moderately busy this week.
I had soup from the Pot of Lentils approach – with leeks and kale and chicken. And an ambitious muffin from earlier in the week – doesn't it look as if it's trying to be a brioche? (Failing miserably – it's a perfectly nice muffin, you should play to your strengths, Corn Muffin, not try to be something you are not… and you're a good corn muffin, but a lousy brioche.)
Never did get a picture of dinner… Rich actually made it, I was occupied. Sauteed an onion, added chicken broth I'd frozen earlier, used a roux cube to make gravy, added cooked chicken breast from an earlier roast, added frozen green beans, served over quinoa (which he cooked – not just reheating this time.)
I sat down to dinner. Nice…  You forget what that feels like, when you're the cook… I love to cook, but this is relaxing in a completely different way.
Jenn's party has now floated over to Clean Eats, Fast Feets – come on over! There is always such a variety of food – it fascinates me…
---
---