WIAW 56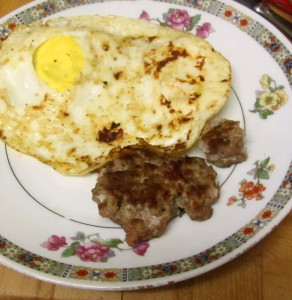 It's the middle of March. We finally had a few days well above freezing – and now are dropping right back down… (It may snow on Friday.)  Trees and flowers are starting to bud and blossom – and release pollen… I love the signs of Spring, but they've always been hard on my body, and this week was no exception. And my not-terribly-exciting and not-at-all-well-photographed meals show it.
But I still ate three decent meals a day – using leftovers, stuff from the freezer, and energy saving methods – and that's really the point, here.
Breakfast. So far a perfectly normal morning, and I'm experimenting with pancake recipes – and we'll just draw a curtain over this one, shall we? No, don't worry, I'm not sharing that recipe…  it just didn't work at all. And then, I guess it distracted me from the eggs… I do like them cooked harder than most people do – but not quite this much…  The sausage was good! (Hard to mess up good sausage…)
For lunch, I have a pot of lentils going again. And I was starting to feel off… so yes, it's a poor picture, and yes those are frozen mixed vegetables, and I had rice cakes with it (actually, after it, when I realized I'd forgotten them.)
I was not up to cooking dinner. I had some colcannon left, and some shredded pork in the freezer – added a bit of cheese and microwaved everything. Easy and good – and like, you know – nutritious! And balanced! And kale! I could pretend that I was really together and organized and Cooking.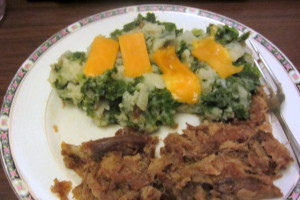 This will settle… We'll get sunny warm days, and daffodils and cherry trees… and the Greenmarket farmers from Southern Jersey will start to sell tender greens… and I'll stop feeling as if something has been beating me around the head and shoulders…
But meanwhile – we still eat reasonably well.
What I Ate Wednesday has now floated over to Meg at Clean Eats Fast Feets.  (She is helping Jenn.) Come join us! (She wants a song. I sang my song last week! OK – the oldest established, permanent, floating linky in the world… We can all use a bit of silly…)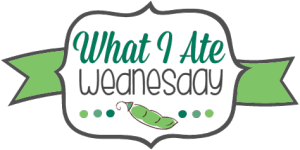 ---
---