WIAW 48 – January Meals!
Another week, another day's food…
On Sunday I went to a small Greenmarket – many fewer farmers than Union Square, but it is closer to me. (Sometimes I don't want to walk two miles in below freezing weather!) When I got home, I mentioned the vegetables I bought on Facebook, and someone commented that it is winter in the Inhabited Kitchen. Yes, it certainly is.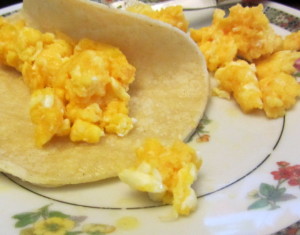 Breakfast this time was a quick one. My schedule gives me time in the morning, which I mostly use to wake up, but which generally allows me to have a real cooked breakfast. (You should see me cook on autopilot!) That's the reason I eat the same thing in streaks, though… I can make muffins in the morning, as long as I make them every morning… what I can't do is go into the kitchen and decide what I'm going to eat. For the sake of variety I'm starting to decide the night before what I will eat in the morning – that's a concept – so I can have everything ready…  Sunday morning I opted for scrambled eggs with cheese, wrapped in tortillas. This is both the fastest breakfast for me to make and the fastest to eat… good to remember on those days I do need to get out the door quickly!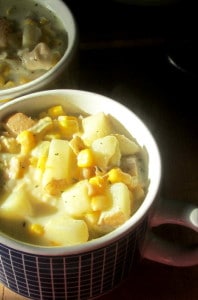 Lunch was a bit of an experiment. I really like New England Clam Chowder – it has always been one of my comfort foods. And, honestly, I've mostly eaten it out of cans…  Yes, I've had the real thing down the Shore (why yes, I did live in New Jersey for many years, and I do say "down the Shore") but here in the city it's a pantry item for me, not something for which I make a special trip to the fishmonger… Over the years, though, it has seemed that the quality of the canned soups has really deteriorated. Maybe I'm just  being nostalgic – but I have noticed ingredients changing without warning, and the canned chowders seem to have less clam and cream, and more starch.  I'd taken to buying canned Clams In Clam Broth (which have more clam broth than clams, which is another issue… but for soup I do want the broth, so it's sort of OK) and adding them and half and half to the canned soup… but it started to feel silly to me to pay for the soup if I had to doctor it anyway. So now, I'm experimenting with making my own New England Clam Chowder. I'm not quite ready to write it up yet, but it's getting there…
After I posted what I had bought, someone else asked me what we were eating… which was perfect, since I was already taking pictures! So everyone on Facebook got a sneak preview. I had a frozen fish filet,and decided to spit the one filet between the two of us, and add something else to bring up the protein in the meal. Then, the root vegetables I'd gotten… One advantage, I'm finding, to writing a food blog is that it jogs my memory of successful dishes I've made before. I'd forgotten the Seared Turnips and Parsnips until I went through old posts for the review – but they were so good I knew I wanted to do that again.
I didn't have turnips, but carrots should work. The variation was interesting – I commented last year on the contrast between the peppery turnips and the sweet parsnips. This time both vegetables were sweet – but the carrots were crisper, while the parsnips melted in my mouth. A different, but equally interesting contrast. Anyhow, then I just sauteed the fish in a touch of butter with garam masala, and then heated cooked lentils in the same pan to pick up what was left of the butter and spice. Really, a very simple but delicious dinner.
Linking with Jenn at Peas and Crayons…
---
---