WIAW 46 – 2014
The last day of the year (as I'm sure you have also all noticed!) and I'm looking back at a year's worth of meals.
Soups all winter, salads all summer. (Even a couple of chilled soups in summer… we do like soup.)  Many, many muffins… Beans in every way I can think of (though I'm sure I'll find more!) And always, always vegetables – whether they're the star of the meal (glazed carrots, asparagus, stuffed pumpkin,) a few precooked and frozen ones dropped into a soup, or anything in between. Meat, though it's rarely the star…  a supporting player, who adds a lot but doesn't really stand out.
Not much fish. We like fish, especially Rich – I should pay more attention to getting it on the table. It's comparatively expensive, though, and the budget is tight – I guess my first resolution for next year is affordable fish! I can't really cook it in with beans, the way I do meat. (Budget is not the only – or even the primary – reason I cook that way… but it helps.) The Asian approach, I think – small amounts of several different dishes, each with a protein source – one fish, one, say, tofu… Or the Hispanic, with a piece of fish, and then rice and beans on the side, instead of just rice… Because, in fact – we do like fish…
Anyhow… What I Ate last Saturday…
At Greenmarket, one of the local farmers who bottles juice had an apricot beverage.  Now, the problem with stone fruit is that, juicy as they are, they don't really – juice. They smush. The usual approach is to thin a puree with a lot of sugar water and call it nectar – but that's awfully sweet…  This had no added sugar, just other juice – essentially, I gathered, they thinned the puree with apple juice. We tried a little plain – there was a definite apricot flavor, but it was still a bit sweet as a plain drink, for our tastes. I decided to try it in a protein shake, though, and that was really good… I did add a touch of vanilla, which I thought helped bring out the apricot, and yogurt. Drank that with the ubiquitous corn muffins, and coffee.
Lunch – soup. The picture is a cheat – I forgot to take one, so this is recycled…  It was actually a black bean soup. I'd made a black bean and pork stew the night before, thinned the leftover with broth and added some more vegetables. (That's often where the lunch soups come from – leftovers just tweaked a little.) And of course that was corn muffins, from that morning, not the ones in the picture.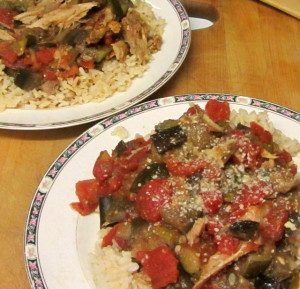 I needed a quick and easy dinner. A year ago, in September, I wrote about making ratatouille without enough tomatoes, and freezing it to use in the winter with canned tomatoes. Well, we really liked that, last winter… so last summer, I made a large batch without tomatoes on purpose, and froze it for later use. Now I'm starting to work down the precooked vegetables in my freezer… and that sounded good. I also want to finish the last of the frozen cooked turkey I have from Thanksgiving. So early in the day, I moved both containers from the freezer down to the fridge, to start to thaw, and set up the rice cooker. (We did eat this much rice before I had a rice cooker – but oh, that does make it even easier…) Close to dinner time, I popped the ratatouille in a pan with a can of diced tomatoes, and heated it, Once it was mostly heated, I added the turkey. I wanted a bit more seasoning to balance the turkey, so once it was heated through, I stirred in a spoonful of pesto – I have dried basil, but this has more pop. When I served it, I then added a sprinkle of parmesan cheese, though I don't usually use it on the French ratatouille…
I think it kind of neat that this late December day tasted of August… from apricot to zucchini! But still primarily local – just preserved. I didn't plan it that way, but it is nice to be reminded of summer.
Joining Jenn at Peas and Crayons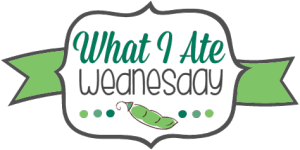 ---
---