WIAW 28
Wow, this has been a rough couple of weeks. The weather (super low barometric pressure, ever since that hurricane danced past us) has been doing a wonderful job of making me feel horrible…  Such energy as I've had has gone to actual paid gigs, that being how things must work.
Doing a bit better, now, though – and I'll be trying now to replenish all the prepared food we've been eating through! The freezer is empty, and I'm making big pots of beans and slow cookers of chicken. (We hit the "Heat cans of chili" stage last week… We do make sure we have decent canned chili for such days, but… it's not my ideal.)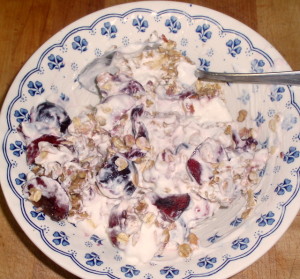 Anyhow. I did pull myself together a week ago to make (and write about) granola  – and I'm glad I did, as that means breakfast is mostly taken care of. And the first cherries are in, which is cheerful… This isn't a pretty picture – if you want pretty, look at the previous post – but my homemade granola and Greek yogurt and cherries were delicious. I scrambled a couple of eggs, too – sorry, no picture. Sometimes, instead, I make a protein shake without fruit, and just pour it over – can't get any easier than that.
Salad, still – including the first tomato! Yes, it is ripe – that's an heirloom… Cottage cheese on salad greens. With rice cakes and peanut butter – don't seem to have been doing well on the picture taking…
Cooked chicken from the slow cooker, quinoa, and fresh green beans. I cooked the beans in broth from the chicken, and poured more of it over the quinoa – very simple, very good.
As always, joining Jenn…  She has cherries, too!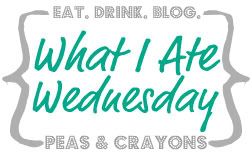 ---
---