WIAW 20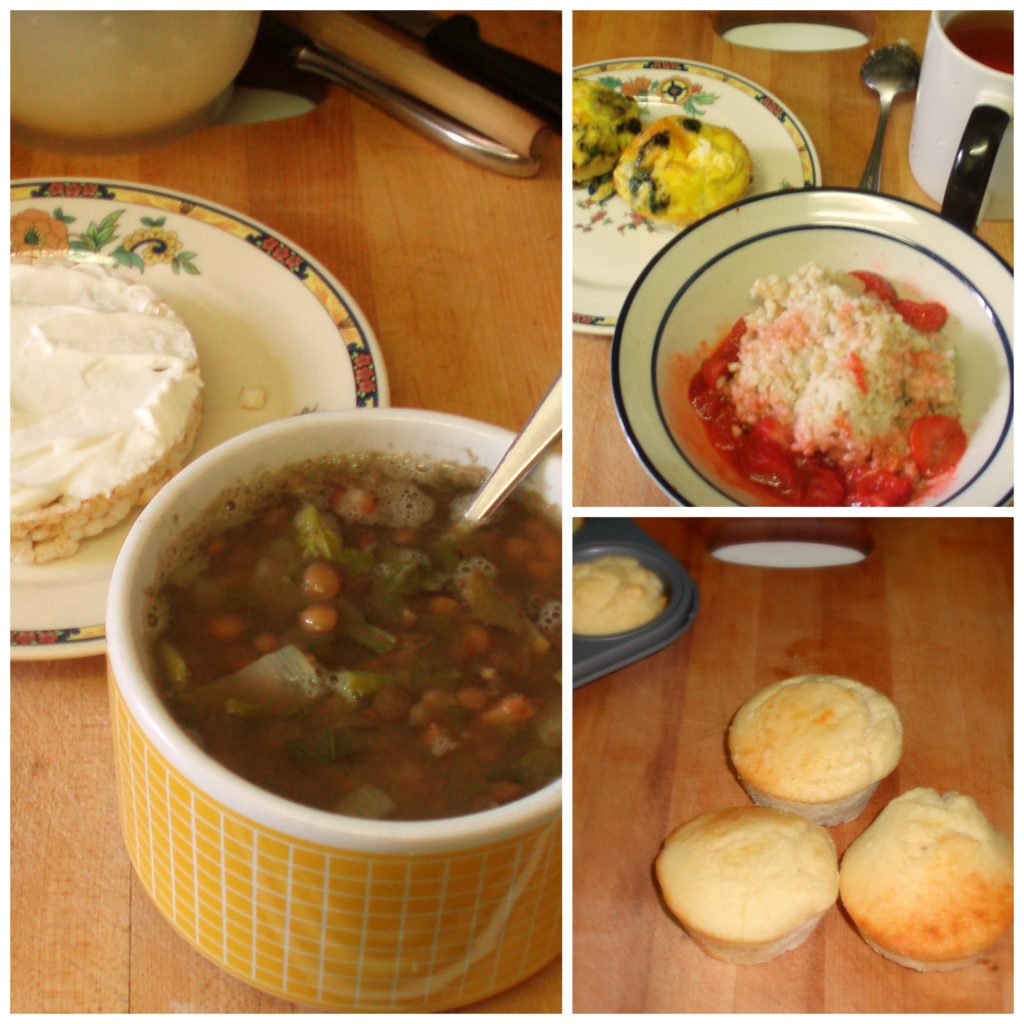 It is spring. Finally…  I've gone out for a walk with just a light shawl, we've had a couple of days of sun, I'm getting vegetables at Greenmarket, and the CSA (Community Supported Agriculture) had its Meet the Farmer Potluck.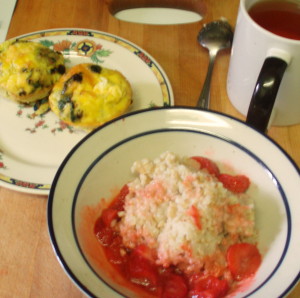 Breakfast yesterday was so called egg muffins…  I cooked sausage and spinach (Yay! Spinach!) in a pan, divided it between muffin tins, added beaten egg and a bit of cheese, and baked. They're a little different every time I make them – sausage, ham, meatless, cheese, no cheese (I don't think cheeseless is a word,) chopped greens, chopped broccoli, no veg… (Vegetableless??? Let's not go there.)  It's what I have around, which is the reason I haven't tried to write them up, yet. One day, maybe… Anyhow, I just microwave for 30 seconds, and eat. And I cook a batch of 4 servings of steel cut oats, so that is also heat and eat. (With the last of the frozen strawberries from Easter – fresh should be coming in… eventually… but I'll use them without heating.)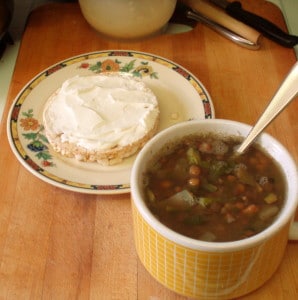 Lunch – lentil soup. (It's Spring, but not yet Summer… ) I made a variation the other day, and added the rest of the cooked rabe, and I made enough for a couple of meals, so this is reheated. Then I made whipped feta cheese. I'd seen references to whipping it with cream cheese, then someone mentioned that it's done with olive oil or yogurt, in Greece… so I've done that a couple of times, now. This is with yogurt…  and it's freshly made, so a little runny. It sets up in a few hours. And this is plain – no seasoning. Again, when I feel I have something reliable, I'll write, but not yet. Spread on brown rice cakes – I do like the crunch…
As I said, the CSA potluck was last night. I decided to bring the corn muffins I've been playing with, and did a careful highly scientific variation to try (in other words, I ran out of stoneground cornmeal – oops – but they worked, and people seemed to like them, so now I have something new to play with…)
I just took pictures of them at home, as I didn't want to distract people from the farmer by taking pictures there. But we had a farro salad, and lentil salad, and mixed green salad (no way to heat things, so a lot of cold dishes. Besides, we all like vegetables!) and roasted potatoes and beets, and two kinds of homemade salsa, and guacamole, and baked salmon, and I'm forgetting half of it but it was all delicious! (All labeled with the cook's name and *ingredients,* which I'm glad to see becoming more common.)
The CSA itself doesn't start until June – that's the earliest there is really a reliable variety of vegetables around here, enough to be worth it – and it's going to be a slow start, this cool Spring. (The farmer assured us that it looks like a good Summer – just wait… and we've always had lots in the Fall, which is really harvest season, in the Northeast.) You'll be seeing an assortment of it all, as I find new ways, or share tried and true ones, of cooking or serving what we get. Our menu really revolves around the vegetables, for the six months of the CSA, which I love.
Joining Peas and Crayons for What I Ate Wednesday…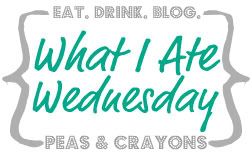 Remember –
---
---