WIAW 186 – Grits and Sweet Potatoes
So we've been here in North Carolina a month, now.
We still haven't unpacked everything (ya think?) and, well, not everything will be unpacked – but we're getting close to the point where we'll be able to separate out the boxes we don't expect to unpack in this house, and the boxes of things we won't need for a few months. Then we should be able to get them to storage (a unit or the attic or Rich's brother's spare room – as appropriate) which will both improve the visual here and make it more possible for us to find some things we're still looking for.
I'm sure you all know the dangers of putting something In A Safe Place? It turns out that Making Sure it's one of the First Boxes to Unpack is similar… I do have the most urgent things (whew!) but I'd really like to find my earrings.  (I said here that I wanted to find my kitchen scale – and unpacked it a day later. Here's hoping the charm works!)
I had cooked for the parents before, during their move, but not on a day to day basis. So another process is a crash course in what they like to eat. I'm very lucky, because vegetables practically lead the list, tofu and spicy foods are on it, I'm not cooking for people who prefer a bland diet or want to live on packaged food!
I'm also still checking out local stores. Kind of ending up with this store for one thing, that one for another… It was one thing to do that in New York with stores right down the block from each other, and some of these are along the same street (though a mile apart – I have to get used to car culture again) so it makes some sense – but I'm hoping to pull things together a bit more! We'll see…
What I Ate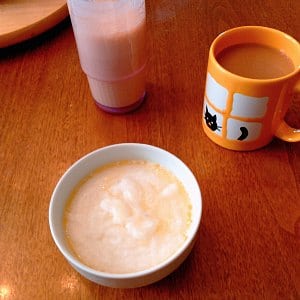 This has become my most common breakfast.  I have found unsweetened protein powder, so I make a shake with kefir (or buttermilk, which the parents use often) and sometimes a little juice.  And I have Quick Grits which are indeed quick and easy to make, and work well for me. I like them with salt, pepper, and just a bit of butter…  They have just enough texture that I do enjoy them.  (I'd gone through a whole rigmarole a few years back, trying to make a hot cereal that had a little bite to it. This isn't as chewy as the Little Bear's Porridge – or the steel cut oatmeal I missed – but it's enough.)
I'd made a pot of Great Northern Beans for my last post, and mentioned Creamy Tomato Soup. So then the obvious lunch was a nice pot of that incredibly easy soup. I cheated a bit – didn't have some of the seasoning I'd used originally, so I spooned a bit of commercial pesto into each bowl. And we finally found the Lundberg rice cakes! (They're brown rice, and not styrofoam…)  so I had some of them.
I kind of threw dinner together. Tofu (which I did not drain the way I usually do, which was a mistake…) and some ground turkey, neither of which browned because there was so much water from the tofu… And a good frozen vegetable mix. Served it with mashed sweet potato. I really enjoy the ready availability of sweet potatoes! And the whole family like them, always a plus. So not one of the most exciting meals I've served, but perfectly good…
So, wander over to Laura's at Sprint 2 the Table and see what ramen is supposed to be. (I used to work at a Japanese firm in NYC, and ate at the local lunch places that sprang up in the neighborhood. Real ramen does not come in a cellophane package.)  And join Jenn's WIAW party!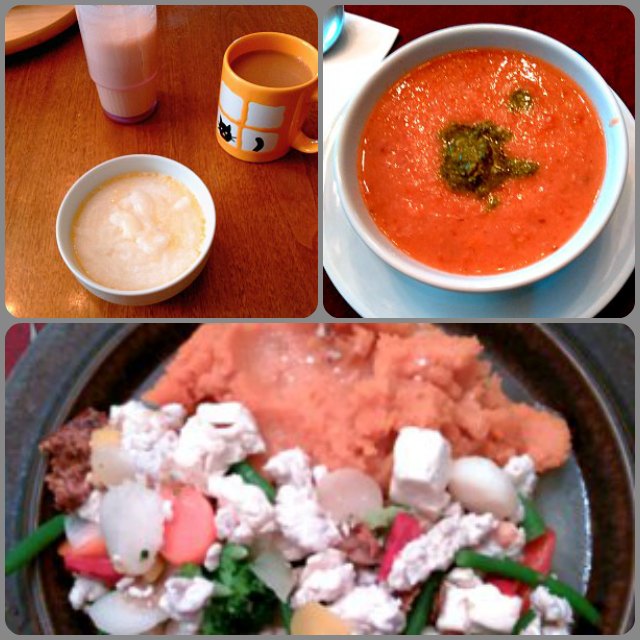 ---
---