WIAW 17
It's been a crazy week, here in New York. We had four days – luckily including the weekend – of gorgeous warm weather. Highs in the mid 70s, lots of sun. The flowers have finally started blooming – quite late, really, it's been cold, until now.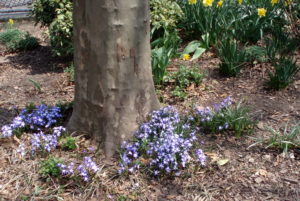 I walked to Greenmarket – which still only really has carrots… Farmers were just starting to set plants out, hoping we're finally past a hard frost. (One had sold out of some baby spinach… there's hope!) But the park was crowded, the athletic field full of what looked like a hockey league starting to organize itself – groups in colored Tshirts practicing at goals or standing around, apparently waiting. 
Then the cold front came through – we had sleet and some snow, last night. It is now sunny and 30, instead of 76…  We're still blinking.
Anyway – food. I've been playing with my breakfasts… I tried refried beans with eggs, as something pretty quick and tasty. I mashed the beans with water, let them simmer to blend flavors, and dropped the eggs in to poach. (They're prettier in the pan than on the plate.)
With a muffin. I'm experimenting with recipes for corn muffins, to find one I really like that is really easy – possibly eventually a mix. And meanwhile – poor me – I have to eat the experiments…  (It's not as if there is such a thing as a *bad* fresh homemade corn muffin.) Unfortunately I'm also experimenting with my camera – and that experiment didn't work quite as well. Sorry for the fuzzy over exposed picture…
I did eat lunch, though you wouldn't know it from the pictures…  a leftover bean/beef/veggie concoction. Not really enough left for lunch, so I also had rice cakes with pepperjack cheese.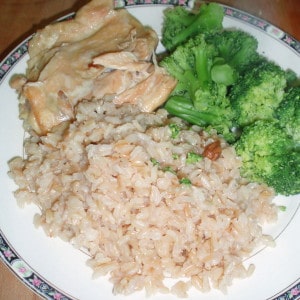 Dinner was chicken cooked in the slow cooker (though without the sauce – just chicken) and a rice pilau, and frozen broccoli. I'll write about the pilau later.
I am again joining the WIAW roundup at Peas and Crayons .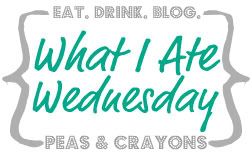 ---
---