WIAW 139 – the Turn of the Year
October is winding down…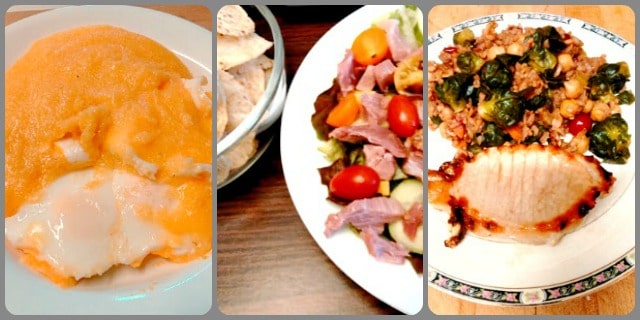 The World Series started last night. (Go, Cubs!) Trees are turning color (a bit late this year.) The CSA shares are full of winter squash, cabbage and curly kale. Every laundry day, I put summer clothes in the back of the closet, and pull out the long sleeved shirts – that task is almost done. I really should get new snow boots, though it's hard to think of that, yet!
I used to job in at a costume shop for Halloween, and it still feels a bit funny to me to not work there in October. And that led right into the busy season for my other work, as a vendor in department stores (with time out to run wardrobe on a Christmas show!) I used to do more than half my year's paid work the last quarter of the year, then rest in January, when it was all over. Even my professional life changed with the seasons!
I like to eat seasonally, but even those who don't deliberately think that way follow some patterns. Looking around other food blogs, I can't tell you how often I've seen the phrase "Comfort food" this week! Suddenly stew and pot roast are more appealing than burgers and stir fries. We're shifting towards winter.
What I Ate
I seem to have shifted away from tacos towards cooked grain for breakfast. On Monday, I made cheesy grits and eggs. It does take a little time, but it's mostly not my time – I get to sit with my coffee and wake up a little before I eat. I start the grits, and add cheese and eggs after ten minutes – and eat when the eggs are done. Easy, and fast enough.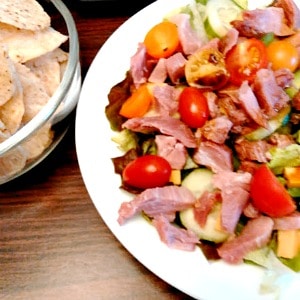 Seasonal change or no, I'm still eating salad for lunch. Well, in many ways I'm ready to move on, but lettuce thrives in cool weather (as long as there's no frost) and you should see the head of red leaf lettuce we picked up yesterday! Seasonal eating does mean eating what is growing… We have peppers, too, and cherry tomatoes, but I think that may have been the last cucumber…
And tortilla chips on the side. I really do need to get back to my bread experiments. All the gluten free bread out there seems designed for the people who like a nice fluffy sandwich bread. I can't stand fluffy bread. For heaven's sake, I baked my own bread in a dorm because the stores only had marshmallow bread… You know the little squares of Westphalian Pumpernickle, cut in thin, thin slices? I love that stuff!
OK, most of my bread was somewhere in between… a full sandwich slice, light but not soft. I've tried a few gluten free breads, and they all mush. I was doing pretty well, last year, not quite there yet, stopped for some reason – and can't find my notes. I have some ideas, though…
I remember the day I made a real grilled cheese sandwich. I want that, again.
Dinner was in a bit of a hurry… I threw pork chops on the grill pan, let one side overcook (by mistake) so they curled up, then turned them… The other side has pretty grill marks, honest!  Not my preferred way to fix chops, but it will do in a pinch.
And I pan roasted some lovely little Brussels sprouts (my, that's a bad picture) and then tossed them with the pilaf that had not fit into the stuffed pumpkin. And may I just recommend that combination!
What are you eating, these days? Have you started changing it, yet? Will you? (I can see that someone in a hotter climate might not feel the same way. Who needs warming stew in Miami?)
Have fun on Halloween! And if you're looking for a few ideas for non-sweet treats, for meals or snacks, I started a Pinterest board to collect them. (I've been pleased by how many I have found, once I started looking!) Check it out! There are some really clever ideas, there, ranging from slightly spooky and mostly cute (for small children) to full on gory (not my style, but just right in some circumstances.) Have fun with it!
---
---