WIAW 104 – Pretty, Pretty Pictures
Blear…
It's not as cold, it's even wetter, and that's all I have to say about late February weather…
I'm going to talk about pictures.
I am very much not a photographer. Much of my life, I didn't even own a camera… By chance, I did own a moderately decent one when I decided to take this blog I'd started a few years earlier and really do something with it – which by then meant Pictures.
Yes – I started a food blog, for fun, without pictures. That was 2008. I was reading food blogs without pictures… Pinterest didn't exist for another two years. Foodgawker started slightly after Inhabited Kitchen did. Food magazines showed gorgeous pictures to drool over, as they had all my life, but everyone knew they were shot in professional studios by professional photographers who hired professional food stylists who did all kinds of weird things to the food to get the pretty pictures.
But digital cameras were improving by leaps and bounds – and even I can easily take a few dozen pictures in one shoot since I don't pay for film and developing. All kinds of photoediting software came out, from simple to highly complex (and from free to expensive…) so even I can process my pictures. And right now, Bon Appetit is announcing that its March issue is shot entirely with iPhones!
Meanwhile, Foodgawker hit big – and of course was joined by a dozen or more similar sites. Then Pinterest changed everything… and now, almost the only way to find new readers is to get pictures out into the world that will draw them in… This can be a challenge – aside from my personal lack of skills, some of my best tasting recipes don't look very good, some of my prettiest pictures are of food that is perfectly all right, but uninspiring… And we all face this. (If you came here from the WIAW party, after all, you clicked on a picture that looked interesting, right?)
Yummly is far and away my favorite food site, for that reason, and I've had recipes going in there for a year or so. It's about the recipe, more than the picture… If you, the reader,  think a recipe (it has to be a recipe – so, oddly, not this post!)  looks or sounds interesting, you hit the Yum button over there on the left, and Yummly's own software chooses and crops the picture, and – this is key – picks up the ingredients. (Super easy.) So, while other sites are more for admiring gorgeous pictures, this is the site for someone who wants to Cook, not just look.
You set up a membership, and your own Preferences, and your own Recipe Box. Then, if you Yum something on this site, on any other, or on Yummly itself, you'll be able to find it in your box. (You can get a bookmarklet for your browser, if you want to Yum recipes from sites that don't have the button.) And if you like a Publisher, you can click on the site name, and it will bring up a page of everything that site (whether a blog or a manufacturer) has had Yummed. We don't curate our pages – you do. (And here is the Inhabited Kitchen Publisher Page.)
But, better – you can search by ingredient. What can you do with kohlrabi? Well, search for it – and you'll find recipes from Martha Stewart and from Inhabited Kitchen. And better yet? Those Preferences… You can set up a filter – permanent or temporary – to screen out ingredients you don't want, or establish what way of eating you follow. (I'm Gluten Free, and allergic to Scallops… so they simply won't show me Coquilles St. Jacques over Farro… If you want lentil soup but don't eat pork, you won't have to wade through my most recent lentil soup recipe to get to one you want.) Then, again, if you like a recipe (mine or Martha's) you can Yum it and put it in your recipe box, and help more people find it later.
So, really, check it out, make it work for you!
Meanwhile – what I ate…  Which is, I'm afraid, less interesting at the moment… The way the weather is jumping up and down really drained me last week.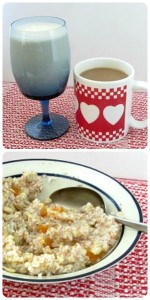 Breakfast – my current fallback. A protein shake made with kefir, orange juice, and ginger, and a scoop of protein powder. And porridge. Actually, this is Rich's – I ate mine, got up, looked over toward the setup on the sideboard and said "Oh!" He was just starting his, so the understudy stepped in and stole the show – he adds dried apricots and sunflower seeds. I don't bother…  Maybe I should try the seeds, at least. Add a bit of variety.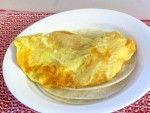 Lunch. See – if I don't eat eggs and tortillas for breakfast, I can for lunch. And actually, again, Rich fixed this for me, which is the reason it's a nice pretty cheese omelet instead of a messy pile of cheesy scrambled eggs.
Now, the great thing about a pork shoulder (and one reason you see it so often here these days) is that you throw it in a slow cooker, with or without seasoning, let 'er cook, and then you have food you can eat without having to do anything else to it. Well, you do have to pull the meat off the bone (or inveigle someone else into doing that – Rich, again, this time) but… then you have pounds of cooked meat. Did that… cooked a pot of mixed quinoa and millet, microwaved frozen vegetables, called it dinner…
Well, anyhow. The weather has settled down, some, and I feel much better the last two days than I did any time last week. (Usually March has been my worst month of the year, apparently because of the weather changes – but maybe, this odd year, it was February? One can hope!)
Snow, record cold, pouring rain, and migraines have even kept me away from Greenmarket! I want some of that kohlrabi! I saw, in Yummly, that Serious Eats has now made Kohlrabi Remoulade. I wrote about that two years ago! I wrote it as a sidebar, essentially for a recipe for traditional celeriac remoulade – but it's the kohlrabi I've made ever since – the vegetable is easier to get, much cheaper here, and much easier to work with. And I find that, about this time of year, I start to look for salad again – something a bit lighter than the heavy soup and stew I've been eating. Not lettuce yet, though – winter salads. Shredded and shaved root vegetables, pickled vegetables, bright flavors, something to remind me – Spring will come…
Meanwhile – Jenn's WIAW party has sprinted to Laura's (and it is definitely Spring in San Diego!) Come on over!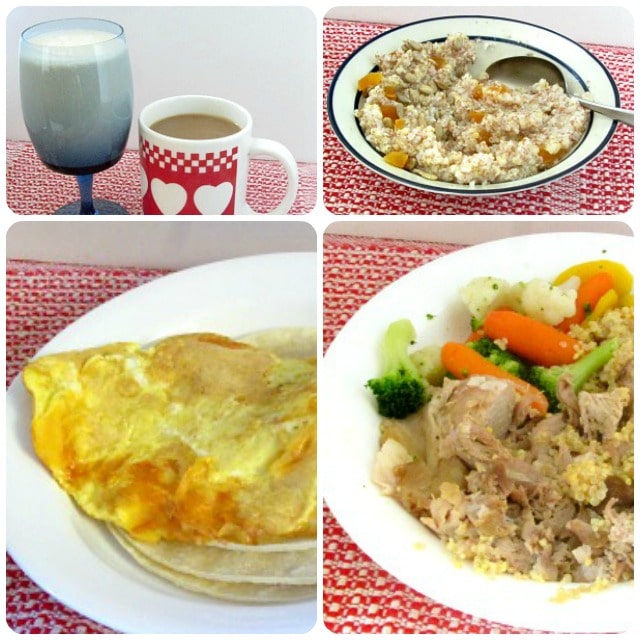 ---
---