Whole Grain, Gluten Free Biscuits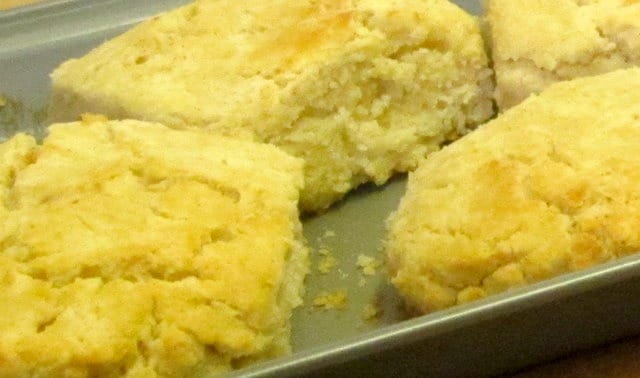 Well, I've been working on the gluten free biscuits… On and off, I've been working on them more than a month! (I've eaten more biscuits this month than in the previous 10 years… possibly the previous 20!) And the really cool thing is that none of them have been bad… in fact, they've all been better than any I'd made in the previous 10 years (possibly the previous 20…) but… I thought they could be better.
OK – lets go back to the beginning. I was never a good biscuit or pastry baker – I'm a bread baker, I have too heavy a hand. I waken that gluten… I bake lovely light bread, but fine cobblestones and roofing tiles, instead of biscuits and pie crust. It was bad enough with white flour, but whole wheat? I came up with some astonishingly tough material. (NASA should talk to me…)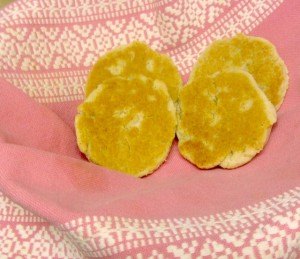 So, OK, good – baking this stuff without gluten should be a breeze, right? I used a recipe a friend gave me using brown rice and oat flour, and… well, those biscuits weren't tough – they were sandy. They collapsed in a shower of crumbs, and were gritty. Not as easy as I thought…
So, now… returning to it… I know More Things (and suspect or think even more.)  I know that rice flour is notoriously gritty. (I don't know why so many recipes call for it and then complain about that… I suspect it's a leftover from when it was hard to get any other gf flour.) I know that, cooking with wheat flour, even when you're standing on your head to avoid wakening the gluten, you are still using its sticky quality to hold your dough together – so if you bake without it you need something that also provides that stickiness. I know that people are convinced that you need vast amounts of starch – tapioca starch, potato starch, others – in gf baking, but I think that much of that is to achieve the light and fluffy quality of commercial products that I never liked to begin with… I need whole grain for a variety of reasons – and I have preferred it for most purposes for years. I think I can bake without added starch…
The starch may also help with the stickiness, though. As do binders, such as xanthan or guar gum and psyllium husk – and, for that matter, flax and chia seeds (though to a lesser degree.) I've learned, though, that other flours can also help… ones that themselves have a sticky quality. Sweet rice flour, for instance – also called glutinous rice flour, and actually neither glutinous nor sweet – the rice has acquired those names because it is very sticky, and is used a lot in sweets in Asia. Masa harina does, too – and I use it in the corn muffins for that precise quality – it gives a nice tender crumb.
I also know that, even without the gluten, I need to handle the dough lightly, because a key to flaky biscuits is solid bits of butter (or other shortening) that are not melted into the dough. I decided to use buttermilk instead of plain milk, because that's a classic… With wheat, the acid may slow down the development of the gluten and keep them tender. (You sometimes see a splash of vinegar added to pastry to accomplish that.) I have no idea it if adds anything other than flavor to gf baking, but… it does add that, so I decided to go for it.
So then I proceeded to overthink this. (My friends will tell you this is not surprising or in any way unusual…) I tried different flour blends. I tried binders. The texture was wrong, and I wasn't getting the two inch high biscuits I was seeing elsewhere…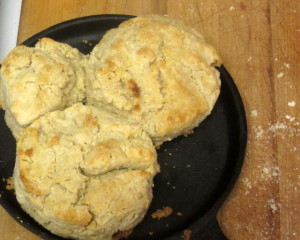 Then I realized those recipes were telling me to pat dough out one and a half inch thick (or even thicker…) But I was using my mom's biscuit cutter, which is only three quarters of an inch thick. Those biscuits weren't really rising more than mine – they were thicker to begin with… and, well, I didn't feel the need for that. (If you do, then make them thicker… and bake them a few more minutes.) I'm making a small recipe – partly because there are only two of us, partly because that's what fits in my mini processor… and partly because I'd rather experiment small. (It does double or even triple nicely, for a larger family. Just use a larger bowl!) And, well – the binders weren't actually adding much – and…  I tried skipping them.
I stripped the recipe down a bit – and got what I think is a winner. No gritty rice flour. No added starch. I do use masa harina, which is corn. If corn is an issue for you, I did get decent results with sweet rice flour – try that… That was also a shade fluffier, which some may prefer. (I do think the masa harina helps the browning, though, so they may not look the same.) And no binders, which (depending on how I used them) alternately seemed to do nothing, or make the texture a bit bready.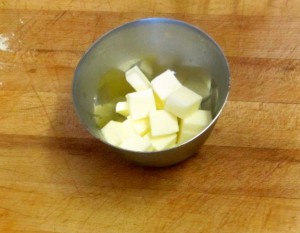 Start with three tablespoons of butter, cut in small cubes, and pop in the freezer. Put it there at least fifteen minutes to harden. I left it as long as overnight (if I wanted biscuits in the morning) and it was fine.
Take the processor bowl, and weigh in fifty grams of millet flour, fifty grams of sorghum flour, and forty grams of masa harina. (All together, the equivalent of a cup of flour, if you're comparing to your old recipes.) I seem to be using that ratio a fair bit – the millet is light and bland, the sorghum adds a mild and pleasant flavor – and the masa harina keeps it all from falling apart… Add half a teaspoon of salt, and one and a half teaspoons of baking powder, and whir the whole thing briefly to mix. At that point, if the timing works, you can stick that in the fridge, too, to chill – probably only worthwhile if you have a hot kitchen.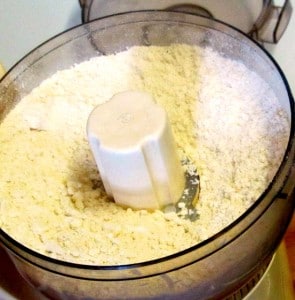 And now you start working quickly. Pull the butter out of the freezer, add it to the processor bowl, and whir very briefly. You do not want to blend it smooth, you absolutely do want to still have little visible bits of butter. (I think you can see it in the picture?) Flaky butter gives you flaky pastry. Then pour in half a cup of cold buttermilk (don't take it out until you are ready for it) and just barely whir it to start mixing it – again, you do not want it smooth, because that will work the butter into the flour.
If you have a handy dandy marble slab like this, go ahead and use it – but you don't really need it (though it helps keep the dough cool, especially if you can chill it first.) I did several batches on wood, and it worked fine.  I put a sheet of waxed paper down on the board or slab so that I don't have to add flour to prevent sticking, and dumped the rough dough out onto that – I do recommend that.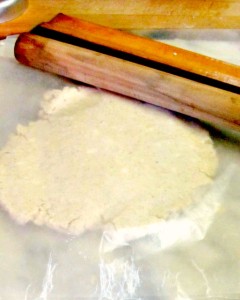 Work the dough just enough to bring it together. Use your fingers, not the palm of your hand, or use a spatula or other tool. The goal is to avoid warming it with your hands. Once it is all together, put another sheet of waxed paper over it, and then gently roll it smooth, to the thickness you want. Peel back the paper and cut the biscuits, with a quick downward motion (don't twist the cutter.) Cut as many as you can, then pat scraps together, roll again – you'll probably have to just pat the last ones into a round themselves. I got variously 5 or 6 biscuits from this recipe, depending on how thick I cut them. Put them on a baking pan, crowded up against each other – that helps them rise a little.
Now – bake them in a 425° oven for 15 minutes or until fully baked. Preheating that oven can be tricky… I did these in a countertop oven that heats quickly and does not heat the kitchen badly. If I were baking in my regular oven, though, which heats the whole kitchen, I would cut the biscuits first, and pop them in the fridge while heating the oven, rather than try to cut biscuits in a 90° room… If you can get far enough away from your stove, that may not be an issue, but I cannot. You also have the freedom to set them up ahead of time, and bake them right before dinner… (as long as that is double acting baking powder.)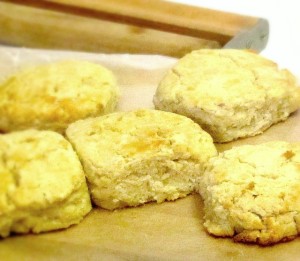 In general, one confusing thing I've found about gluten free baking is that things don't brown the way wheat does – awkward if browning has always been one of your cues that something is baked…  This batch did develop a nice delicate brown – but some of the others did not, so don't count on it. The biscuits do rise a little, enough that I can split them, and they have a good tender crumb.
All in all, once I'd done it a few times, it was much easier to bake the biscuits than describe the method. And what I ended up with (undoubtedly at least partly because I practiced, but also because I do think this is a good recipe) were absolutely the best biscuits I've ever made in my life. Which means I can start using them in other recipes – shortcake, and pot pie, and fruit slump, and sausage gravy, and…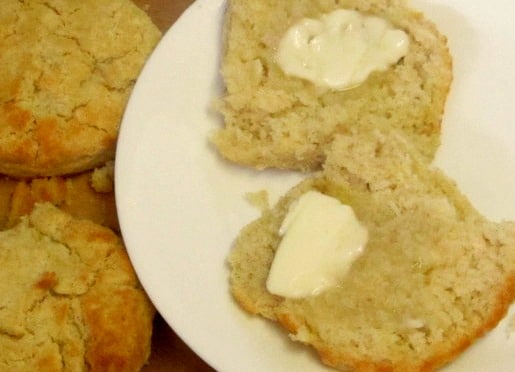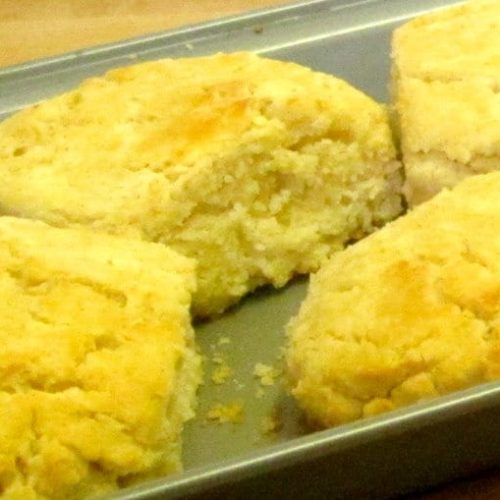 Whole Grain, Gluten Free Biscuits
Tender, delicate, gluten free biscuits - all whole grain, no added starch, no gums. Enjoy biscuits with gravy, or shortcake again!
Ingredients
3

T

butter

50

g

millet flour

50

g

sorghum flour

40

g

masa harina

1/2

salt

1 1/2

t

baking powder

1/2

c

buttermilk
Instructions
Cut butter in small pieces and place in freezer for at least 15 minutes. (Longer is fine.)

Weigh the dry ingredients into the work bowl of a food processor. Blend.

Add the butter from the freezer, blend very briefly, until butter is just barely cut in but still in pieces.

Add buttermilk, and blend very briefly.

Turn out onto a piece of waxed paper, and just work the dough enough to pull it together. Cover with more waxed paper, and roll out.

Use a biscuit cutter or other round cutter to cut biscuits. Roll scraps together for the last - work the dough as little as possible.

Bask at 425 for 15 minutes or until done.
---
---