Seasoned Baked Tofu
It's easy to season and bake tofu, which is delicious in salad or other recipes. No need to buy the packaged product, this suits your own taste!
Back in the days of my first Blogger blog, I wrote about baking tofu and using it in salads. I didn't even do pictures in those days (Not everyone did – can you imagine? Food blogs have come such a long way from those early days of sharing a few recipes with a few friends!) I used to bake it in a flavorful liquid, until the liquid cooked away, to give tofu both more flavor and a firmer texture.
Five years down the road, I've changed a few techniques. Basically, I marinate the tofu and bake it dry – takes less oven time that way. And so I cut in in cubes, rather than slabs, for more flavor from the marinade, and an even firmer texture. (And the changes speed it up considerably!)
I find that I prefer using tofu – like beans – in small amounts, but frequently.  And traditional Asian cooking does exactly that – cubes of tofu in the soup, tofu mixed with chicken here,  with fish there… all cooked and served with plenty of vegetables. So while this use, in salad, is totally Western, the combination with other foods is typical for cultures who have used tofu for centuries (even millennia!) I generally use a little baked tofu, and some meat, cheese, or egg to complete the meal. Sometimes I add beans, but usually I, personally, prefer to combine vegetable and animal protein – do what works best for you.
The recipe doesn't take much actual hands on time, but in several steps you put it aside for at least half an hour, so it may be easiest when you're already hanging around the house or kitchen, but really doing something else that can periodically be interrupted.  An evening at home watching TV would be perfect!
Firm tofu, even extra firm, works best in this. Slice it, wrap the slices in a towel (as described in Chipotle Tofu) and let it sit half an hour or longer, pulling some of the moisture out of the tofu. You can press it as well if you wish – I never bother… Then cut  the slices in cubes.
Now you want a marinade. Sometimes I just use vinegar, or even a dash of salad dressing. Many recipes, logically enough, call for Asian inspired flavoring – some combination of soy sauce, rice vinegar, sesame oil. I do that sometimes, for other uses, but when I plan to use them in a salad with Western flavors, I use Western seasoning… wine vinegar, herbs, even a little tomato. You could also use broth – mushroom or ham seem to me best in salad, but honestly, I don't use it often. I chose tomato paste here at least partly because it is the most visible.
Very simply, mix two tablespoons of tomato paste in a bowl with a quarter of a cup of red wine vinegar. Add the tofu cubes and toss them to coat, then set them aside in the refrigerator to marinate for at least another half hour – an hour or more improves it. Toss them periodically to make sure the marinade coats the tofu completely, and it all has a chance to soak up the flavor. (Or put it all in a zipper bag – one of the best tricks for any marinade!)
Whenever you, and the tofu, are ready, preheat the oven to 350° and spread your cubes out on a baking pan. I cover the pan with parchment, which keeps it from sticking… Then bake it for half an hour. Once baked, let the tofu cool to room temperature before refrigerating for later use. (I have not tried using the hot baked tofu right in the salad – that might be interesting.)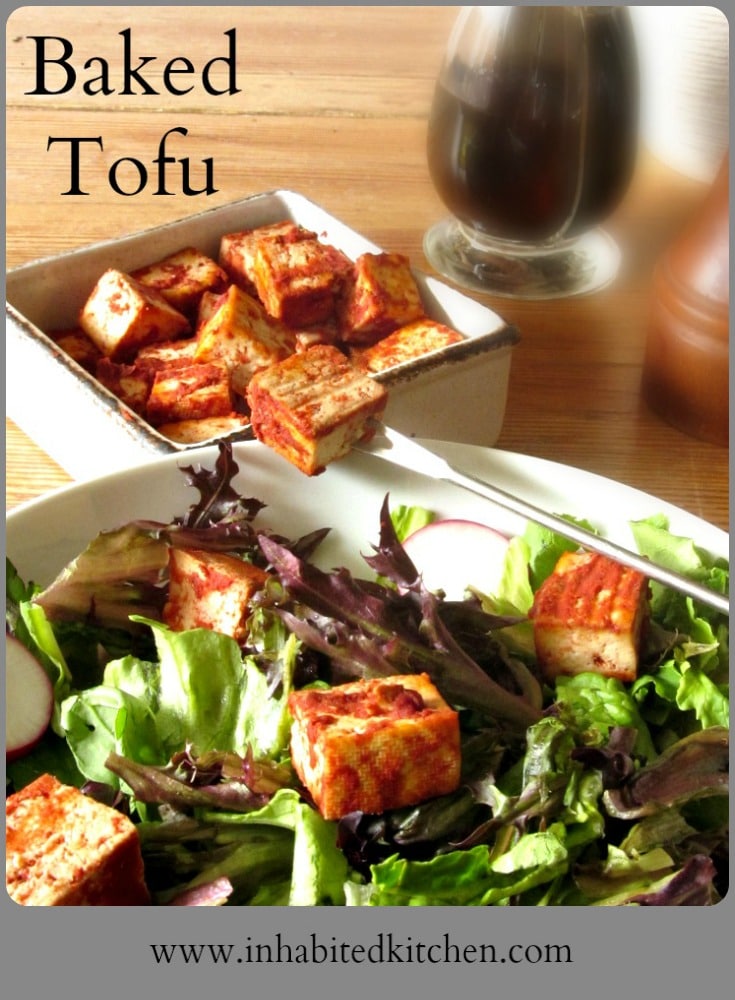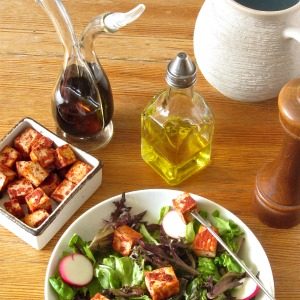 Seasoned Baked Tofu
It's easy to season and bake tofu, which is delicious in salad or other recipes. No need to buy the packaged product, this suits your own taste!
Ingredients
1

block

Firm tofu (14-16 oz. Packages vary)

2

T

Tomato paste

1/4

c

Red wine vinegar
Instructions
Slice the tofu, wrap in a towel to dry. Allow to rest about half an hour.

Mix tomato paste and vinegar in a bowl, add tofu cubes, and toss to coat. Allow to marinate at least half an hour - longer is better.

Preheat oven to 350. Arrange cubes of tofu on a baking sheet. (Parchment keeps it from sticking.)

Bake at 360 for 30 minutes. Allow to cool, then refrigerate.
Save
---
---