Parsnip Fritters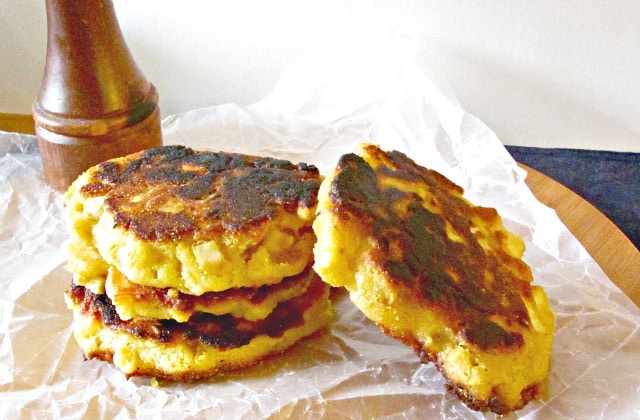 Between one thing and another last week (pouring rain not the least) I never went to Greenmarket. And, as I mentioned, I am using vegetables from the freezer, now, and buying commercially frozen ones. But I had this parsnip from a week or two earlier I wanted to use… and I wasn't quite sure what to do with it. There wasn't really enough for soup, I wasn't making a stew, I didn't have any carrots or turnips to cook with it… So I was wondering aloud and Rich said "Parsnip fritters?" "Fine idea!" I answered! "I haven't made fritters in a while."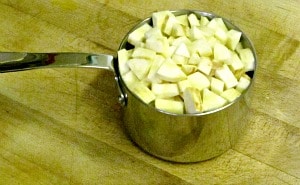 See, this is exactly what fritters are good for. Using up odds and ends. Finishing leftovers. Turning straw into gold… because they feel like a treat, not like – well, I did have to use that parsnip before it dried out…
I'd already written about making fritters with corn that was just past its prime. I liked the cornmeal batter I made for it, and have used it since. I will offer one caveat – the parsnip fritters were just a bit more bready than others I made with it. I realized later this is because other vegetables I used had more intrinsic moisture than the parsnips did. This wasn't a bad thing, mind you – fritters are a bread product, after all, and since I served them with the last of some sour cream I had, as the grain side dish, it worked beautifully. But if you've made the Double Corn Fritters, you shouldn't expect exactly the same texture.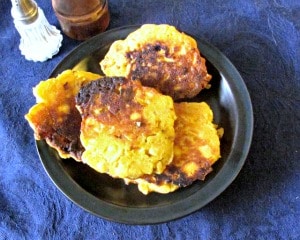 Anyhow – I diced the parsnip up in little pieces. (I considered grating it, and may do that next time, just to see how that affects it.) And it conveniently gave me the cup of vegetables I had previously used for this amount of batter. (Up to about half a cup more would have worked as well.)  So then I chopped an onion, sauteed it, added the parsnip bits, and cooked them a few minutes to soften – and added a spoonful or so of water to make steam to help with the cooking. Then I covered them and put them aside to cool a bit, while I made the batter.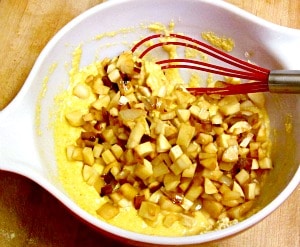 This is the same fritter batter I used before – an egg and half a cup of milk beaten together, with a cup of cornmeal, a teaspoon of baking powder, and a pinch of salt then beaten in. Then I mixed in the (no longer hot) vegetables. Heated oil in a pan, and fried them in patties – this recipe makes about eight. And they reheat well in an oven. Which is useful for those of us with smaller families who can't use eight fritters all at one time.
I haven't tried freezing them, yet. If you do, please let me know how it works! I think it should… I just never made fritters all the years I lived alone – and now I think that's just unfortunate – so many things I didn't think you could cook for one person, that I now think you can.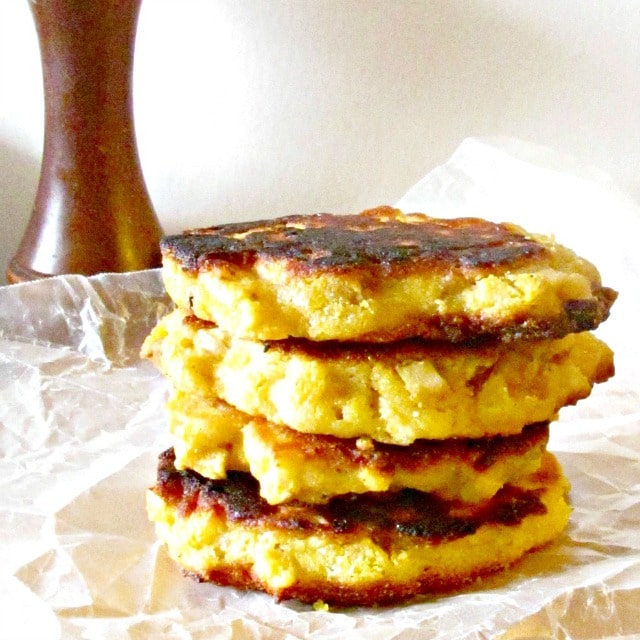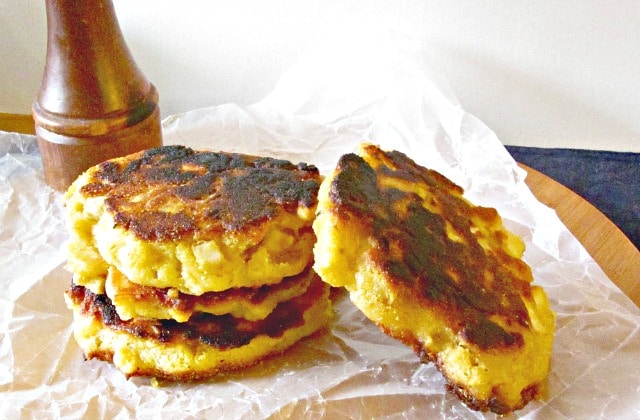 Parsnip Fritters
Parsnip Fritters - a perfect way to use up that extra parsnip (or other vegetable) as a special side dish!
Ingredients
1

parsnip

1

small onion

oil for pan

both initial saute and more for frying

1

egg

1/2

c

milk

1

c

cornmeal

1

t

baking powder

pinch

salt
Instructions
Dice parsnip in small pieces. Chop onion.

Heat a little oil in pan, and saute onion. Add parsnip, and saute briefly, then add a splash of water to the hot pan so it turns to steam. Cover and remove from heat to let the vegetables steam slightly, then cool (just enough that the residual heat wont' cook the batter on contact.)

Beat egg in a bowl, then add milk, and mix well. Stir baking powder and salt into cornmeal, then stir it into the egg mixture, and stir until smooth.

Heat oil in pan for pan frying.

Mix vegetables into batter, and drop in large spoonfuls into hot oil. Cook over medium heat until the batter on top starts to dry, at which point they will be set enough to turn over. Turn over, lower heat slightly, and cook until done. Then remove from pan, and put fritters on paper towels to drain excess oil.

In a typical frying pan, this will take two batches.
---
---