Marinated Broccoli
Here's another So Simple it's Barely a Recipe post… but it's a useful technique to have up your sleeve for – well, weeks like this. Between schedule and weather, I didn't get out to shop, but I realized I hadn't had enough vegetables at lunch, so what would work with ham on rice cakes? Salad, sure, but I didn't have anything… wait…
I first had a variation of this years ago, when a family member brought it to Thanksgiving. It's great for that, or potlucks, or a carried lunch – anything that's going to have to sit a while, that may be out of the fridge for a while, and that you might not be able to reheat… (Just – if you're taking it to a meal someone else is planning, tell them you're bringing a cold dish, not just "broccoli!"  Mom was a bit taken aback – if she'd known, she would have used this as salad and served another hot vegetable dish!)
If you are making it nicely for a holiday meal, you can certainly steam fresh broccoli spears, as he did – that is lovely. But I realized it also works with leftover vegetables – doesn't even have to be broccoli, though something firm… And it is a really useful treatment for frozen vegetables. I do suggest thawing them first, at least the first time you use a certain type, as some hold water and you don't want it soggy.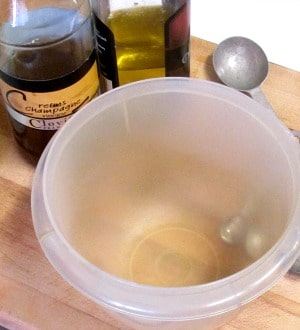 So here I was, just finished breakfast, making sure I had something for lunch. Vegetables, right, I want vegetables… I have frozen broccoli florets. What could I do? Marinate!
Tangent – this is one place I like to use this old Tupperware bowl. The rounded bottom makes it easy to toss the vegetables with the marinade, and the bowl seals (always a good thing if you use marinade.)
Mix two tablespoons of olive oil and one tablespoon vinegar in the bottom of the bowl. I like good sharp wine vinegar – and this was a fancy Champagne vinegar! (Mostly because I finished my standby a few weeks ago and had not yet replaced it…) You can use your preferred vinegar, of course, and a nice cider vinegar takes it in a slightly different direction, also good… I like this proportion, but you may want to drop the vinegar to two teaspoons to start, this would be too sharp for some. Depends on both your taste and your vinegar.
Then add… some kind of seasoning. (Why, yes, we're being flexible!) I used a commercial seasoning blend, you can use Italian Herbs, or a single dried herb, or your own blend… If your mixture does not have salt (some do) you may want to add just a light sprinkle of salt. Then mix them together well. And if you think this sounds rather like a basic oil and vinegar dressing, you are right. If you have a jar of homemade herb dressing – for that matter, in a pinch, if you have a bottle of commercial Italian dressing – feel free to use it!
So then add vegetables. I used half a pound of broccoli – I might use the same amount of a commercial mix we are fond of, with broccoli, cauliflower, and carrots. I could use green beans. Anything firm, that won't wilt (greens don't work for this.) Put them in the bowl, and stir well, to coat the vegetables with the dressing. (The reason I like this bowl? I sealed it and shook it – I find that distributes dressing better than any other method!) Let it marinate a few hours, or overnight, and stir again if you have a chance – and it is ready.
I think it is especially useful in a carried lunch. Packing lunch in the morning I can toss the vegetables and a bit of dressing into a sealed container, and put it in a thermal bag with the rest of the meal. Jouncing around in my bag just serves to better distribute the marinade, the vegetables thaw and help keep everything else cool, the marinade keeps the taste bright and fresh. But it's also good for times you want a salad but don't have classic Salad Vegetables, or have greens but want to add more substance. And don't forget what a good use it is of leftovers! Stream some extra at dinner time, put it in a container with marinade, and you have marinated broccoli for lunch. (And then you don't keep forgetting to eat vegetables for lunch… I think I'll be doing this!)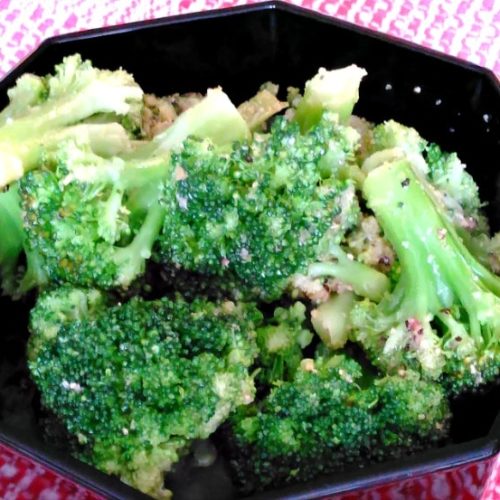 Marinated Broccoli
Marinated Broccoli - so simple it's barely a recipe, but a tasty, and useful way to prepare leftover or frozen vegetables.
Ingredients
2

T

olive oil

2-3

t

wine vinegar

1

t

herbal seasoning blend

dash salt if needed

8

oz

cooked broccoli

leftover or frozen are fine.
Instructions
Mix the first four ingredients in a bowl until blended.

Add the broccoli, stir well to coat the vegetable with the dressing.

Let marinate several hours to overnight, stirring occasionally.
Notes
Perfect for carried lunches or potlucks - any time you need a vegetable dish that will be good after being carried or sitting around.
Save
---
---