Simple Sauteed Cabbage with Harissa
I've been looking at some of my old posts, especially the ones for winter vegetables, thinking of perking up the pictures a bit (now that I have a clue about photo editing) or just downright re-taking them (now that I have a clue about photography) and sharing them again – since there are very good recipes back there, if I do say so myself (and I certainly do!)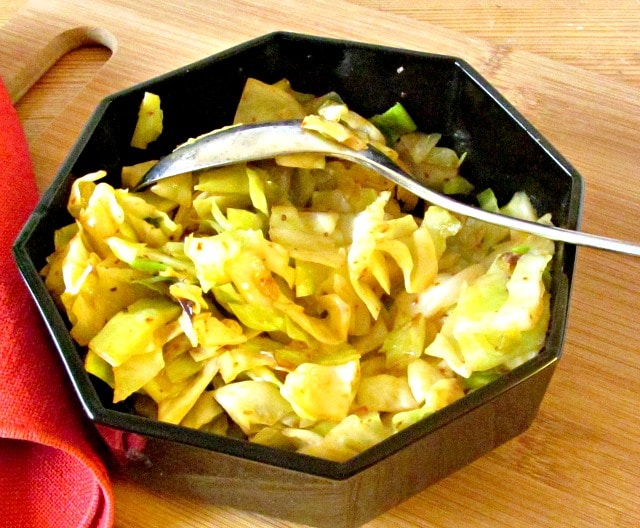 But along the way, I noticed something funny about my approach to cabbage. I have recipes for cabbage (both red and green) with several kinds of pork. I have cabbage with potatoes. And of course, I have cabbage with potatoes and pork. (I do even have one recipe for cabbage with noodles and cheese… for variety.) But I didn't write a single recipe for cabbage alone, as a side dish. Which is odd, as we eat it often.
Cabbage and carrots, carrots and cabbage. Readily available all year, cheap, and even a truly dinky corner convenience store may have them both, in decent condition (because they both keep so well.) Which makes them a good backbone of any kitchen – especially one either favoring local seasonal food or keeping a tight budget (or both.)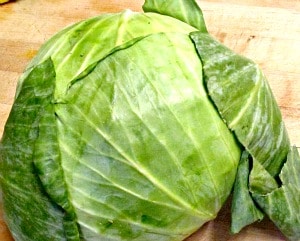 The comparative cost of meat and vegetables in the US is insane – and is the result of massive government financial support of the meat industry, starting with feed crops, and the lack of similar support for the very foods that the nutrition side of the USDA encourages us to eat – but that's a post for another blog. Here, I just discuss ways to work around the bizarre fact that I can often pay less per pound for chicken than I can for most vegetables.
Cabbage is the beautiful exception. It is inexpensive, it is dense, it doesn't cook down the way many greens do (leaving you with only two servings from an armful of leafy greens!)  it's good both raw and cooked, it is incredibly versatile, and because it has always been a good storage vegetable there are vast numbers of recipes for it from around the world. Cabbage also cooks quickly and easily. What's not to like?
Well – overcooked boiled cabbage – that's why many people think they don't like cabbage. It gets sulfurous, and smelly, and slimy, and unpleasant… I will use cabbage in soup, but I cut it in ribbons and add it near the end, to avoid overcooking. And for most purposes, I saute, rather than boil it.
Sauteing cabbage allows you to keep it tender crisp, and either star the flavor of the actual vegetable or add flavors to complement it. You can start with aromatics – onion, garlic – add spices to the oil, use butter instead of oil, and then finish it with broth, other flavored liquid, or other seasoning. So one day you use German style caraway and vinegar, another you use Indian curry spices, and another – harissa.
I was reading a piece about Coming Food Trends (hey – we writers have to keep up!) and it predicted Harissa as the Next Sriracha. And I laughed… I don't use Sriracha, but I've used harissa for years. It also adds both heat and flavor – though not the sweetness of sriracha (which I don't want) and it's easy for me to keep a tube in the fridge and just squeeze some in when I want a boost of flavor. I hadn't written about it because I wasn't sure how readily available it was – I couldn't always get my own hands on it without effort – but it does seem to be turning up around the blogging world, so I guess people can find it.
Harissa comes from North Africa – Tunisia, specifically, though it has spread throughout the region. It's a chili paste with added spices (the paste I have has garlic, coriander and caraway, which I gather is a common combination) and adds complexity as well as heat. The version I have comes in a tube, and is imported from France, but there are also (I gather) jars and cans, mostly from Tunisia and Algeria. I have also seen recipes to make your own, and will have to try that, one of these days!  It's a condiment, mostly added to cooked food, but it can be used in a recipe as well. I have usually added it just before serving, but it can certainly be passed at table (which makes it very useful if the taste for heat varies in your family!)
So, back to the cabbage. I tend to take a cabbage and a large sharp knife and just cut a chunk off… Then I cut it into shreds or ribbons, as needed for the recipe. (And I measured this at two and a half cups of chopped cabbage.) This time I skipped any onion or other aromatic, and just heated a bit of oil in the pan, tossed the cabbage in it, and stirred it around to distribute the slight amount of oil and start it wilting.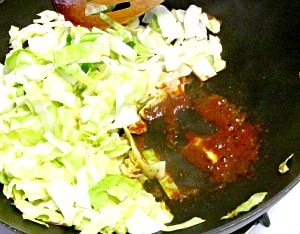 After a minute of two, I pushed it to the side, added a splash of water, and some harissa. (I measured out a teaspoon, to give you a frame of reference… I would try that proportion, then vary it after by your own taste.) Taking pictures slowed me a bit, but normally I'd do this very quickly, over high heat – the idea is to dissolve the sauce in the water, distribute it evenly, and finish cooking the cabbage in the steam created by the water. At this point, stir for a few minutes until the cabbage is cooked to your own taste – adding a spoonful or so more water if you need to.
And there you are – sauteed spiced cabbage. You can, of course, just skip the harissa altogether, and serve a plain sauteed cabbage – which might be preferable if another dish is highly spiced. Or you can cook it plain, and pass harissa at  the table so those who like it can add it, and those who don't, won't. You can also use this as a base for a more complex dish – sauteing meat or tofu with the cabbage, flavoring the combination, and making a whole meal of it. This is really one of the Foundation recipes – here is a basic idea, vary it to work for you, tonight.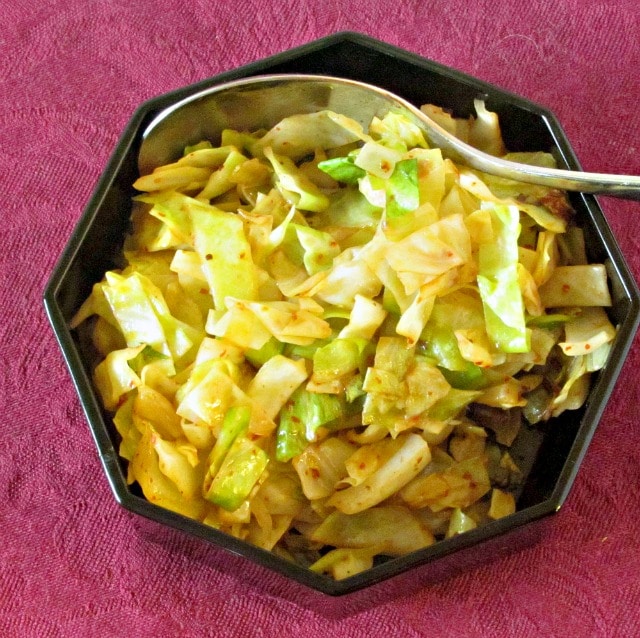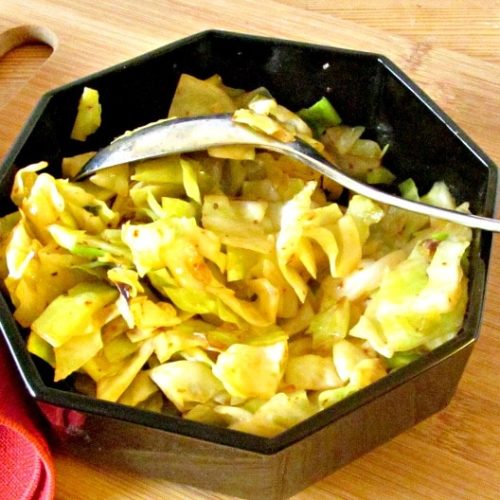 Simple Sauteed Cabbage with Harissa
Simple sauteed cabbage with Harissa - a North African combination of hot peppers and spices, that adds both heat and complex flavor
Ingredients
2-3

c

chopped cabbage

oil for pan

1

t

Harissa

or to taste
Instructions
Chop and wash the cabbage.

Heat oil in the pan, then add cabbage and stir. Let cook a few minutes, stirring frequently, until it starts to soften.

Push cabbage to the side of the pan, and add a splash of water and the harissa. Soften the paste in the water, then stir the cabbage well to distribute the seasoning,

Continue to cook, stirring frequently, until cabbage is cooked to your taste - approximately five minutes.
---
---