Ginger Orange Chicken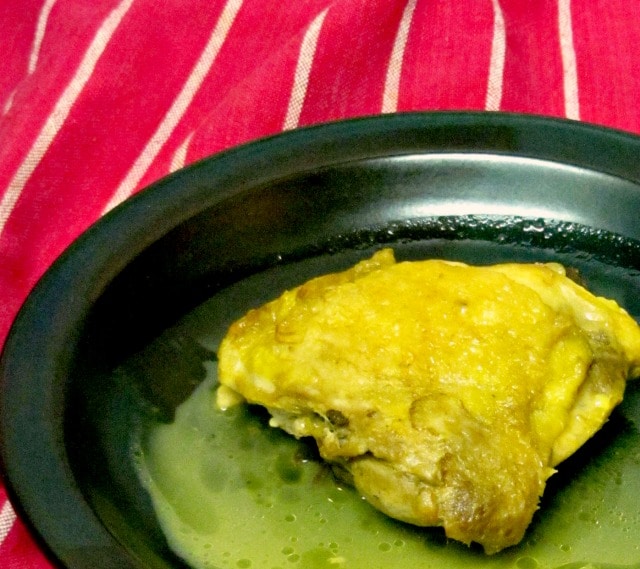 We eat a lot of chicken, especially thighs. They're readily available, they're inexpensive, they're easy to eat (with just one bone,) and they make good leftovers. And they are very easy to cook.
I often cook chicken in the slow cooker (though that's often whole chickens, and usually whole legs – often including backs) but then I use most of that as cooked meat in other dishes. And I often bake chicken pieces. But if I specifically have thighs, I most commonly use a brown and braise method – brown the meat (with or without aromatics,) add some flavorful liquid, and simmer until done. That basic method can be varied almost infinitely, it seems, just by changing the seasoning and liquid. Sometimes I pick an ethnic foodway, and choose my flavoring by that. (Italian? Onion, garlic, basil and tomato. Japanese? Soy sauce, ginger, dashi. Indian? Curry spices, onions. And so on…) Sometimes the inspiration is just what I have in the house. This time, it was some orange juice I wanted to use up. Orange goes very nicely with ginger… Ginger orange chicken is delicious!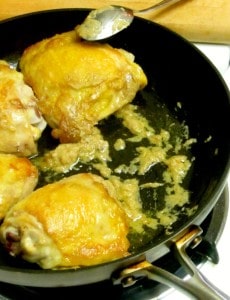 I heated the pan, and put the thighs in it, skin down, then cooked over low/medium heat for about five minutes. The goal here is to both cook out most of the fat, and brown the skin. Then I turned the meat to brown the other side in the chicken fat. (You may, at this stage, want to pour off some of the chicken fat, depending on how much there is. Do leave at least a little in the pan, for the next step.)
At that point I added ginger. Now, I'm working on a jar of ginger paste I was given, which is handy, but is starting to lose some flavor. Fresh grated ginger would be better. Powdered dry ginger is all right if it is very fresh, but it loses flavor extremely quickly – faster than most other spices – so sniff the bottle to see if it still has flavor. I used a teaspoon of the paste, I could have used a little more, I would use the same or less of fresh, and about half a teaspoon of dry (which is more concentrated.) I put the ginger in the chicken fat in the pan, added a pinch of salt, and stirred it around to heat it. Then I turned the chicken pieces over again, so the skin side was down and the bare flesh side was up, and smeared some of the ginger over the exposed meat.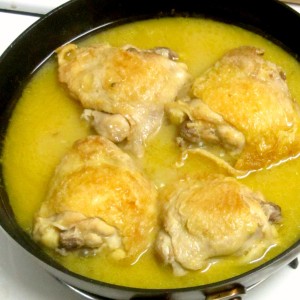 I then added a cup of orange juice. I stirred it well, to make sure the remaining ginger was well distributed, and then covered the pan. I brought the juice to a low simmer, and then let it cook over very low heat for 15 minutes. After that, I turned the meat over, and let it simmer another 15 minutes. I left the lid off for this step, so the juice would start to simmer down. As always, precise timing will vary by both the size of the pieces of meat, and the exact heat of your burner. I kept the heat very low – the meat could cook a little faster over a higher heat, but this was very tender and juicy, which is desirable.
At that point, I removed the meat to a platter (and took pictures…) while I raised the heat under the pan to boil the juice down a bit. You can cook it down until it is almost syrupy, though you need to watch very carefully at the end so it doesn't burn. I just wanted to concentrate it a bit, to pour over rice, so just boiled for about 2 minutes, stirring frequently. That step is optional.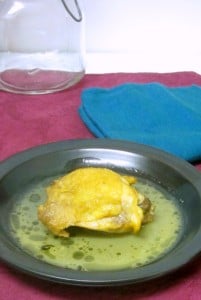 The ginger was subtle but definitely there – Less "Oh, ginger!" than "Something is adding depth to the flavor…" along with the sweetness of the orange juice. Very good, a bit different from my more usual versions, a nice change.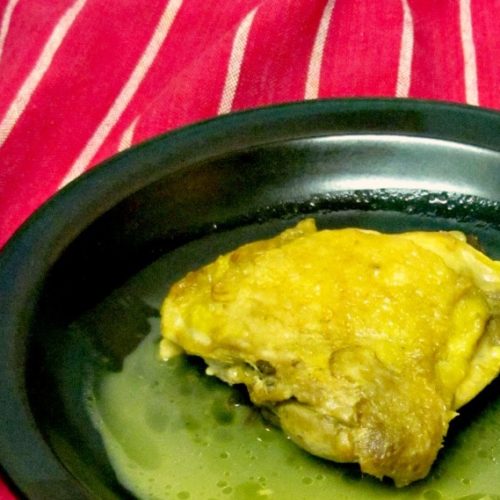 Ginger Orange Chicken
Vary a basic brown and braise technique to make ginger orange chicken - savory, sweet, and succulent.
Ingredients
4

chicken thighs

Skin on, bone in

1

t

ginger paste

pinch

salt

1

c

orange juice
Instructions
Place chicken pieces skin side down, in pan, and heat, until skin browns and fat is rendered out. Turn meat over to lightly brown the other side. Pour off excess fat.

Stir ginger and salt into the fat still in pan. Turn chicken pieces over again, skin side down, and brush the ginger mixture over it.

Add orange juice. Cover the pan, bring to a very low simmer, and cook 15 minutes. Uncover the pan, turn the pieces of chicken over, and simmer another 15 minutes or until done, with the lid off to reduce the juice.

Remove chicken. If desired, boil the juice, stirring frequently, 2-4 minutes, until reduced to the amount and thickness you want.
Save
---
---