Freezing Tofu
When I did the Proteins post, I didn't happen to have any tofu on hand. It's a useful food to have around, though, as it keeps reasonably well (the sealed packs are good for a week, at least) and and cooks quickly.
And there is a very useful method that both preserves it longer and turns it into an entirely different food – freezing.
Freezing tofu is actually an entirely traditional Japanese method. It changes the texture, so that, instead of the smooth, soft, rather bland curd,  you get a chewy, spongy substance that absolutely soaks up liquid and seasoning. It gives variety, and allows a bit more flavor. And sometimes people who have never liked tofu, because of the texture, find they do like this.
I take a 14 oz. package of tofu, and slice it into four slabs. I wrap the pieces in a towel and put it aside for a while to dry, as I do when I cook it right away. Then I place the slices in a freezer bag, and put it in the freezer, where it can stay for a minimum of a day – or weeks…  The water still in the tofu expands as it freezes, creating holes. And the frozen tofu turns this deep yellow brown color.
When you are ready to cook it, start by thawing it. The traditional way is to put it in a bowl, pour boiling water over it, and let it sit until the water cools and you can handle it. I microwave it… I put it in a shallow bowl, to hold the water that will come from it, and microwaved it for 3 minutes. Gave it a couple of minutes to cool enough to handle, then turned it over and microwaved it another 3 minutes. Then, I let it sit and cool a while – be careful, as the water is now very hot. After a few minutes, I poured cold water into the bowl, and started squeezing out the tofu. The slices become like sponges…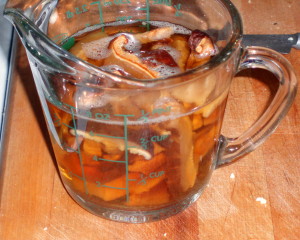 While I was doing all that, I also put dried sliced shiitake mushrooms into a pyrex cup, covered them with water, and microwaved it one minute. I just wanted to heat it up, to speed up the rehydration.  
I was making a vaguely Japanese inspired meal, so I also peeled some fresh ginger – this time, I sliced thin shreds of it. I was going to use a carrot, and some frozen green beans (I need something other than carrots!)  so I took the shape from the beans, and cut the carrot into matchsticks.
Then I sliced the tofu, also, into sticks, to have the same general shape as the vegetables. Some of it tore, and I didn't worry about that – this didn't need to be precise. You can see, though, how sponge like the texture is. I heated a little canola oil in a pan, added the ginger, sauteed it just a minute, then added the tofu. I stirred it around just a bit, to spread the ginger, as much as anything else, and added the mushrooms and their liquid. (These came sliced. If they had been whole, I'd have sliced them before adding them to the pan.)  Then I added some soy sauce, and stirred the whole thing, to be sure that the tofu was covered with the flavorful liquid. (Add a little water here, if you need to.) I brought it to a boil, lowered it to simmer.
After a minute, I added the carrots, and let them simmer for 3-4 minutes. Then, I added the green beans, brought it back to a boil, and then served it over red bean rice (which is simply rice cooked with azuki beans… I'd made a large batch, and frozen some. I thawed and heated that in the microwave, too.)
The tofu, cooked this way, has plenty of flavor and a nice bite to it. It's sometimes even described as "meaty" – which I think is a reference to the texture… It is also very convenient to just have it in the freezer, ready whenever you want it.
Frozen Tofu with vegetables and sauce
Ingredients
1 14 oz package tofu, previously drained, sliced, and frozen.
1/4 c dried shiitake mushrooms. rehydrated in water
canola oil for pan
1" peeled fresh ginger, sliced thin and cut into shreds
2 T soy sauce
1 carrot
4 oz. frozen green beans
Instructions
Take frozen slices of tofu, place in a deep plate or shallow bowl, and microwave 3 minutes. Let rest 3 minutes. Turn pieces over - microwave another 3 minutes. Let rest 5 minutes.
Drain the accumulateed liquid off. Pour cold water over the tofu, and carefully squeeze out the hot water with your hands. Then remove each piece from the water, and squeeze it dry. Slice into strips.
Heat oil in pan. Add shredded ginger and stir. Add tofu,and stir. Add reydrated mushrooms (sliced if needed) and liquid. Add soy sauce. Stir and heat.
Cut carrot into matchsticks. Add to pan. Simmer 5 minutes.
Add frozen green beans. Bring to a boil, cook until done to taste, and serve.
7.8.1.2
25
https://www.inhabitedkitchen.com/freezing-tofu/
Save
---
---