Flu Season Chicken Soup
It's that time of year… (and if anything, this seems to be a particularly bad year…) It seems that every time I open Facebook someone says that they, or members of their family, have some sort of virus – flu or 24 hour bug, in roughly equal numbers.
No one has energy, no one wants to cook, no one wants to eat. But everyone knows that, when they start to recover, they need to eat something… something that will go soothingly down a sore throat, or settle in a touchy tummy. People are drinking tea and ginger ale, and eating toast and soup. Lots of soup. And while canned soup is a valuable fallback – surely there is better. (And sometimes canned soup has ingredients someone can't eat…)
So far this year (crossing fingers) we're both healthy. But when I made a very simple, basic, easy chicken soup the other day, I decided to photograph the process, and write it up, just to remind people how easy it can be…  Actually, it can be even easier. I usually have cooked chicken and homemade chicken broth in the freezer. But I also always have a can or two of chicken in the cabinet, for emergencies, and I try to have a can or two of chicken broth for the same. Worse comes to worse, I just throw them in the pot and go from there.
This time, I had a couple of chicken drumsticks, and decided to make soup with them. I heated a pan with a little oil, and tossed in the drumsticks to brown, and added a little chopped onion.When it browned a little, and the onion was soft, I added about 2 cups of water, and set it to simmer. (And while the browning does add flavor, it is optional, if the cook feels lousy… go ahead and just put the chicken and onion in water, if you need to.)
I thought I'd use the water it cooked in as part of the broth for the soup, but also add the reserve can of broth, since it would otherwise be watery.   (A key to canned reserves – you do need rotate them, as it's called in the business – use and replace them every so often, so that if the emergency does strike you don't find yourself with a closet of food well past the Best Buy date. I bought this can last year – time to use and replace.)
So I pulled out the can – and then remembered, in this new gluten free life of mine, to read ingredients…  This can of chicken broth has hydrolyzed wheat gluten. Oh.  (According to their website, they do have some other broths that are gluten free – but not this one.) You really do have to look in all kinds of places you wouldn't think of… and since I usually use broth I've made myself, I hadn't encountered that before. Oh, well – I guess Rich is going to have some dedicated soup, made just for him, some other time – and meanwhile… I added 2 more cups of water to the pot, and a few spoons full of chicken base – in this case, Better than Bouillon Chicken. (Some of their flavors are gluten free, some are not – read labels…)
So, anyhow – this did reinforce the concept that I'd rather make my own food from scratch… I'm very glad that I mostly have done so right along, or this would feel much harder than it does.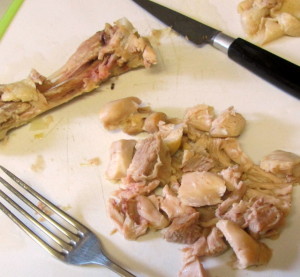 While I was reading labels and all, the chicken was simmering happily. I let it cook – oh, probably 20 minutes (I was distracted…) and then pulled it out to cool a little. It was pretty much cooked through, but  not falling off the bone – it was going to cook a little more, and I didn't want to over cook it. Once I could handle it, I cut off the meat, cut it in bite sized pieces, and returned it to the pot. (And I put the bones and scrap in a bag in the freezer, to use to make stock later. We routinely do that with chicken bones, which is one reason I usually do have broth on hand. When the bag is full, I put the contents in the slow cooker, cover with water, and let it run.)
At that point, I also added a big pinch of thyme, and one of sage. No salt, because the chicken base is salty enough… Then – there is a place in this world for Frozen Mixed Vegetables – and this is it. I keep them on hand in the winter, because it is so easy to add them to soup, omelets, sauces, and anything that really needs some more vegetable… It is too easy, in winter, to stint on them, when I'm not eating salads and piles of greens. I poured in a few handfuls of them. (Don't you love the precise measurements? But are you really going to take out a cup and measure these, or are you going to eyeball them?) I brought the soup back to a boil, let it simmer a few more minutes (I like vegetables in soup cooked more than when eaten on their own) and served.
Now, I never did like either noodles or rice in soup as I think they get soggy. (One reason I didn't like the canned soups in the first place…) I used barley for years, but that's out for me, now. (And really,  it takes too long to cook for a quick and easy soup like this one.) So I'm experimenting…  Often I just have muffins or rice cakes on the side – and that's what I did here. I'm starting to lean, though, towards the Asian technique of cooking noodles (or rice) separately, putting them in the bowls, and pouring boiling soup over them. I've been doing that with buckwheat soba for years anyway, and it's the only way to go with Chinese rice noodles – and it really looks like the way to deal with rice pasta without it turning to muck. Works well with precooked rice, too (which as we know I usually have on hand…) I'm going to have to try it with other grains – see if quinoa works in soup!
This lends itself to variations. If you have boneless chicken on hand, it's obviously easier. If you use canned or already cooked chicken (from a rotisserie chicken, for example, or your own leftover roast) add more broth and skip the water. Or use tomato juice or V8 as part of the liquid. Or add a spoonful of tomato paste. If you have leftover vegetables, use them instead of frozen. (The slow cooked vegetables are wonderful – they really enrich the broth.) If you add greens, make sure you chop them finely to make them easy to eat with a spoon. You can skip the dried herbs and add a spoon of pesto to each bowl as you serve – that gives a bright rich flavor.
The key here is – do what is easy enough to allow you to make your own good fresh soup, with lots of nutrition and flavor.
Ingredients
2 chicken drumsticks
1/2 onion, chopped
oil for pan
2 c water
2 c chicken broth
pinch thyme
pinch sage
1 c frozen Mixed Vegetables
Instructions
Brown chicken and onion lightly in pot.
Add water and broth, simmer for 20 minutes. Remove chicken.
Cut chicken from the bone, and return the meat to the pot. Add herbs, return to a simmer. Add vegetables, bring to a boil, simmer 2-3 minutes, and serve.
7.8.1.2
59
https://www.inhabitedkitchen.com/flu-season-chicken-soup/
---
---