Easy to Use Roasted Garlic
Delicious roasted garlic can be so messy and annoying to use! Here's a method to prepare it that takes a little work upfront, but gives you a neat and easy to use condiment.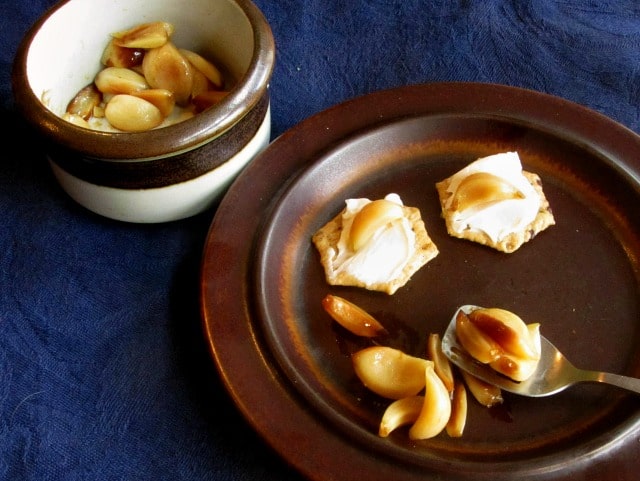 We've all seen the beautiful pictures of heads of roasted garlic. It's so easy to make – just slice off the top of the head so all the cloves are exposed, drizzle a little oil over it, then roast. Then (they tell you) just squeeze the mild, delicious roasted garlic right onto your cracker, your potato, whatever you want to put it on! And it is so decorative when you serve it!
Am I the only one who did that once – and never again? Because I ended up with more garlic on my fingers, my napkin, and stuck in the papery skin of the garlic than I did on my food! (Let me tell you it's not so decorative after you've used a few cloves – it just looks messy…)
So this technique takes a lot more fussing up front – but then it is super easy to use, and not messy at all. (And there is a shortcut, if you want.) If you have a pretty little baking dish it is just as decorative. For that matter, you can just bake it in foil and then put it into a pretty little dish… and that's still decorative at the end of the meal!
And you have two options. You can start with whole heads of garlic, which is what I did here – I got in the habit when I'd get some from the CSA. You may prefer that anyway, as it is usually the freshest and best, so I will show you the easiest way to peel it. But many supermarkets these days have containers of whole peeled garlic, and you can skip the whole first step and start with some of that, (Which might be the best option if you want to make it in quantity! Fill up your casserole, roast a whole pint or so of garlic, puree and freeze… Why not?)
I think about cooking garlic in quantity because that's how I first learned this method of peeling garlic. A friend was cooking a big buffet lunch for an organization we were both involved in, and she planned to serve a garlic sauce that was her specialty. We had access to the kitchen the evening before the event, so I went to help her, and sat at the table peeling literally a dozen heads of garlic, one clove at a time.  As it happened, another friend arrived who was a professional cook, with restaurant experience. He watched me a minute or two – and then, very carefully, asked if I would like him to show me another technique.
And this is what he showed me. I certainly would not do it for a few cloves, but any time I want the whole head or more…
First Step
Put a small pot of water on to boil.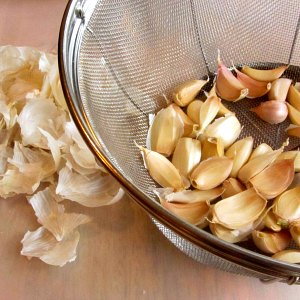 Break up the head of garlic. You may be able to do this just by pressing down on it, or you may need to break it apart in your hand. Don't worry if a few cloves stick – you just don't want it all still clumped together. Then discard any of the loose papery skin that falls off easily. Again, don't obsess with getting it all, or even most of it – it's just that there is no point in dumping it all into the water. We're trying to make this easy.
Once the water is boiling and the garlic is more or less separated, dump the cloves into the boiling water. You're just parboiling the peels, so let it come back to a boil and then drain them. Run cold water over the garlic – this keeps it from cooking the garlic itself, and makes it all easier to handle.
Preheat the oven to 400°. OK, for practical purposes, you probably want to either use a toaster oven, as I did, or do this when you have the oven on for something else… (or both!) If you combine it with something else, the temperature is flexible, just adjust time.
Now peel the cloves. Most of the peels will pretty much slip off – you may need to loosen the ends of some to get them started.
You've done all the hard part. If you use prepeeled garlic, start  here.
Second step
Put the peeled cloves into your pretty little baking dish – or any baking dish – or just some foil…  (I had three smallish heads of garlic here, to give you a frame of reference for amounts.)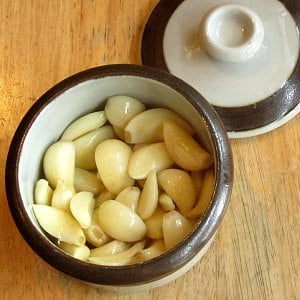 Drizzle just a little olive oil over the garlic, and stir to coat the cloves. Then cover (or close the foil packet) and pop it into the oven at 400°for 30 minutes. (If you use a cooler oven, try 40-45 minutes.) Check to make sure the cloves are soft – if not, give them a few more minutes.
And that's it…
Well, I'd let the roasted garlic cool before using it. You can place a clove neatly on a canape – there's the Decorative factor! You can mash it into butter as a spread or sour cream for baked potatoes. That's best done a day ahead, by the way – the flavor really develops as it rests. Nice the first day, amazing the second. Or just pass the garlic – you don't really need the sour cream…  Use roasted garlic for your aglio olio for a sweeter but still definitely garlic flavor. Use your imagination!
Easy to Use Roasted Garlic
Delicious roasted garlic can be so messy and annoying to use! Here's a method to prepare it that takes a little work upfront, but gives you a neat and easy to use condiment.
Ingredients
Garlic - either whole heads or peeled

as you prefer

Olive oil
Instructions
To peel garlic
Put a small pot of water on to boil.

Break heads of garlic apart. Pull off the loose papery skin.

Drop the cloves into boiling water. Let water return to a boil, Drain and rinse with cold water.

Peel the cloves - the skin will slip off most of them.
To roast garlic
Preheat oven to 400.

Place peeled cloves in a small baking dish with a cover.

Drizzle with a small amount of olive oil. Cover.

Bake at 400 for for 30 minutes, until garlic is soft.
---
---