Super Simple Dill Salmon
Do you need a super simple recipe for salmon? Does Dill Salmon sound good!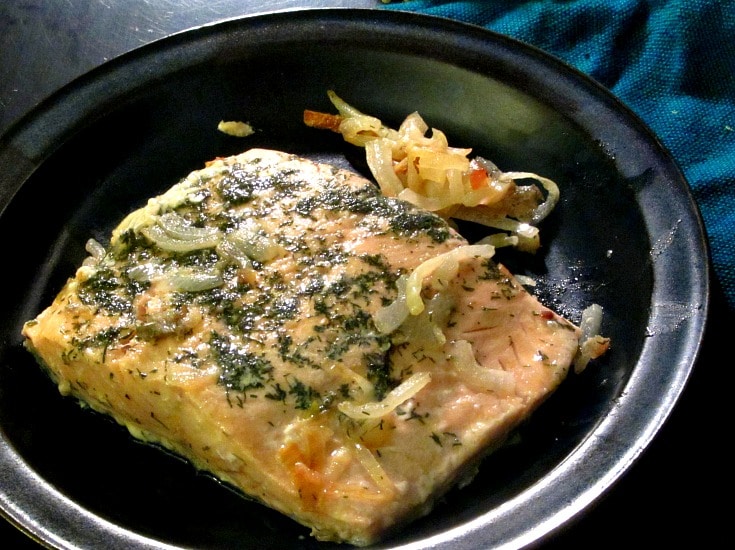 Last week I saw someone comment that she rarely cooked salmon, because it was so complicated. And I realized that I had never written about cooking it, precisely because it is so simple that it hardly felt like a Real Recipe! Obviously I needed to remedy that. (And no – I have no idea what the original poster did to make it complicated – it was an earlier comment in a thread I was following, and I didn't want to start that digression.)
Most of the time, the less you do to fish, the better. The trickiest part is avoiding overcooking it, which means it really is one of the fastest meals you can put on the table. I did start this with a sauteed onion, but that's optional – skip that and  cut the time in half!
Now – salmon. It is readily available all over the US, and even people who "don't like fish" often do like salmon because of the flavor and texture. There was a time when it was a luxury fish for many of us, but a combination of the deep freeze and farmed fish changed that. Now, I do eat some farmed fish, but I usually choose to avoid farmed salmon, since there are many environmental issues with it, and it does not have some of the nutritional advantages of wild caught. Luckily I can get deep frozen Alaskan wild caught salmon. That has another advantage  – salmon, like pork, should really be cooked through because of possible parasites, but Rich prefers it on the rare side. Freezing does the trick, so I can fix it as he likes it. (Most salmon used in sushi in the US has been frozen, for exactly that reason.)
I also like being able to buy some and hold it in the freezer, thawing it only when we're about to eat it. I love buying really fresh local fish at Greenmarket, like the bluefish I wrote about last year, but that works best when I know we can eat it that night. Frozen gives me more flexibility.
Anyway – this was a one pound package of fillets, cut in two pieces. I generally get three servings from a pound of fish, so when I cook this we sometimes hold a little for later meals – and sometimes just eat it, because it is good, as long as we're hungry enough…
First, slice a small onion thinly. Heat oil in a frypan, and lightly saute the onion over medium heat until it softens and starts to turn golden.
Raise the heat under the pan, until the onion starts to sizzle (and watch that it doesn't burn!) Then push the onion to the sides, and place the salmon, skin side down, on the hot pan. Lower heat, and let cook about three minutes (a minute or two longer, if the fillets are thick.) While it is cooking, sprinkle dried dill weed over the flesh of the salmon, and carefully and gently rub it in.
Turn the fillets over in the pan. Sprinkle with a tablespoon of white wine vinegar. The vinegar adds both a touch of liquid to help cook the fish, and a slightly sharp flavor that contrasts well with the rich salmon. I actually used champagne vinegar, but if I don't have that in the house, I use a regular one, or sometimes rice vinegar. You could use white wine or broth, if you prefer, though that will change the flavor profile.
Lower the heat, and cook until done to your taste. The general rule of thumb is 10 minutes for an inch thickness of fish – this was well under an inch, and probably cooked about seven minutes. Serve at once.
The only way that could be easier would be to skip the onion and dill – which is certainly an option… This is one of the fastest and simplest meals I make. The only thing is that you do need to keep an eye on it, to avoid overcooking. Set the table and all before you put the salmon in the pan, not after! But that's about it…
And of course, you don't have to use salmon. This is basically the same way I cooked bluefish with leeks. The dill would work as well on a white fish, you might want other seasoning on your own local fish, depending on flavor, or just skip it. But you can pretty much cook any fish fillet just as quickly with this method!
Super Simple Dill Salmon
Super Simple Dill Salmon cooks in 15 - 20 minutes. A terrific weekday dinner!
Ingredients
Oil for pan

small onion

1

lb

salmon fillets

skin on

1/2

dried dillweed

1

T

white wine vinegar
Instructions
Heat oil in frying pan. Slice onion thinly while it heats, Saute onion until soft.

Raise heat to high. Place salmon fillets, skin side down in pan to sear, then lower heat. Sprinkle dill over the fish, and gently rub it in. Cook about 3 minutes.

Turn fish over. Sprinkle vinegar over it and in pan. Let cook until done to your taste - usually another 4-6 minutes.

Serve at once.
---
---