Fresh Wild Bluefish
Allow me to introduce you to my favorite fish – bluefish.
The great difficulty in writing about cooking fish is that different kinds are more or less readily available in different parts of the country – let along the world! I have, for example, recipes for carp – a fresh water fish popular in Eastern Europe – and I don't think I've ever seen carp for sale in my life, here on the coast. Meanwhile, bluefish are a seasonal fish here, coming North in the summer, and leaving us for warmer water in the cold weather – but they're mostly line caught, and not processed and frozen (or canned) for the rest of the country the way Pacific salmon is, so I know that many of you can't get it.
The result is that you look at a recipe and don't know how to use it – or you look at a fish and don't know how to cook it. So most of us write only for salmon or tuna (sold all over the US) or the ubiquitous "mild white fish fillets" which can be any of a dozen kinds of fish.
Blues (as we affectionately call them) are considered a "meaty" oily fish, with a distinctive flavor. They're a popular sport fish – many New Yorkers who have never fished for anything else have gone out on charters or party boats when the blues are running… come home with fish dressed for the pan or the freezer. But we can also buy the fish in better supermarkets with actual fish counters, where they buy their seafood at the fishmarket (my local store is not one of these…)
And we can buy bluefish, and many other absolutely fresh local fish directly from the fishermen at Greenmarket. Which is what I did.
See, Greenmarket is all local produce, not just vegetables and fruit. We have meat farms, and dairy, and flowers… If you draw a Locavore Circle around my home about a third of that circle is water – going down the river through the bay, to the ocean – or upriver, through Long Island Sound… and even my small local Sunday market has a fish stall. Yesterday he had squid, and I think I noticed mackerel, but I focused immediately on the bluefish – just coming into season as they come into our waters.
Bluefish can be twenty pounds or more, so usually you see a big meaty side of fish and the fishmonger cuts you off a steak. He did, yesterday, also have smaller fillets, which I might choose another time, but because I wanted to write this, I asked for the more typical steak, and he cut me about three quarters of a pound. As you see, the skin is still on the firm flesh. Many people who are not fond of fish do like this, because of the texture.
I decided to write a relatively neutral recipe, that can be used with any meaty, oily fish. (Blues don't actually have a particularly high fat content for fish – but they do have the rich flavor we connect with fish like salmon, and they have a good Omega-3 content.) In fact, we enjoy the flavor itself, and I usually cook it simply. In this case, I had leeks, too, and thought that would be a lovely combination.
So, trim, slice, and wash the leek. Heat some olive oil in a fry pan, and start sauteing the leeks.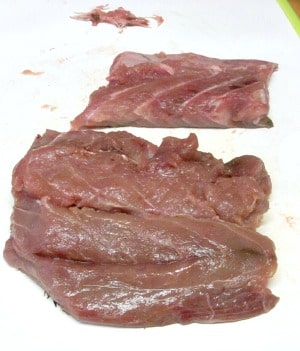 Then take your piece of fish. Now, you may notice that this has a very thin flap along the side of a thick steak – if I had cooked it all together, that would have been massively overcooked, so I cut it off, to add to the pan later – I suggest you do the same, if your cut is the same. If the difference is less radical, you can skip that step. Then check for bones – and the only reliable way to do that is with your fingers… pull out any you find. (And be aware that you still might miss some – but in general, I don't find bones as much a problem with bluefish as with some others.)
Since the leeks are in the pan, push them to the sides. Place the steak skin side down in a medium hot, oiled pan. This crisps the skin slightly. Cook for five minutes, then turn over. And I put the thin piece in the pan when I turned the larger one over. Stir the leeks around a little…
Now, the rule of thumb is considered to be about ten minutes per inch thickness, and you are often told to cook fish until it flakes. Well, bluefish doesn't really flake… I pretty much eyeball it – the very center will continue to cook in residual heat, so when the outside looks done, I turn the heat off and let it sit another minute or so on the hot pan.
You will notice that the color changes considerably – from a deep red that looks more like meat than fish to a gray color. (The name Bluefish comes from the appearance of the live fish – but the color of the cooked flesh isn't far off – a slightly bluish gray. ) And there is a darker streak, which is delicious – when you cut it for serving, distribute it evenly! And arrange the leeks around the fish, as both vegetable and garnish. Their sweet flavor balances well with the fish.
Now, this will work with any similar firm oily fish. You know your local fish better than I do, so try it (and tell me what is good!) – if all you can get are salmon or tuna steaks, go right ahead.
And enjoy whatever your local, really fresh fish may be!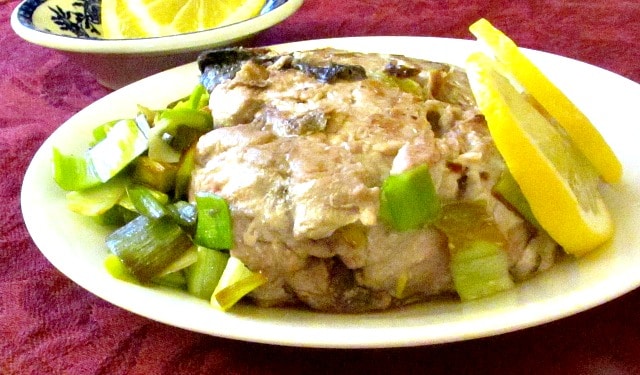 Fresh Wild Bluefish with Leeks
Fresh, wild caught, richly flavored bluefish - a local treat here on the East Coast. A basic recipe for it, that can be adapted to other fish as needed.
Ingredients
1

small leek

oil for pan

12

oz

bluefish steak
Instructions
Trim, cut, and wash leek. Drain well.

Heat oil in pan. Add leek, and saute.

Take the fish steak. Check for bones, pulling out any you find. If there is a section that is dramatically thinner than the rest, you may choose to cut it off now, and then cook it a shorter time than the rest.

Place the fish skin side down in the pan. Let cook 5 minutes. Stir leeks around.

Turn fish over. (Add thinner piece, if you cut one off.) Cook another 5 minutes, or until done - about 10 minutes per inch of thickness, all together.
---
---