Deli Style Health Salad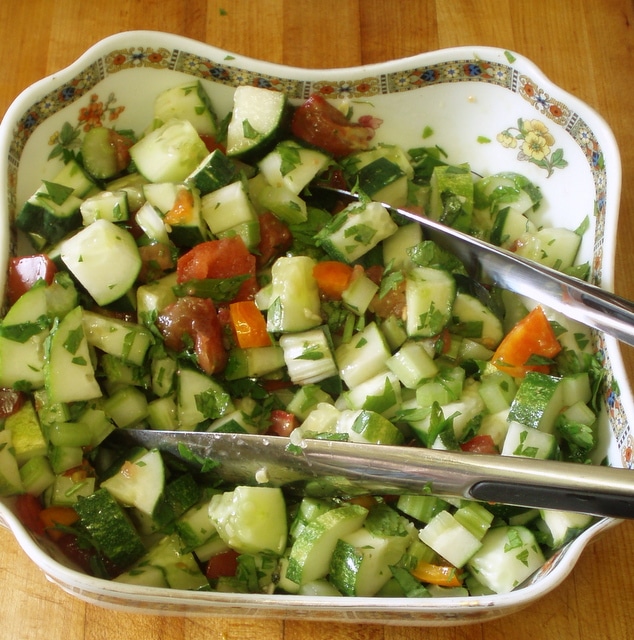 As I have mentioned, I grew up here in New York City, and have lived in or near the city all my life. So I have bought many a meal at many a delicatessen.
Deli has become a generic term for a counter with custom sliced meats and some prepared food, or for a small convenience store which may (or may not) have such a counter. Originally, though, delicatessen was a German word for what we now call fancy foods. Here in New York, they would have the meats and cheese to slice, and make sandwiches, but there would also be a cold case with a variety of salads and other foods to buy by the piece or the pound.
In heat waves, instead of cooking my mother would send us across the street to the deli owned by a nice old German couple to buy several kinds of salads – tuna or chicken or shrimp, potato, coleslaw, a few kaiser rolls, and always a dill pickle. Maybe baked custard – a specialty of the store – or ice cream from the freezer, for dessert. (This, obviously, was not another form of delicatessen – the Jewish Deli – which might or might not be Kosher. Most, now, are not Kosher… even classics are often now called Jewish Style to indicate that they are not. They might or might not have shrimp salad, but won't bat an eye at ham and cheese on rye with mustard… There are a few really good Kosher delis still, though – go to one, if you are in New York, and get the pastrami!)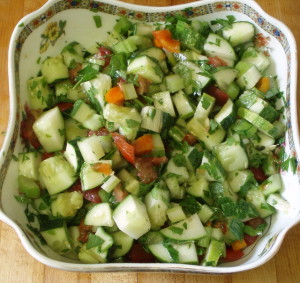 Salads, though… Before the modern salad bar, which has taken over most delis in the city, they didn't have tossed green salads (which can wilt.) Instead, a standard was a chopped salad of cucumbers and tomatoes, and often other vegetables, chopped and tossed with an oil and vinegar dressing, in which the vegetables would happily marinate. This had several names. It is often now called an Israeli salad (it is, I understand, common throughout the Middle East.) It is what I think of when I hear the term Chopped Salad, though that now has other meanings. But I think of it as a Health Salad. (Doing a search, I'm seeing Health Salad recipes that are essentially coleslaw, which is not what I remember seeing all my life. Terms do change… )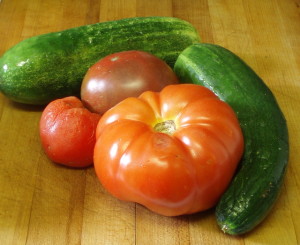 This is a great salad to make at this time of year, when cucumbers and tomatoes are flooding in (and, perhaps, getting away from you…) The vinegar in the dressing helps it keep a couple of days, and it just gets better as it marinates, so you can make a big bowl full when convenient, serve it for dinner, and carry it for lunch both that day and the next.
This is really more a set of general directions than a true recipe. You have to have cucumbers and tomatoes, usually roughly equal amounts, and the oil and vinegar – after that, variations are possible. Crunch is good – so bell peppers or celery, or both. (Green peppers in delis – but sweet red peppers are wonderful. I didn't have any, though, so just celery, here.) I use about one part of peppers and one part of celery to two parts of cucumbers… usually.  Parsley is common but not required. (I did have parsley…)  I started with equal amounts of the cukes and tomatoes – and then realized that the bigger tomato wasn't fully ripe, yet, so chose not to add it, which means my proportions are a bit off of the classic – oh, well. It's still good… (I then added another smaller golden tomato…)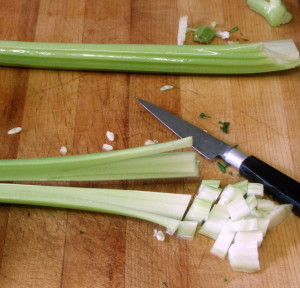 In the traditional deli salad, the cucumbers were usually sliced, not cut in chunks, but I do bite sized pieces as they last better. (They are always in chunks if you call it Israeli salad.)
I took 2 cucumbers and chopped them into bite sized pieces. Then I chopped the celery a little smaller – it's harder, and I want it to add bits of crunch, not a hard mouthful. I reserved the leaves. Then I trimmed a few branches of parsely, removing the coarser stems. (You can remove all the stems if you want – I don't usually find that necessary, but some do get a little stringy.) I minced the reserved celery leaves with the parsely leaves, just to make it easier.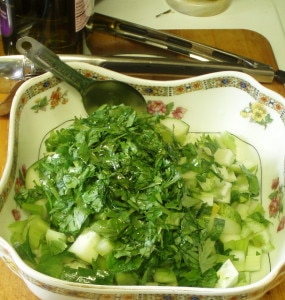 Then I put the chopped vegetables into a serving bowl. I wanted to dress them with the oil before I added the moist tomatoes, though that's a degree of fussiness that isn't really needed… it makes a very slight difference in the end result. I dressed this with 3 tablespoons of olive oil, and 2 of wine vinegar. Again being fussy – I used a white wine vinegar, for the color, but don't worry if you don't have any on hand – red is fine… I used serving tongs to toss the salad with the oil, first, and then with the vinegar.
Once the salad was thoroughly coated with the dressing, I took the tomatoes and chopped them. Well – as I said, I realized that the big tomato wasn't quite ripe – and I'd rather not use an underripe one… so just used the smaller ones. You can see looking at the picture above, though, the reason that it is hard to give exact amounts in so many recipes – I had three tomatoes of totally different sizes. Writing the recipe, I'm going to say "Two Tomatoes" to go with my "Two Cucumbers" – because I have to say something, but… in fact, I used three small ones, and didn't have quite as much tomato as I'd like. Sometimes you have to do it by eye. Anyway, I then chopped the tomatoes, and added them (seeds and all) to the salad, and tossed it thoroughly.
We ate some right away, and some the next day, and we'll finish it tonight with dinner. It's wonderful on a buffet table, or to carry for a lunch, because it doesn't go limp with standing, and there's no mayonnaise to be concerned about, if it can't be kept cold. It's versatile – as you see, while there are typical proportions, they can be varied to use whatever vegetables you have.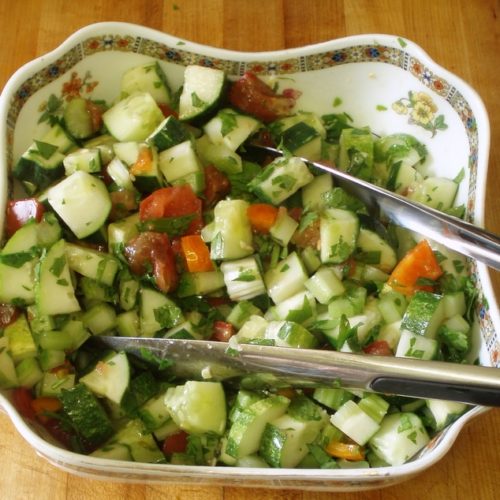 Deli Style Health Salad
Ingredients
2

medium cucumbers

2

stalks celery

handful parsley

3

T

olive oil

2

T

wine vinegar

2

medium-large tomatoes
Instructions
Chop cucumbers into bite sized pieces. Chop celery a little smaller. Chop parsley, removing any tough stems. Mix above in a bowl.

Pour olive oil over the salad, and mix well. Then add the vinegar, and toss it with the salad

Chop the tomatoes into bite sized pieces, and add to the salad. Mix well.
Save
---
---