Collard Greens with Chipotle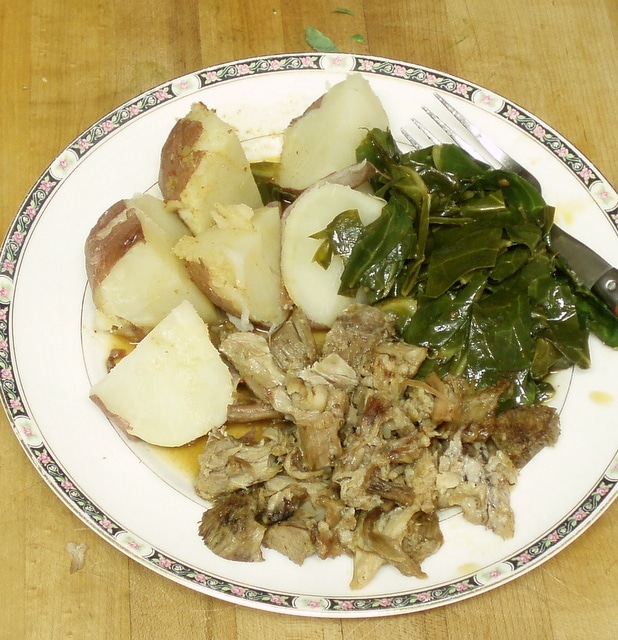 We got big, lovely bunches of collard greens from the CSA both last week and this. I find collards a bit tougher than other leafy greens, and I don't like them cooked the way I cook other greens. I have found, though, that these do well with the classic Southern treatment of a longer simmer – which I don't like for the more tender greens.
Traditionally, collard greens are cooked with some sort of smoked or cured meat, for flavor. I gather cooking them with ham, and using the broth from boiling the ham, is very common, and I know people who now use smoked turkey wings.  Then, they are often served with pepper vinegar. Last year, I wrote about using Italian sausage, since that provided both the flavorful meat and the heat of the pepper. I've been thinking about meatless version, though – and started wondering about chipotles.
Chipotle peppers are simply dried smoked jalapenos – so they add some heat and a smoky taste to anything they are cooked with. I can get plain dried chipotle in the Mexican bodega, or chipotle chili powder – but not everyone can.  I've been seeing many recipes lately that call for canned chipotle in adobo sauce (Adobo is a tomato vinegar sauce) which seems to be becoming more available. Most call for you to mince one of the peppers to add it to something with the sauce, but that always left me wondering – so often, they say to use one pepper to serve six, and I was cooking for two. And then there are the rest of the chilis in the can… How could I do reasonable portion control? They're not super hot, but they're hot enough that I don't want a lot at once…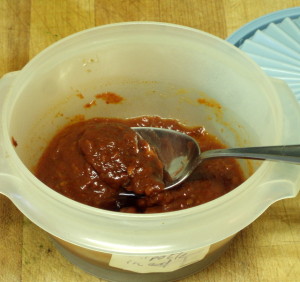 Then, I saw a few places suggesting a workaround – puree the peppers and sauce together, use it by the spoonful as needed, keep the rest in the refrigerator. Both the smoking of the peppers and the vinegar used in the sauce act as preservatives, so it will easily keep for several weeks in the fridge, and I can use as much or as little as I want, without fuss. What a great idea! I did that – and have been using them in some of my breakfast beans and other dishes. Just a little heat, and a lot of flavor, with just a small amount of the puree. I simply put the contents of the can – which is small – in my mini food processor, and whirred until almost smooth – left a little texture. Put the puree in a plastic container, and it was ready to go.
So – that seemed a good idea for my collard greens. Flavor and a little heat together. Later in the summer, I'll have plenty of fresh peppers, and will undoubtedly use them instead, but now – this works well.
I trimmed my collards. I try to use as much as I can of my vegetables, but the collard stalks are just much too tough – I have to cut them out. I put each leaf on the cutting board,and used a sharp knife to cut them out.
Then I piled the leaves on top of each other, and rolled them to make them easier to cut. I sliced the rolls across, to shred the leaves, and then chopped the slices so that I had small bite sized pieces. Then I washed them, the same way I wash other greens – in a sink of water, lifting them out and draining them.
I took a large pot, and heated a little oil in the bottom. Tossed the collard greens in the oil until they were well coated. Ideally, at this point I would have used a meatless broth, to give us vegetarian collards – but, as it happened, I had a container of chicken broth I wanted to finish, so I just used it. Another time, though, I might use vegetable stock, or water with some Better than Bouillon, or something like that.
I then stirred in a heaping spoonful of the chipotle puree, stirred it in well, and covered the pot to bring it to a boil. When it boiled, I uncovered it and set it to simmer for half an hour, stirring occasionally. I prefer them while they are still a fairly bright green, not yet the olive that many people prefer. If you like the taste when they are darker, simmer longer – some do as long as an hour.
The slight reddish color you see comes from the chipotle. Save the liquid! It has both vitamins and flavor – I used it to moisten the pork I was heating, and poured it over the potatoes. It was all really good. We had enough for several meals.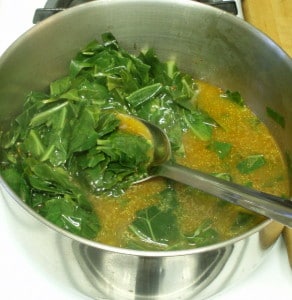 Collard Greens with Chipotle
Ingredients
1

bunch collard greens

oil for the pan

1

c

broth

Chicken, vegetable, whatever

1-2

T

pureed chipotle in adobo
Instructions
Trim, chop, and wash greens. Drain them, but they don't need to be dry.

Heat oil in a large pan. Toss the greens on the hot oil.

Add broth, stir in pureed chipotle, and bring to a boil. Lower the heat, and simmer half an hour (or more if desired.)

Serve vegetables with the cooking liquid. Use rice, bread, potatoes, something to sop up the juices.
---
---