Cheese Stuffed Mushrooms
This one is kind of a freebie – a cheat, if you will – because it's mostly just a new way to serve a recipe I already shared. But hey, if I can cheat, so can you – I'm certainly not the only one pressed for time in December! And you may want an option for casual entertaining…
See, I wrote up Onion Cheese Bites – and we all really liked them. But in the course of recipe development I made several batches over a couple of days – and well… that's a lot of Cheese Bites. But I had some mushrooms on hand, left from another recipe, and a nephew was dropping by to see his grandparents, and… I dropped cheese balls into mushroom caps, baked them, and delighted everyone. Especially myself, when they turned out even better than I expected!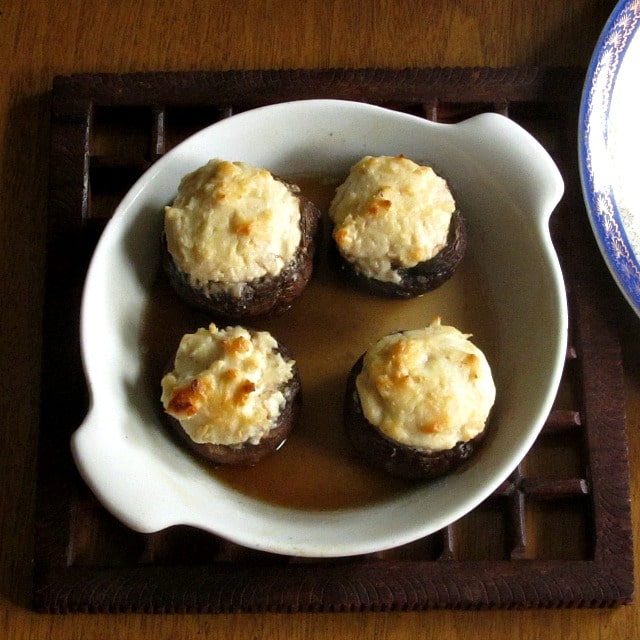 The trickiest part of all this is having the Onion Marmalade on hand in the first place – it's not difficult to make, but it does take some time and attention. But since this is my third recipe using it (aside from the original purpose of just using it as a condiment of relish) I do recommend it! The balsamic vinegar means it keeps very well, about a month in the fridge, and it also freezes well. The best time to make it is fall or early winter – now, in fact – while onions are fresh and juice, because they caramelize better. (And if you have any plain caramelized onions on hand, go ahead and use them, just add a splash of balsamic.)
The cheese spread itself is exactly the same as in the Onion Cheese Bites – and takes about five minutes to make. Toss the feta in the food processor, add cream cheese, add onion marmalade, done. Refrigerate it to make it firm up to be easier to handle.
The amounts here are far from exact. I do think a batch of cheese probably more or less fills a typical package of eight ounces of mushrooms, with maybe a little left over (just use it as a spread by itself) but… Mushrooms come in different sizes (sometimes in the same package!) and hold different amounts, and you may not pile the cheese as high as I did, and… Obviously you'll have fewer large mushrooms, but also, eight ounces of large portobellos will hold a lot more cheese than the same weight of button mushrooms…
Directions for Cheese Stuffed Mushrooms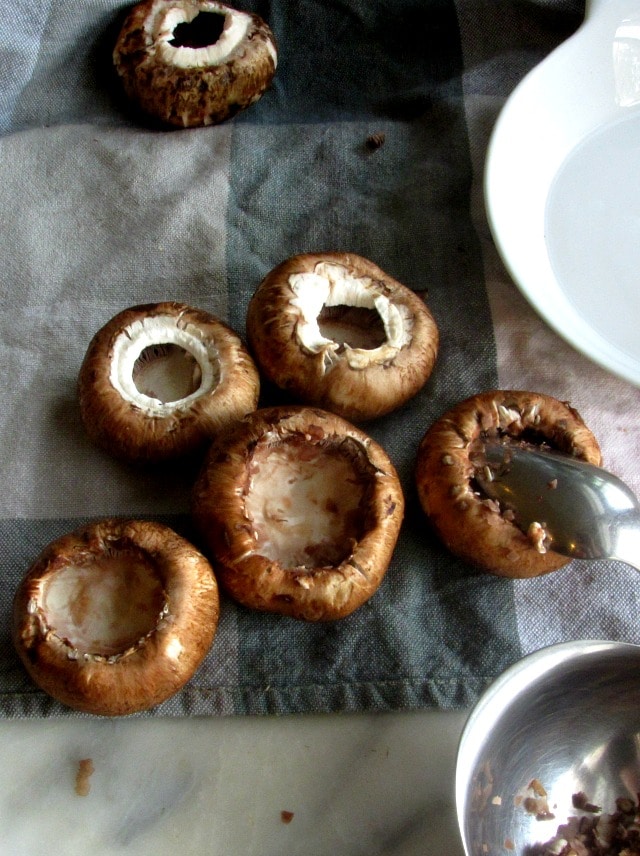 Preheat your oven to 350 degrees. Butter a baking dish. Wash and stem your mushrooms, and then scoop out the gills and soft area around the edges so that you have a nice wide open cap. Now, I don't usually see this, but I find it helps… Sometimes baking dries the outside of the mushrooms a bit. So actually – I prepare the mushrooms first, then butter my dish, and then run my buttery hands over the outside of the mushrooms very lightly. (I needed a bit more butter to do these.) I find it really helps make the mushrooms juicy and flavorful.
Then fill the mushroom caps with cheese. As you see, you can pile it pretty high. I was afraid at first that the cheese would melt and run all over, but apparently the feta keeps it nice and firm.
Bake them at 350 for twenty minutes, and serve. They are at their best hot, but still pretty good room temperature, so if a platter sits a bit before everyone finishes it, it's not a loss…
As I said, I served the first version of these impulsively to a drop in visitor. I think they would be wonderful for the casual entertaining so many people do at this time of year. You know, you leave the event and stand talking to friends at the door – and then say "Why don't you come over for coffee and then we can continue the conversation out of this cold!" Usually cookies are the go-to, but sometimes you want something that isn't sweet… A container of the cheese in the fridge, and you can either just put that out with crackers, or make up a batch of mushrooms, and impress everyone! (They're even easier than the cheese bites, and look fancier!) But you can go in the other direction as well – bake them in little individual dishes and serve them as an elegant first course for a formal dinner… Don't you love versatility?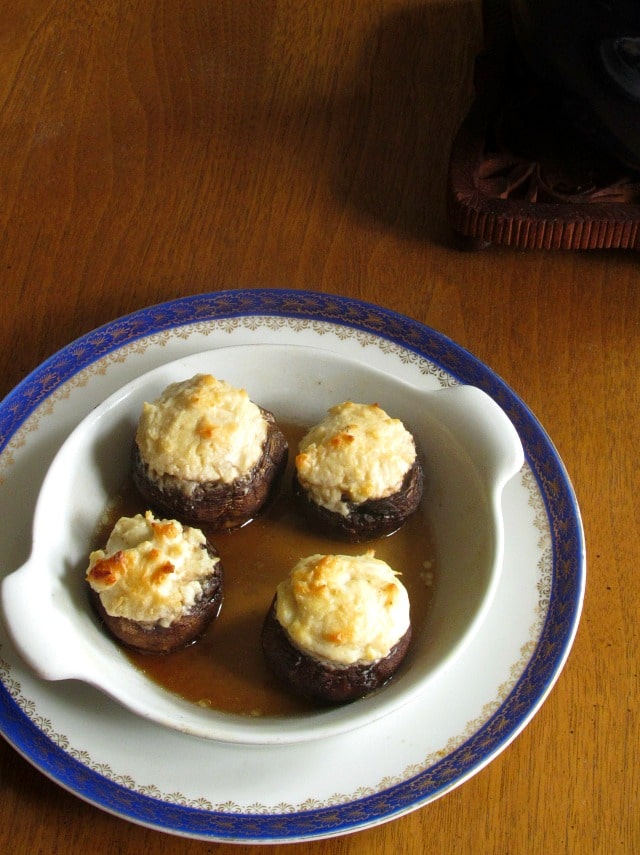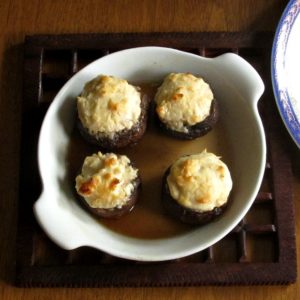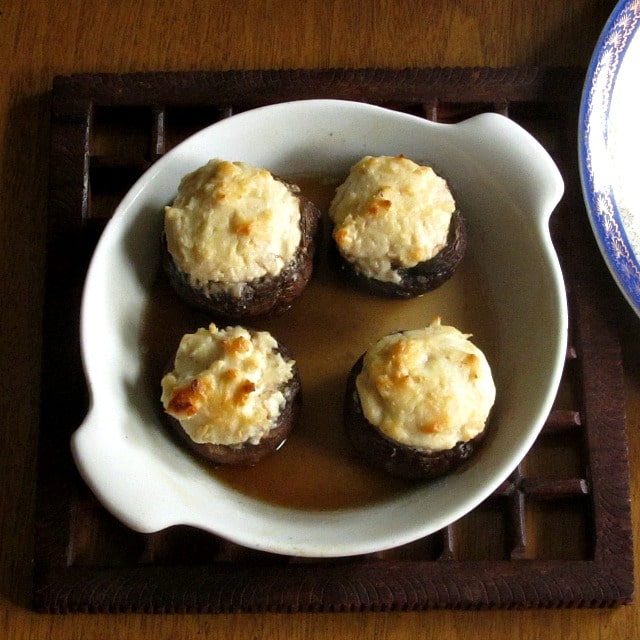 Cheese Stuffed Mushrooms
Super easy Cheese Stuffed Mushrooms will be a hit at your next holiday get together! Combine caramelized onions with creamy cheese and savory mushrooms for a luscious appetizer.
Ingredients
4

oz

feta cheese

8

oz

cream cheese

1/4

c

Onion Marmalade

8

oz

mushrooms

Butter for baking dish
Instructions
Cheese Filling
Put feta in food processor. Process until crumbled.

Add cream cheese. Process until you have a smooth paste.

Add

Onion Marmalade

and process briefly until well mixed, but not completely smooth.

Put the cheese mixture in a container, and refrigerate to help firm up.
Mushrooms
Preheat oven to 350.

Clean mushrooms and remove stems. Use a spoon to scrape out the gills and soft bits around the edges, so you have a nice open cap to stuff.

Butter baking dish. Rub mushrooms lightly with butter.

Fill mushrooms with cheese, piling up in a mound.

Bake at 350 for 20 minutes

Serve at once.
---
---