Berry Protein Smoothie
Our parents enjoy a creamy, slightly sweet Berry Protein Smoothie as an afternoon snack. And we enjoy knowing they're getting protein and good nutrition!
I have mentioned that many elderly people lose their appetite. Perhaps they lose some of their ability to taste. Perhaps chewing, swallowing, or just plain eating becomes difficult. Perhaps they spend most of their time sitting. There are many reasons, and many people are affected by several – but it adds up to a decrease in appetite, and little desire to eat.
At the same time, they may need considerable nutrition. Protein particularly can be an issue – but they also need vitamins, complex carbohydrates, healthy fat, fiber… They may be battling illness, they may have issues with skin becoming less resilient and more prone to breakdown, they just plain need good nutrition.
And the combination challenges the best cook…
An entire industry of Nutritional Drinks has sprung up to sell you products to solve this problem. Just drink this chocolate shake and don't worry! And they can be handy.  The parents have, indeed, been drinking these shakes for a few years, long before we came here. But…  a while back, a couple of the health professionals working with them, after meeting me and discussing their nutrition, suggested that I start making their smoothies myself.
As one put it, the commercial ones are a frozen dinner, what I can make is a solid home cooked meal. Better ingredients, avoiding questionable additives, limiting or avoiding sugar or artificial sweeteners… And I took a good look at labels, and realized that if I used a good quality protein powder, and added it to dairy or nuts, I could easily double the protein they got in the commercial product. Well, then.
I've been using unflavored, unsweetened protein powder in a shake as part of my breakfast on and off for years, for various reasons, and indeed I'm doing that now. It is an easy and quick way to get a good breakfast on rushed mornings – and the care I provide for them first thing in the morning means my own breakfast can easily run late. So I had protein powder in the house – both pea protein, which I use most, and whey isolate.
The great thing about whey isolate, aside from (what I understand to be)  its excellent digestibility is that it  just vanishes in a smoothie… See, I'm OK with just mixing my pea protein with kefir and pouring it over cereal – unexciting but it works. But I had to give the parents a taste treat, a pleasant experience, or they would resist drinking it… which would not help anything at all.
I started with chocolate, since they had used chocolate commercial shakes. Basically the one I'd written about, but without the strawberries (since I didn't happen to have any… ) And – crossing my fingers – no sweetener beyond the banana – and they liked it! One for our side…
But I was thinking of expanding our range, and getting more variety of fruit – and then Barbara actually asked for a strawberry shake. Well, I told her, I didn't have any strawberries – but I had just picked up some frozen mixed berries – oh, good! So I made that, and she enjoyed it!
Now remember – they still have poor appetites. They don't want much of the smoothie, either. We had found some perfect little plastic glasses that they can pick up and hold very easily (there had been some Issues with their old heavy glass tumblers) so they want to use them – but they only hold six ounces each, and both parents resist refills. So this recipe would make one smoothie for someone like me – but it's enough for both of them. (If I were making it all for myself, I'd use only one scoop of protein powder… Two would be much too much.)
Directions for Berry Protein Smoothie
I start with just one cup of milk, since I'm not making much, and add two tablespoons of plain Greek Yogurt. The yogurt does add a little protein – these recipes are all about tiny increments that gradually add up… It also makes the drink creamy, which is more appealing. And then I used a quarter cup of frozen mixed berries. I use the frozen partly because they're readily available and easy to keep on hand, but also because they make the smoothie icy and thick – again, more appealing… If you have fresh fruit, add an ice cube or two.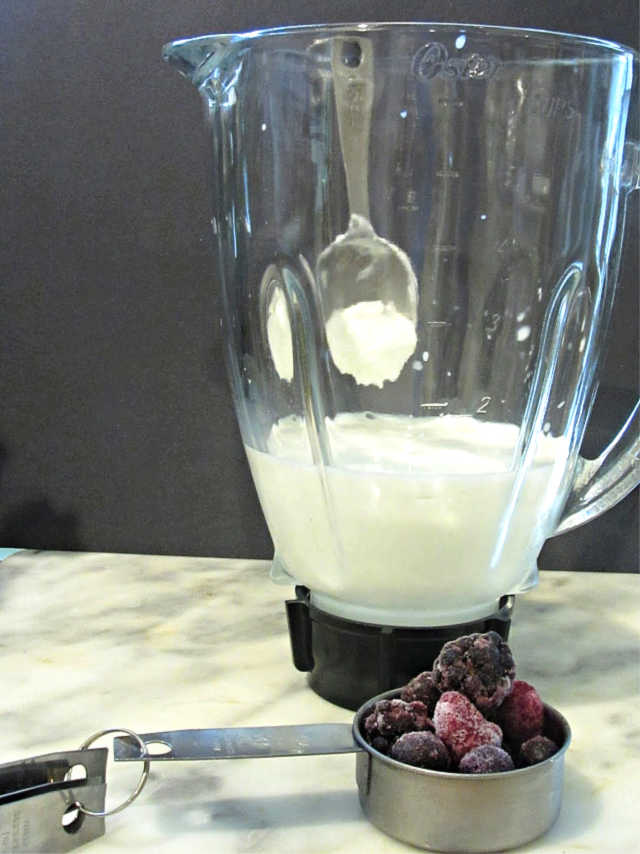 Now blend this thoroughly, until it is indeed quite smooth.
Pro tip I was given by one of our therapists. When you blend whey powder, it foams up considerably. I didn't realize this at first, and ended up with this big pitcher of froth! And the parents really only got a little of it, because they thought the froth "so filling!" So blend everything else well first, then add the protein powder, and just give it a quick whir to mix it in. (Whey powder just blends in so easily! Pea or soy may need a bit more blending, but then, they don't froth the same way.)  I use two scoops, because I'm making it for both of them – and that may not work as well with other kinds of protein powder but seems fine with the whey isolate.
And that's it. Pour into glasses and serve!
Note: I have had trouble finding unsweetened, unflavored protein powder. Vanilla would work in this, though I'd hesitate to use anything else, and some may prefer the sweetening.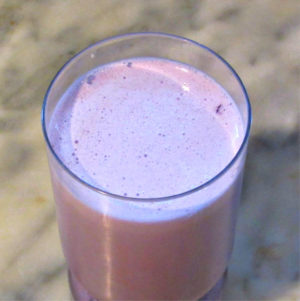 Berry Protein Smoothie
Our parents enjoy a creamy, slightly sweet Berry Protein Smoothie as an afternoon snack. And we enjoy knowing they're getting protein and good nutrition!
Ingredients
1

c

milk

2

T

plain Greek yogurt

1/4

c

frozen mixed berries

1 - 2

scoops protein powder of your choice

unflavored or Vanilla.
Instructions
Place the first three ingredients in a blender. Blend on high until smooth.

Add protein powder, and give a quick whir until just blended in.

Serve at once.
Notes
This makes two small smoothies for our parents. If I were making it for myself, I'd use only one scoop of protein powder, and drink the whole thing.
---
---