Basic Homemade Chicken Soup
And now – soup…
Well, it's not as if there is really a recipe for my soup. I mean – I'll write one, to make it easier, for the actual soup I made last week… but…
I put most of the chicken stock in the freezer (I then used a lot of it in Thanksgiving Dinner.) I put about a quart in a soup pot, and chopped and added an onion, a couple of carrots, half a rutabaga, and some celery, because that's what I had on hand… and a little more water, because the stock is concentrated, and the vegetables themselves will add flavor. Oh, and some thyme and sage.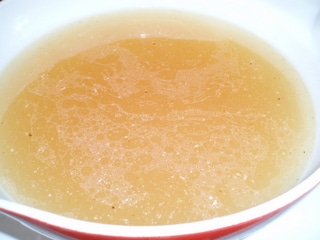 Now – I try to always have onions – they add so much to so many dishes. And I usually have carrots around, especially in winter – they are a fresh, inexpensive, incredibly versatile vegetable. I actually still had some fresh celery in the crisper – usually at this time of year I'd be dipping into my freezer supply. Garlic would have been nice, but I didn't have any. I'd salted the stock – I'd add a bit of salt now if I hadn't.
Root vegetables in general are great in soup – which is useful since they're good winter storage vegetables. Turnips, parsnips, rutabagas, celery root… The local farmer's markets did not carry them until recently – I think they assumed there'd be little demand – but they are starting to turn up now.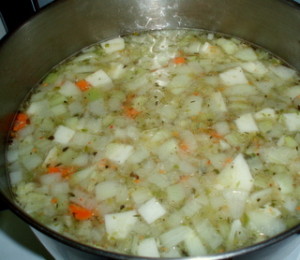 We're lucky, in New York City, to have year round farmer's markets – I know many places do not. And I am lucky to be in walking distance of Union Square – the biggest – and even closer to another that also runs all year. I know not everyone has this luxury – isn't it silly that it is a luxury? But we're not too incredibly cold for an outdoor winter market, here (usually… there are times one wonders…) and the city is large enough that there is enough demand to make it worth the farmer's while to come, even with limited stock. The vegetables I buy here are available in supermarkets – but parsnips and celery root (aka celeriac) are often priced as luxury items, because there isn't much demand… and they're priced the same as other root vegetables here in the farmer's markets.
So – long way to say, the thing about soup is – you put in what you have. Now, some combinations are so good that you repeat them, and, after a while, you start to think of them as a recipe… and then there is someone who wants "Your Chicken Soup" – and that's great. But you should never feel that you can't make it because you don't have a turnip.  It may not be "Your Favorite Soup" – but it's probably still pretty good…
All of which reminds me of something I wrote for another venue about six years ago…
Chicken Soup, Two Ways
Method One:
Fill slow cooker with chicken legs with backs. Nothing else. Cook until done. Remove and bone chicken. Pour off and reserve the juices in the pot. Reserve as much meat as wanted for soup, freeze the rest for other uses. Return bones, skin and scraps to the pot, cover with water, add salt and a splash of vinegar. Cook overnight, into the next day.
Drain stock from the pot, discard bones and scrap. Return stock to the pot, with some of the juices from earlier (reserve the rest for other cooking.) Add chopped onions, carrots, celery, and garlic. Add salt and thyme. Cook a few hours. Add parboiled pot barley. Cook a few hours. Add reserved chicken, correct seasoning, serve.
Method Two:Pour giant can of commercial Chicken Broth in a soup pot. Add half a bag of frozen Soup Vegetables (From your Grocer's Freezer!) Bring to a boil. Add odds and ends of pasta, and reserved chicken from the freezer (see above.) Cook until pasta is done. Remember to add thyme (and feel impressed that you did.) Serve.
I had followed the first method a couple of weeks ago, and still had two quarts of it in the freezer when I got the flu. So that's what I got. Ummm… soup….
Rich came down with the flu before I'd really recovered. Guess what he got…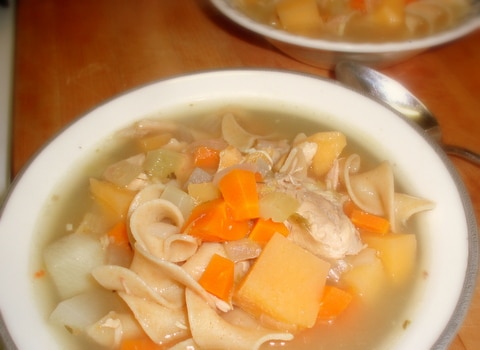 I originally wrote this to amuse Friends who Cook – but the important thing to remember is that the second is also Homemade Chicken Soup – and it was good. Big chunks of chicken, rather than small bits, lots and lots of vegetables that weren't cooked to death, pasta that still had some bite to it…  It was good, just not the Best. The ingredients could have come out of my freezer. (Well – some of them did…)  I've done the same since, in similar situations, using frozen boneless thighs and cutting them up – or even gasp canned chicken. (I keep a couple of cans on hand for emergency. Good to have, during the blackout after Superstorm Sandy… we fed an elderly neighbor as well as ourselves. And sometimes good to have if we're just too busy – or have the flu.)
This time, I found whole wheat egg noodles – Yay! First time I'd seen them! – so I used them, though I don't usually use noodles… I was just making enough for one meal, this time, not to keep, so I wasn't worried about them getting soggy to my taste. (Texture is very important to me…) And, of course, this recipe, this set of instructions, really,  is basically what I've been using this weekend to make turkey soup – but I'd done this in advance so I wouldn't be running to make it – and take pictures and edit and all that – in the middle of dealing with Thanksgiving. That soup has turkey instead of chicken (Well, yes, Anne… that's what makes it Turkey Soup…) and barley instead of noodles, and no rutabaga… but the method is essentially the same.
Go forth and make soup…
Basic Chicken Noodle Soup
Ingredients
1

quart

concentrated chicken stock

1

onion

2

carrots

1/2

rutabaga

2

ribs celery

1/2

t

thyme

1/2

t

rubbed sage

salt

opt.

1

c

cooked chicken

1/4

pkg egg noodles

I used whole wheat
Instructions
Wash and chop vegetables. (Peel rutabaga.)

Place stock, vegetables and herbs in soup pot, bring to a boil, and simmer over low heat until the vegetables are soft, about half an hour. Add water to dilute, if desired. (If the stock isn't concentrated enough, add broth instead.)

Add chicken, bring it back to a boil. Add noodles, and boil 7-10 minutes, until the noodles are done to your taste.
---
---