WIAW 72 – Summer!
How did it get to be mid-July?
Weather cues have been erratic, my work doesn't have as strong a seasonal aspect as it has in the past, and – well – I'm getting older, and time moves more rapidly for me. But still – I feel as if we never quite had Spring, and now, here it is, high Summer.
But that means that the summer fruits and vegetables are coming in! I've eaten my first peach of the season – dripping with juice, rich and luxurious. I have zucchini and eggplant, and hear rumors of tomatoes… we now start four months of incredible bounty from the land, to balance the sparse months of late winter. (This is the Northeast US – we have Seasons!)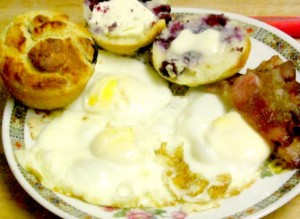 I got the first blueberries at Greenmarket, and we are reveling in them. Now, many of you have never eaten a real blueberry. The oversweet, bland, blue blobs in most supermarkets are mere pretenders. When I was a child a neighbor Upstate took me berrying – and the tiny tart berries I picked (and ate by the handful!) were a revelation. These days, many farmers who are selling their own crop at stands or farm markets can plant strains that have been bred for flavor, not keeping qualities – try to find them. And if they are not local to your area (they thrive in the acid soil of the Pine Barrens in New Jersey, but don't grow everywhere) you will, I think, do better with some of the frozen brands – Cascadian Farm or Wyman's both have great taste. (No, this is not an affiliate link or sponsored… I just want people to taste a real blueberry!)
Anyway – we had, of course, eaten them plain right away. But then I baked them into muffins – just added them to my standard corn muffin. I had a few strips of bacon I wanted to finish up, so I made a festive breakfast of bacon and eggs, and blueberry muffins. You really can't do better than that!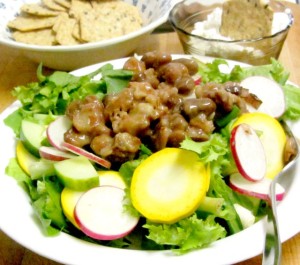 Lunch was my usual salad… I have a greater variety of vegetables, now – golden zucchini and cucumbers, chicory as well as romaine. And still scallions and radishes…  I used pinto beans, cooked a little softer than I usually prefer for salad, but oh, well… And I'm out of rice cakes! The horror! So I ate some commercial gf crackers with a cheese spread I'm playing with… (I really need to make crackers. It's insane what the commercial ones cost… And many of them use oats, which are a problem for me.)
I had a meeting that overlapped into my usual time to cook, so in the morning I threw Roman beans and some ham into the slow cooker, and set it up. Rich set up the rice cooker for me, so that when I got home, most of dinner was ready. I had planned that, if I got home too late, we'd just eat some of the green muffins I'd prepared earlier in the week, but in fact I did have the time and energy to saute some green and gold zucchini, with a huge handful of basil. I used a touch of butter, instead of oil, to give it that lovely browning effect and a ton of flavor, and the vegetables were a feast! (The beans and ham? A bit on the bland side… could have used some onion, or pepper, or a handful of the herbs I'm stocking up… Not bad, mind you, but not great.)
Blueberries… We ate them plain, we ate them in muffins, I decided to do something more Dessert like…  I had some frozen strawberries, and a little half and half. I sometimes whip them together in a food processor to make "ice cream" – and did that, and served it with blueberries. Rich who often samples, admires, but then passes on my sugar free dessert concoctions decided he did want this one! It was a lovely treat on an incredibly humid, sticky, New York Summer evening.

And Jenn is partying again! Pop over to Peas and Crayons for a What I Ate Wednesday party – and a wonderful looking soup…
---
---