WIAW – 64
It's been a zoo of a week – running around for several things, weather swinging all over the place (though it is no longer cold – cool days require a heavy sweater, now, not a coat.) Along the way we had the use of a car (that belongs to someone Rich is helping with things) so made a Costco grocery run. Normally we're limited to what we can carry on the bus or have delivered – so, with the car, we got heavy food and frozen/fresh food. I now have dried beans for the next six months, even at the rate that I use them – I should really write more about how I actually cook with them!
I also got to an Aldi's. They did have a wide variety of gluten free foods – but they were mostly sweets and snacks. I don't eat sweets, and tortilla chips and peanuts do me well enough when I want something to snack on. I was hoping for crackers, and their options looked good, but all had oats… They did, however, have corn pasta. I've only tried that once, but we much preferred the texture to rice pasta – I actually could get al dente! At which point the store where we had bought it stopped carrying  it…  So I did get a few bags of corn pasta, and we'll see… I really don't use pasta much, but we do want it sometimes.
Anyhow – all meals were prepared and eaten in a bit of a hurry…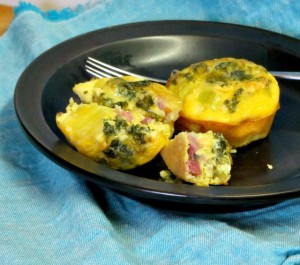 I'd made another batch of egg muffins. Two egg muffins and two corn muffins make a really fast meal (as long as I baked them earlier) – I heat the first for 30 seconds in the microwave, and toast the second. I apparently didn't take pictures – I thought I did, but maybe I was hurrying a bit too much? – but I had this one of an egg muffin, and heaven knows you have seen enough corn muffins on this site… Oh, and coffee.
When I'm not eating tortillas every morning at breakfast, I can more easily eat them at other meals. Rich was out, I needed something really fast so I could get back to work. I heated some leftover pulled pork in a fry pan, added some frozen peas, and wrapped them in corn tortillas to eat as tacos with my left hand hand while I used the mouse with the right.
Pro tip – when you put peas in tacos, they roll out the back. After I'd chased a few peas around my desk, I decided that one handed eating wasn't as time saving as I'd thought…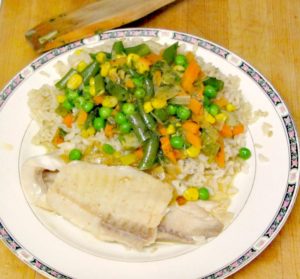 Anyway… moving right along…  for dinner… some tilapia filets. Tossed sauteed leeks and a little butter in a pan, cooked the fish a minute or so, turned it over, added a few ice cubes of broth and the last cube of parsley from last summer, cooked a minute or two, removed the fish to plates, added frozen mixed vegetables, heated cooked rice, plated everything. Less than 10 minutes…
Hopefully this week will be a little less hectic. (Well – the entirely unexpected and unplanned day spent driving around Queens to shop added to the chaos, but also makes the next month or so easier, so – tradeoff.)
Jenn's party has floated back to Jenn – who has a wonderful post about toddler meals up… (and the most adorable toddler plate!) Come and party!
---
---