WIAW 170

Well, let me start with this Breakfast of Champions… or not…  I hadn't planned to make Saturday my day of food, but when I found myself eating this, it amused me…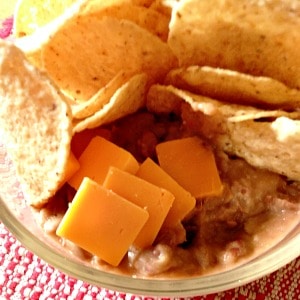 See, on Friday, Rich had gone to run some errands, including a stop at the grocery store to pick up, specifically, tortillas and milk. So we discussed what else I might want, besides Tortillas and Milk – and he called me from the store with a question before he picked up the Tortillas and Milk, and then he came home and put away the… milk. No tortillas. Oops.
And the thing is – he did tell me this. And we laughed about it. And I said maybe I'd make muffins for breakfast! And then in the morning… I forgot. I had cooked beans, so I seasoned and simmered them, and mashed them as refries, and opened the fridge and there were no tortillas… Oops. But by then I'd been up a while, and Rich was heading out soon, and there was no time to start fooling around with muffins, and…
We ate nachos for breakfast. Because well – we needed to eat Now. Oops…
Did better for lunch. I'd made quinoa tabbouli ( and yes, the recipe will be here soon!) I made a salad with salad greens, roman beans, and a little cheese. (OK, feta would have been better than cheddar. I didn't have any feta. The cheese store moved further away, and we don't get there as often as we used to.)  And I sprinkled it all with chopped garlic chives.
Then we had a really lovely – and easy – dinner. We had snap peas and flowering broccoli from the CSA – not quite enough of either for a full meal, but what a wonderful combination!  I normally would have eaten them earlier in the week – snap peas are up there with corn, the sooner the better – but there'd been scheduling issues… I had cooked ham on hand, and I set up the ubiquitous brown rice (in the pressure cooker) half an hour before serving, so dinner took almost no hands on time. (Seriously, trimming the peas was the big job!)
I washed and trimmed the vegetables while the rice cooked. When the pressure cooker beeped (at which point I give it ten minutes for natural release) I heated my fry pan. Sauteed the peas, then added the broccoli and let it all brown a little. Then added the ham, stirred it around, and covered the pan to let it steam a few minutes in its own moisture. That and the rice were all ready at about the same time. Delicious!
I love getting the fresh vegetables every week. Not only because they are so fresh and delicious, but also because that I enjoy the challenge of planning around them every week. We have mint and parsley? Tabbouli! Basil this week? Pesto! Tarragon? I really need to find more ways to use tarragon… so that's my task for this week! And we'll have exciting salads this week – the last of the snap peas, and the first of the cucumbers…
I'd love to hear what the freshest vegetables are in your area!
Come join Jenn's WIAW party over at Laura's (who has a cool post about the food in Austin!)
---
---