WIAW 167
Things are a bit busy here, so today I'll skip the chat and go straight to the food!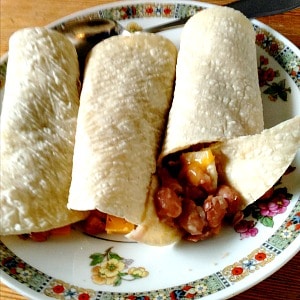 At breakfast, I'd just cooked a big pot of Roman beans. (Which are also called cranberry beans or borlotti… That moment when you realize that you have five pounds of the beans used  in that terrific sounding recipe… LOL) I have sometimes subbed them for pintos to make refried beans, though they are a bit different. Here, I just heated the tortillas to soften them, then put a spoonful of hot beans and some cheese in each, and rolled. (Easier to eat if I roll them up!)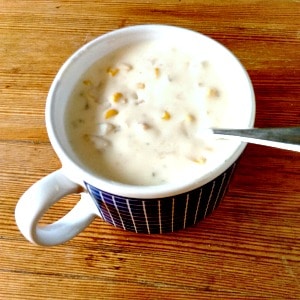 For lunch – well, see, it's been cold and rainy, and I haven't been feeling well. So this is my comfort food. New England clam chowder (out of a can, because not feeling well…)  I've started to add canned clams and their broth, because there really aren't enough for a full meal in the can, and often add a can of corn and a splash of milk or  half and half. It make it better, but is still easy enough for me to fix if I'm not feeling great – or, even more often, for Rich to to fix if I'm really feeling awful…
I did pull things together for dinner, though even that was pretty easy. I've been playing with ideas for an instant mushroom sauce – to replace the ubiquitous cream of mushroom soup that those of us who are gluten free no longer can use… so I have some of that on hand. (I'm on the right track, still needs work.) And I have a freezer bag of bite sized pieces of pork loin that I had cut and frozen. So I sauteed an onion and added the pork, and browned it. Then I tossed in some chickpeas, and the makings of the mushroom sauce, and simmered until the pork was done. Meanwhile cooked the first Greenmarket kale of the season – yay!  So served it all over brown rice.
And noticed, when I took the picture, that mushroom sauce and pork and chickpeas and onion and brown rice are all sort of the same… beige… not particularly photogenic. Oh, well… Tasty mattered more.
So what have you eaten? What is your comfort food fallback (when you don't feel up to much cooking…) Are you getting fresh local vegetables? (I do know that it's not practical for everyone to get to farm markets… it's much easier for me now than it was until a few years ago, and still quite difficult in neighborhoods I've lived in before. ) Our CSA starts pick up next week – and you'll start seeing more recipes inspired by the latest vegetable share! So excited!
Meanwhile, come over to Jenn's What I Ate Wednesday party at Laura's. Let's see what everyone else is eating!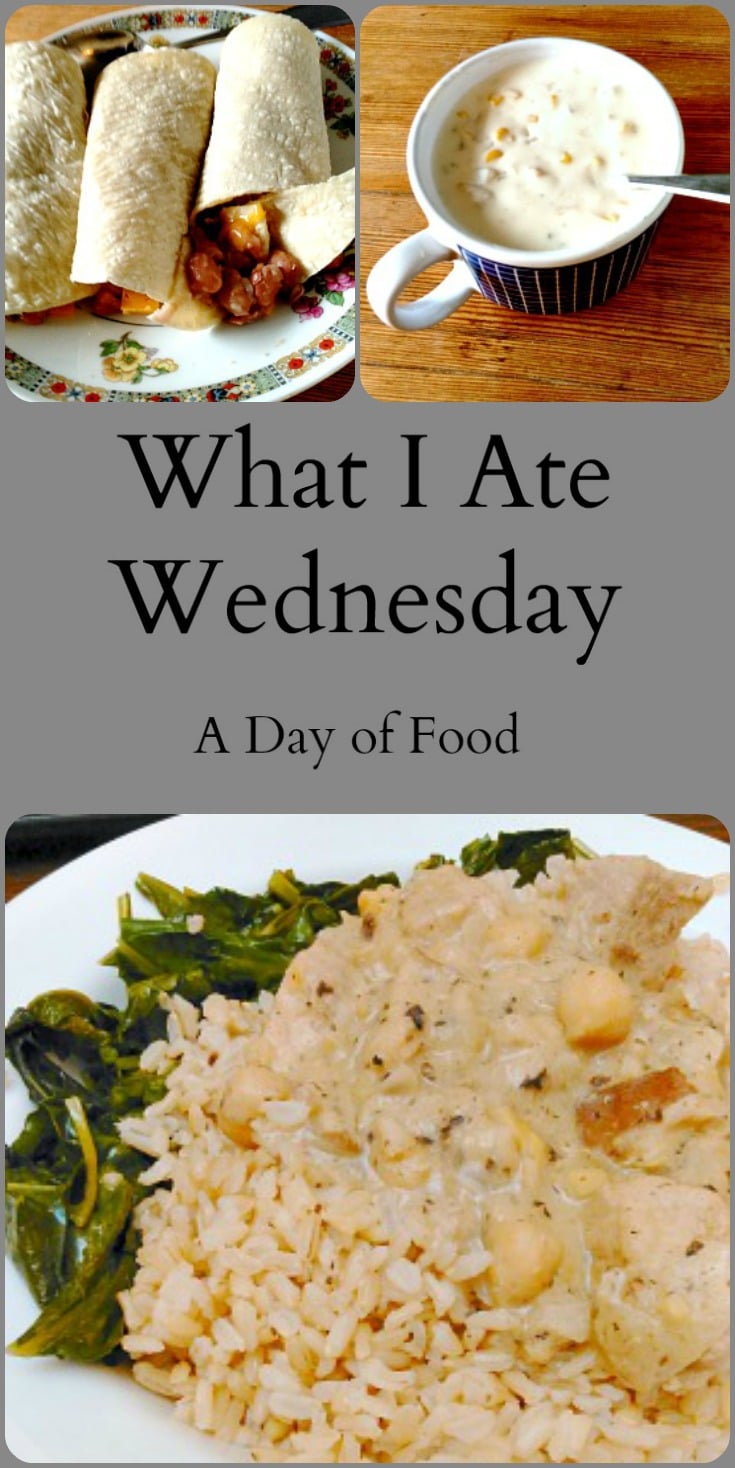 ---
---