WIAW 134
Welcome to New York. This is the week of the United Nations General Assembly, so those of us on the East Side of Manhattan are sheltering in place – traffic is horrible. (As it is this week every year.)
I did get back out to the spice store, to buy fresh spices for my Fall blends… I'd played a bit with the leftovers to make the first trial of the Apple Pie Spice I wrote about the other day, but fresh is always better, so of course I used fresh for the final product. Noticed for the first time that they have small packets of curing salts, too, if I ever want to venture into cured sausage! That's well beyond the scope of this blog, (not to mention my current energy levels,) so no, you won't see it any time soon (if ever.)
I guess I was thinking about sausage, though, because I made fresh breakfast sausage for the first time in a few years. I forgot that the reason I'd stopped was that the quality of the ground turkey I can get had declined sharply – it's wet and mushy, now. The turkey itself was a substitute for the ground pork my store did not reliably have… In theory I could just go ahead and grind my own, but I'm not really up to that.
Or I should buy the commercial sausage, but… Here in the city, breakfast sausage is treated as a Value Added product. It can get expensive, and many stores only carry the Little Links, which are even more so than the bulk (which I prefer.) I was amazed, once, in a store in Western Pennsylvania, to find a whole case of various kinds of bulk sausage, at excellent prices! It's funny how different things can be.
What I Ate
Last week I speculated about what would make me change back to hot coffee. Well – the over crowded refrigerator turned out to be the factor I had not considered. I may return to cold brewing the concentrate even to make hot coffee – it was certainly convenient – but while we're bringing home cabbages and large squash (to fill up the crisper drawer) and plenty of leafy greens, I can use the room.
And we have had some cool mornings… So for breakfast, hot coffee, again. And corn muffins, and some of that sausage I made, and some (overcooked even by my standards) eggs… My timing is off, for fried eggs, I have to get back into the routine.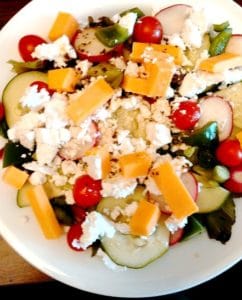 Still eating salad for lunch – and will, while I get two to three heads of lettuce a week! Not to mention bell peppers, and cucumbers and these were the cutest little round marble-like tomatoes… I'd finally gotten to the cheese shop again (it moved, and is less convenient) so Bulgarian feta – but some cheddar, too. And my brown rice cakes…
The greens have been getting ahead of me, so I cooked a massive pot of kale, for green muffins, and two bunches of chard. Then I sliced some potatoes, cubed some ham, and fried that all up together. And then, lo and behold, there was room on the bottom shelf for yesterday's pick up! (I should roast a pan of beets later today… And apparently it's a good year for spaghetti squash.)
Jenn's party is over at Laura's – Sprint 2 the Table – so come on over and see what people eat!
---
---