WIAW 128 – August Bounty
Last week, Rich came home from the CSA pickup with our farmshare, and announced "I bet you didn't know it was Phallic Vegetable Day!"
Wait, what??
Well, there were half a dozen cucumbers, green and yellow squash, carrots, and corn. The eggplants were long and thin. Even the radishes were the right shape! (Though they and the jalapenos were a bit… small…) There were a few round vegetables, too – tomatoes, a bell pepper, one eggplant – and even a few leafy greens.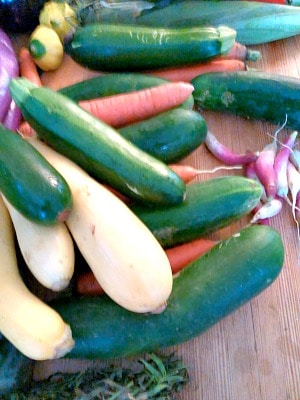 So, aside from his bizarre description, this became Use Cucumbers Week.(I still had two from the previous week!)  I made Simple Cucumber Salad several times (and wrote about it.) I made Health Salad yesterday, to add the celery we picked up yesterday. I pureed and froze some cucumbers. It's getting hot again, so Cucumber Soup will be on the menu this week.
I actually have a food dehydrator I bought years ago. I haven't used it much the last few years, as I didn't really feel up to much, but it is way easier than other methods of preservation, and the dried vegetables take up less room and don't have to be in the freezer. Now, they do not reconstitute as a good replacement for fresh, but they are useful for soup and stews, and we know how much I like my soup… It is also the only good way I have found, other than pickling, to preserve summer squash, which goes to mush when frozen. (For some reason I don't mind that in ratatouille, but hate it otherwise.)
But I have a little more energy, and other plans for some of our freezer space. And our weird spring seems to be giving us a particularly generous harvest, so the freezer will just get more and more crowded. So Rich unearthed the dehydrator for me, and found a place to put it, and I now have a quart bag of little dry squash chips. Carrots dry well, too, and I plan to experiment with drying pureed greens.
I used to make simple pickles – still will, occasionally. But Rich doesn't like pickles, and doesn't eat them, which puts a damper on things… I end up with a jar of dills or jalapeno pickles sitting in the back of the fridge forever, and we don't have room for that. I need to make more a point of eating them myself, even at meals where I don't serve them to him.
Anyway… what did I actually eat during all this?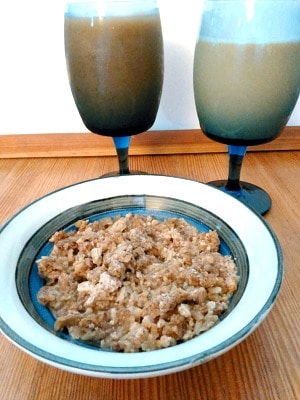 Breakfast was an experiment. Not the protein shake and coffee, of course. I miss my granola, but I seem to cross react to oats, so I haven't made any. I had the happy idea of using Indian flattened rice instead, so I made a small batch with that and some almond meal leftover from a batch of almond milk (long story…) to add fiber. Did not work. The texture is totally different, and unpleasant in this use, the almond meal did not solve the problem of the refined grain for me (I get hungry and cranky if I eat refined carbohydrates) and just no.
I have another bright idea, though, so I'll try that… I miss cold cereal in the summer, and the commercial ones are usually refined and almost always sweetened, and just do not work for me. I'll keep on trying… I'm stubborn.
I didn't take a picture of lunch. I can't imagine why I didn't take a pictures of lunch. I don't even have a backup picture. True Confession – I sometimes snap a backup picture of breakfast or lunch, since I often eat the same things over the course of a week, just in case my mind was elsewhere on the day. Apparently my mind has been elsewhere all week! Well – cutting vegetables…
Anyway, I can tell you – salad, of course. Red leaf and romaine lettuce, green pepper, scallion and radish, thinly sliced yellow squash, cucumber salad on the side. Some chicken (I'd cooked a small whole chicken in the pressure cooker to use the meat later. I think, personally, I like the slow cooker better for that use, but I'll try it a few more times to see if I'm missing something.) Some chickpeas. I'd made a batch of salad dressing with basil whirred in. And brown rice cakes on the side.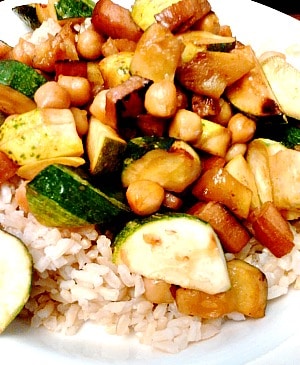 I tossed dinner together quickly, and I should really write this sort of thing up more often. It never feels like a Recipe to me, but of course it is…
No onion gasp but I sauteed a sliced jalapeno, and ham. The ham is fully cooked and "ready to serve" but it holds an awful lot of water, and I don't like that texture. (I totally hate the new practice of adding water to commercial meat. The official theory is that it improves taste and texture – I think it hurts both, and – I'm paying for water. That bothers me…) Anyhow, it means that even if I plan to eat it cold in a salad or something I heat it first to drive off the water.
I added roll cut zucchini and yellow squash, chick peas, and a handful of peanuts for variety. I intended to add a little soy sauce – the peanuts felt Asian to me – but forgot it. Once the vegetables were cooked, I served the whole thing over brown rice. And I drank some seltzer, instead of my usual water, with ice and lime.
So we picked up more vegetables last night… More of everything! I'm trying to get into a habit of serving a side salad with dinner – we certainly have enough lettuce, now, but it doesn't have to be just a tossed salad. Several times I've started this, and I wrote about several winter salads a few years ago, but then I fell out of the habit, because I just forget. Last night I did remember, and made up small plates of cucumber salad and tomato slices. Maybe making it in advance is the trick. You'll see how I do!
So we'll dance, or run, over to Laura's Sprint 2 the Table for Jenn's WIAW party – and see how everyone is doing with their plans! Salad, anyone?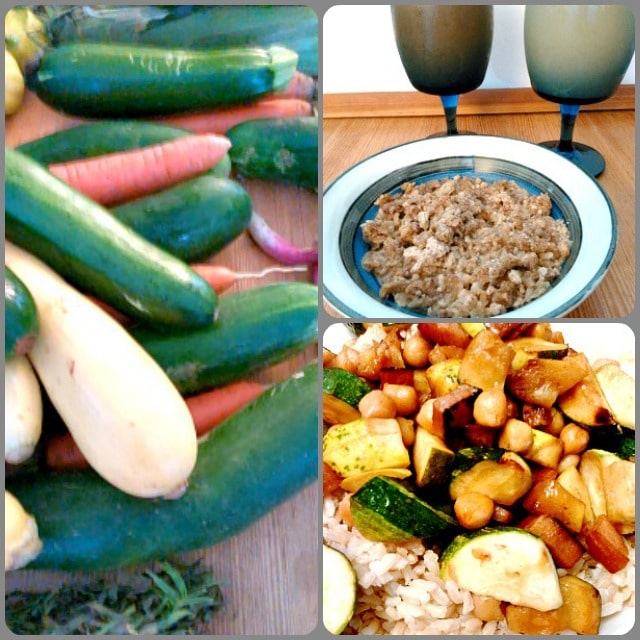 Save
Save
---
---