WIAW 107 – Spring!
I was pretty out of it last week – didn't go out at all for days, even though it was 70° and gorgeous out.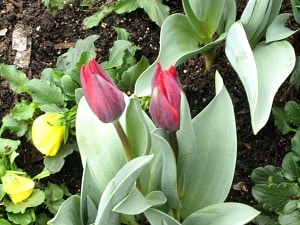 So now that I am better, and have resumed my morning walk – this happened. It's as if all March took less than a week! We went from the dead of winter to full blown Spring! Ahhh…. Spring….
On top of everything, this is a busier than usual week (there was this food photography workshop on Monday, as well as other appointments) and I'm still catching up from last week, so I'm all verschimmelt… and I'm sorry, but the pictures reflect that. (I'm not even showing you the ice blue magnolia blossoms…)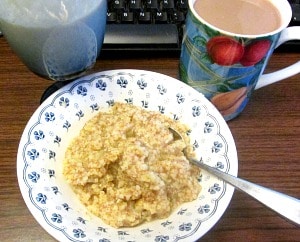 Breakfast is my current nice mindless usual. Ran out of orange juice, so it's a salt lassi protein shake (need to write that up, one of these days… it's a nice change) and porridge. I didn't even set up a proper picture, just snapped it at my desk while I read my email.
I'm coming into the tricky season for lunch. I don't want soup any more. (Well – I will sometimes, but not as much as I do in Fall and Winter.) I'm not really ready for salad yet, though. So I need to do a little more Real Planning – more leftovers and such. I've also been eating more bean and egg tacos for lunch, since I have another option for breakfast. Tuesday, though, I threw together some cooked ground beef, and onion, and one can each of black beans, corn, and tomatoes – because sometimes that's just what works. Lunch for two, coming right up!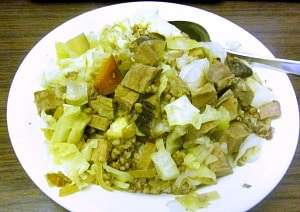 I was a bit more together about cooking dinner (though I don't even know how I got that weird color cast!) I remembered, for one thing, that I have kasha in the house, and we like it, and it goes beautifully with beef… such as the leftover pot roast, and its mushroom broth and vegetables. And cabbage – kasha and cabbage are classic. So – quick and easy and delicious… I used the broth to cook the kasha, sauteed the cabbage then stirred everything else into it, and it was a very good dinner.
Spell Check does not recognize verschimmelt, lassi, or kasha. Spell Check doesn't live in New York… In case you also don't know any of these – verschimmelt is Yiddish for flustered, upset, out of sorts, generally in reaction to some occurrence.(Apparently it is also German for moldy??)  Lassi is an Indian beverage based on yogurt – either sweet, made with fruit, or "salt", without fruit but with a pinch of salt and spices or herbs. (Cumin and mint are popular. I used cumin, here.) Kasha is buckwheat that has been toasted and is then cooked rather like a pilaf. (Oh, good, it does know pilaf… I was starting to wonder.) The dish is Eastern European – I think the word is Russian, but I got this at the Polish deli.
But there are flowers…  I'm starting a new Pinterest Board – Signs of Spring. Because sometimes you just need flowers and strawberries and a walk in the sun. (If you're on Pinterest, of course, that's not my only board… come take a look, follow me, see not only Inhabited Kitchen Pins, but the wonderful ones I find on other blogs!)
Meanwhile, come dance at Jenn's WIAW party – and tell me – do you have flowers yet? Spring vegetables? (I hear rumors of broccoli rabe at Greenmarket – I need to get over there!) What means Spring to you?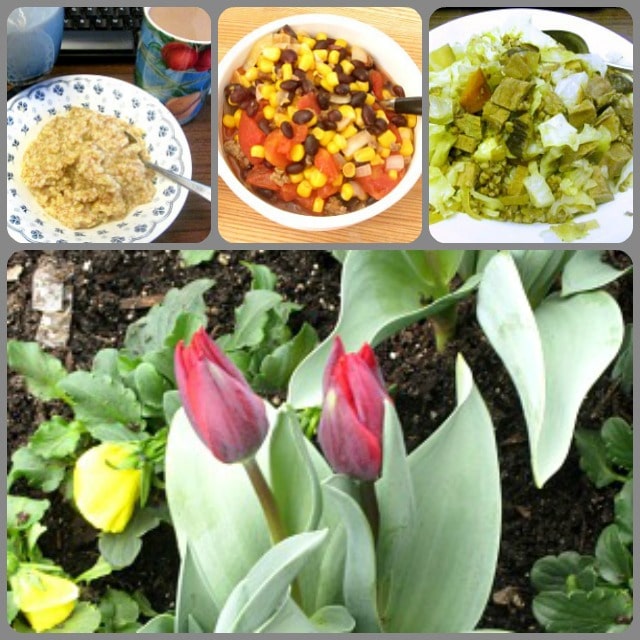 ---
---