WIAW 101- Bleary February
February. The bleary month… I'm looking out right now at a gray, rainy day.
The local groundhogs appear to agree with the rest of the East Coast that after a warm winter we shall have an early spring – I'm crossing my fingers and hoping that over-wintered greens will start coming in next month. Meanwhile, it's time to use my freezer stash for a little brightness.
So, for my breakfast – who said Breakfast Beans had to be Tex-Mex style? OK, so, what I had cooked were white beans… which are delicious, and work beautifully with a Mediterranean flavorway… White beans, and a scrap of leftover chicken, and a cube of parsley from the freezer. The last two weeks at the end of the tomato season we had a sudden flood of tomatoes – pounds of slicing tomatoes, and several pints of cherry and grape tomatoes. I just washed the latter, dried them, and filled a quart freezer bag, and now is the time to enjoy them! We certainly eat canned tomatoes – a wonderful invention – but just a touch of the "fresh" works wonders. It doesn't really work for a salad, of course – freezing changes the texture – but if I stir it into something hot at the last minute, so it just heats through, and then gives a little pop of August flavor… so good…
Oh – I served it all over corn tortillas, because I have them, and why not?
A few days earlier, I did what I had done so successfully last year, and cooked up a big pot of lentils. Yes, they cook much more quickly than other beans, but not enough more to throw soup together for lunch quickly. Yes, I work from home, yes, I can go into my kitchen and put lunch together, yes, that's a luxury… but I am still working, and I want to get lunch on the table in 10-15  minutes, not an hour. I just don't want to have to think about it that long before I break to eat – it interrupts my concentration. At the same time, while I can make a big pot of several days worth of soup, that takes a lot of refrigerator space… and I do like a bit of variety. The pre-cooked lentils (or other beans) help with both issues.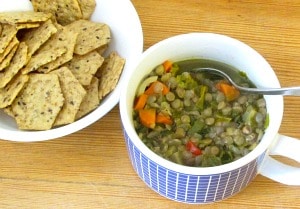 So I went in the kitchen and pulled out a container of lentils and the vegetable keeper. Chopped half an onion from the night before (singles and couples end up with partial onions all the time… I really need to saute another batch for the freezer) and a carrot, sauteed them lightly, with a little shredded pork. Added the lentils, water, and a bit of Better than Bouillon – I've used professional stock base when I could find it, this is close. Chopped a couple of my green muffins – leftover cooked greens I freeze in muffin tins – and added them. Let it simmer 10 minutes, served with (gluten free, of course) crackers – and lunch.
So – the thing about  living with, and working around, any chronic illness is that you do have to work around it. You can't just say to the pain "Come back later, when I'm not trying to do something!" (Well – I can sometimes hold one off a little if I really have to – the time I had one hit while driving on a highway, for example <shudder> – but I pay… it's much worse once it sets in.) So sometimes you notice that you're getting a certain pattern – mine have been tending to hit in late afternoon for a while – and you learn to work around that.
So of course then the pattern changes abruptly, and you're left scrambling…
All of a sudden, many of mine are starting right as I'm about to cook dinner. Which is sort of a problem, for people who want to eat dinner (let alone for someone who wants to write about cooking dinner!) So until this little variation shakes out,  you will see recipes in slow cookers, or that are assembled and baked earlier (and can be reheated for us to eat later…) or… other work arounds.  Which I should really be doing more anyway, since that's what many of you need so that you can come home and put dinner on the table… Not everyone can eat as late as we do, which gave me the freedom to cook after I relaxed a bit after I got home from work. (But we don't have hungry children… makes a major difference!)
But – sometime I have not planned for that. I haven't really made the mental shift, yet. Besides, dinner was going to be the sausage on sale that the supermarket ran out of… so I was already scrambling before the migraine started… and then I went and lay down.
So then, when the meds had kicked in and I was a little better (most of mine are really mild, as such things go, these days…) I got up… and went into the kitchen – and opened cans.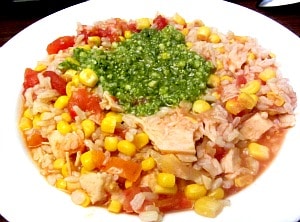 Because there is a place in this world for cans – even in my kitchen. Canned tomatoes are a lifesaver in winter, as is canned corn – neither bear any relationship whatsoever to the fresh vegetables, but they are fine foods in their own right. And I keep canned chicken in the house, for emergency, mostly. It is ridiculously more expensive than fresh, but I've used it on camping trips, and we were glad to have it after Superstorm Sandy (when actually we didn't eat it – but we gave cans to various neighbors so they had something that didn't need cooking.) But if you have canned goods you need to rotate them – use the older ones and get new ones, rather than suddenly realizing you have a can that's been sitting in the corner for ten years…
So I opened a can of chicken, and one of tomatoes, and one of corn (I drained the corn, but not the others) and put it all in a pan – and did add some sauteed peppers from my freezer for a  little interest. Added a container of cooked brown rice, set it to heat – and went and sat down. Told Rich to let it heat, then stir and serve with a dollop of pesto from a jar (another convenience food I swear by…)  So he did, and we had dinner.
And we all need to remember that this is an option. Not what I would want to eat every day, but an option. And dinner was on the table in ten minutes – which I also needed, having delayed everything when I lay down for an hour or so…
Notice how every meal basically came out of the freezer or fridge or cabinet? And the only thing I cooked fresh all day was a carrot in the soup? Yeah – that kind of day… which is the reason I stock up for that! Boy, it was a bleary day… but the food tasted good!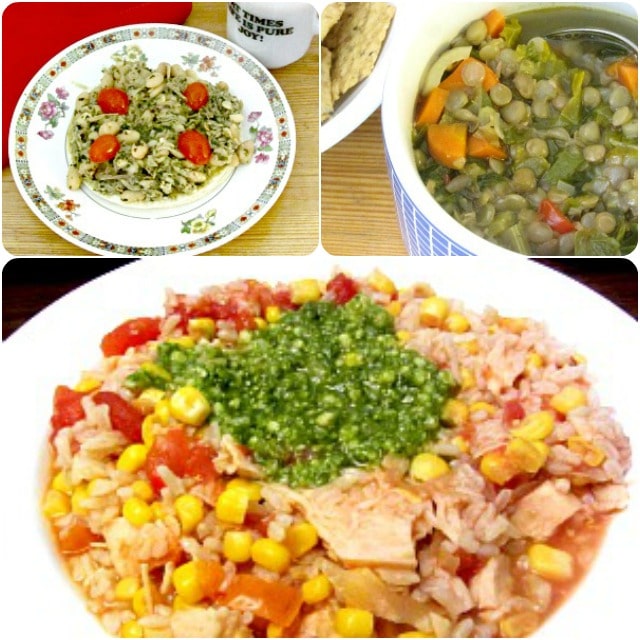 ---
---