And the Turkey Goes On and On…
So here in the USA, it is Thanksgiving weekend – which means we have turkey leftovers… and, well, don't really feel like cooking, much, somehow.
My planning ahead and pre-preparation was hurt a bit this year by a very bad migraine week leading up to the holiday. I got a few things done ahead, though – the cranberry sauce, the cornbread for stuffing, and a pumpkin custard – which was good, because the day itself was also difficult. (And I didn't take any pretty pictures…)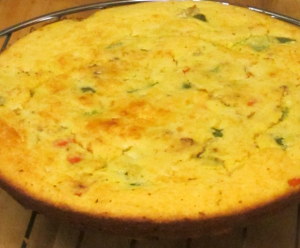 I was very pleased with the cornbread stuffing. I didn't really break it up in time to really dry out – so then I didn't have to moisten it at all. I was still actually coming out of a migraine when I stuffed the turkey, so it was perfect – I didn't have to do anything at all, just shove it in, already seasoned. I am definitely doing that again! (Though next time I may add a little sage, as well.)
Under the circumstances I opted out of a first course. I'd been trying out an idea for a freezer souffle that, um, didn't souffle… tasted good but never rose – and I still had the last sample of that in the freezer, so we ate it. (Not pretty, but still tasty.)  Just steamed Brussels Sprouts, and the turkey, stuffing, and so on. I did feel up to making gravy at the crucial moment, and had lots of pan drippings to use, so that was good. Drank a sparkling cranberry juice, and felt quite festive (if a little washed out,)
Pumpkin custard was basically a pie filling baked in a water bath as a custard. My bright idea for the water bath wasn't quite as easy as I thought it would be… next year I'll either use something a bit different, or bake it as a pie (if I've got a good pie crust recipe by then…) Served with whipped cream, of course!
Then Rich, that Pearl beyond Price, put all the food away and cleaned the kitchen…  So we had bags of sliced white meat, and containers of dark, and stuffing, and a little gravy, and the rest of the drippings (I'd used some in the gravy,) and a dab of cranberry sauce… About half the meat is now in the freezer, and we'll eat the rest over the next few days. And he put the carcass – all the bones, and the wing tips, the skin, and bits of scrap – in the slow cooker, covered it all with water, and started the Black Friday Stock.
So – Friday I had a turkey sandwich with mayonnaise for lunch (I'm sure there's a law about that somewhere…  it must be mandatory) and for dinner we ate slices of turkey breast over the rest of the stuffing, with gravy. There wasn't actually enough gravy left, so I made a cross between a gravy and a cream sauce – as in turkey a la King… to make it a little different.
I put half a cup of milk in my measuring cup, and then added the gelled drippings to it to make a cup. I put the bit of gravy that was left in a pan, and gradually stirred in the milk, warming it to thin it. Once that was smooth, I added the rest of the milk mixture, and a bit of sage. As it heated up, I added a roux cube – just one, as the gravy itself was thickening the sauce a little already.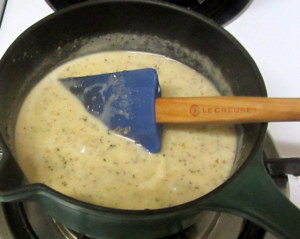 Rich was getting home late – he'd been helping a friend with some things – so I simply made up a plate with leftover turkey and stuffing, and some frozen vegetables, and microwaved it for myself, pouring the rich gravy over the meat and stuffing, and adding the cranberry sauce.  When he finally got home, I heated his, and brought the gravy back to a simmer on the stove. We finished the pumpkin custard together…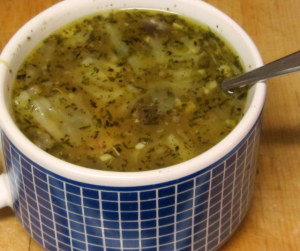 Today, Saturday, I'm feeling a bit more energetic. I made soup for lunch, from some of the stock still simmering away in the slow cooker. Onion, potato, garlic, hot pepper, sage and thyme, all simmering away with cooked turkey in the broth. Tonight I'll do – something – with the turkey that's more a recipe than just reheating… maybe with peppers and tomatoes, to get away from all the creamy sagey gravy…  And tomorrow we may just have a vegetarian dinner!
---
---