Tomato Herb Salad Dressing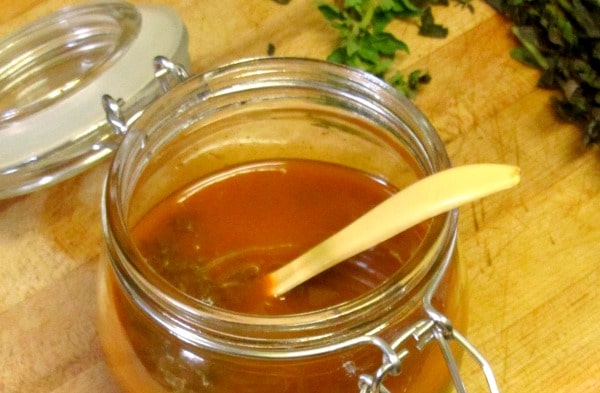 So this is a bit of a cheat – I used canned tomato paste because I won't get fresh tomatoes for at least another month. But a tomato dressing is still good – and even better, in some ways, now, when I don't have tomatoes in the salad!
Years ago, I used to make a dressing with canned tomato sauce instead of oil which was… not too bad… though a bit wet. But it gave me the idea – what about adding a little tomato paste to an oil and vinegar dressing? I have herbs – in just the last two weeks, our CSA has given us chives, sage by the handful, oregano, and a little basil…
I had already decided to use the oregano and basil together in a dressing, which may be the reason I thought of tomato. I have a huge bunch of oregano! I used the blender to puree oregano in olive oil to freeze (after stripping the leaves off the woody stems.) I see pictures of beautiful cubes with sprigs of herbs, which are much prettier than mine – but give you a lot of oil frozen around a little bit of herb that still has to be minced for most use. I don't have the freezer space for that. Mine aren't quite as pretty – but I can just toss one into anything and it's ready to go, so it makes more sense to me. (We ate dishes cooked with last summer's herbs well into the winter. That one little frozen mini-cube brightens up a large pot of soup or sauce!)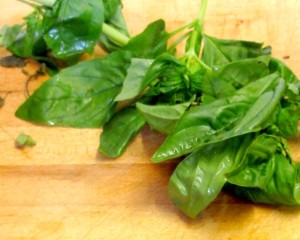 Anyhow, I'd already been pureeing oregano, and still had a bit of oregano and oil in the bottom of the blender after filling my little apple tray. I added some leaves of basil, stripped off the stems, and two thirds of a cup of olive oil, and blended it until smooth. I took a can of tomato paste and measured out two tablespoons, and added that (freezing the rest in cubes for later use. I really think tomato paste adds the most in small amounts!) Then, with the blender running, I poured in one third of a cup of good red wine vinegar.
Now, I'm sorry, I don't really have exact measurements – but I'd estimate 1/4 cup of leaves… There's a lot of green herb in that jar! As any kindergartener can tell you, when you pour the green paint into the red, you will get brown… and I'm afraid the same is true of green herbs and tomatoes. If you wish to preserve a bright red, use just a tablespoon of mixed herbs – but you will lose out on flavor… I opted for taste over color. You also might prefer more oil – this is quite sharp, but I like that. (Rich doesn't – but he dislikes sharp or acidic flavors enough that he doesn't eat salad dressing at all. I make this to my taste.) It does separate out a little in the jar, the herbs sinking to the bottom, and the oil rising, so I serve it with a little ladle, and mix it.
I like that it is a very hearty dressing. I would not serve this on a delicate side salad, with a little Boston Bibb and maybe, just maybe, a few thin slices of cucumber – it would overwhelm the salad. But on a filling lunch salad, with meat and pintos, and flavorful vegetables? It is wonderful!
What kinds of salad dressing do you prefer, and what would you like to see recipes for? I make different ones all summer, for my own pleasure, and for variety – I'd love to share, if you're interested! Let me know, in the comments here, or on Facebook!
Tomato Herb Salad Dressing
Add a little tomato paste and a lot of pureed herbs to create a hearty homemade salad dressing.
Ingredients
2

T

- 1/4 c mixed oregano and basil leaves

stripped from the stems

2/3

c

olive oil

2

T

tomato paste

1/3

c

red wine vinegar
Instructions
Place herbs and oil in a blender, and puree.

Add tomato paste and vinegar. Puree until smooth.

Stir to serve - the herbs will settle to the bottom.
Save
Save
---
---